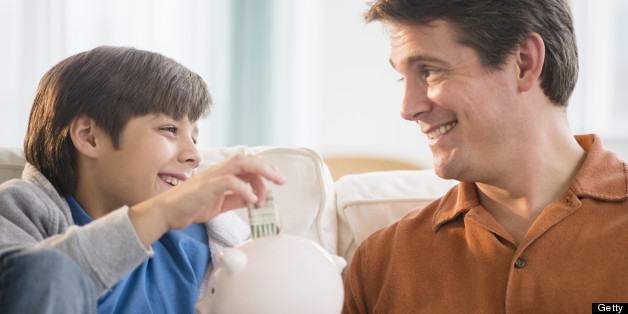 We're midway through the summer and kids across the country are enjoying their time off from school. Most educators encourage parents that it's important to keep children learning to some degree over the summer months so they don't become rusty and have a hard time at the beginning of the new school year.
Summer is also the perfect time to teach your children about money. With so much extra free time for children right now, most parents are inundated with questions centered on money. Can I have money to go to the movies with my friends? Can you buy me some new clothes for school? My friend Scott just got a new video game, will you buy me one? The list goes on and on.
As your kids lounge around the house this summer and ask for money for different things, here are 10 very important lessons parents can teach their kids about money to set them up for a life of financial abundance:
- Encourage your children to read books about success, money, business, investing, and anything else that can give them an edge in the real world.
- If your kids are growing up in a household where money is tight, teach them that it doesn't have to be this way for them. Teach them to think big and look at money as a game of limitless financial abundance and possibility.
- Teach your children to value frugality while drawing inspiration from their wildest dreams.
- Teach your children to ignore the experts who recommend setting your financial expectations low so you're not disappointed. That's borderline criminal advice. Teach kids to set their financial expectations high and get excited. Regardless of their grades in school, level of education they complete or anything else, your kids have the power within them to become anything they want and earn as much as their heart desires.
- Teach your kids that failure is good! Most of today's millionaires and billionaires lost large sums of money at one time. Failure is often a prerequisite to massive success.
- Teach your kids if they want to be rich, hang around the rich. Consciousness is contagious. Play the games that wealthy kids are playing like golf, tennis and horseback riding.
- Most kids grow up doing chores around the house as their parents are trying to teach them about responsibility. Take this to the next level by encouraging your children to offer to do chores for friends, neighbors and other family members in exchange for money. Offer to wash cars, rake leaves, walk their dogs, clean the house, etc... You're teaching kids to think entrepreneurial.
- Teach your kids that saving money is good to a point, but learning to earn money is a much faster way to build wealth. The fastest way to earn money is to solve a problem that people are willing to pay you for.
- Teach your children that the fastest way to get rich is by doing something you love to do. When you do something you love and you're good at, the world will reward you nicely.
- Teach your kids that the masses don't understand money and to not be encouraged to follow conventional wisdom such as setting "realistic" expectations for their lives, or to play it safe and avoid unnecessary risks. Teach your kids to be bold, aggressive and fearless in their pursuit of wealth. Don't allow them to settle for financial mediocrity when the world is overflowing with abundance for anyone strong enough to stake their claim.

The most important thing a parent can do when it comes to teaching their children about money is to use phrases like "I believe in you" and "You can do it." It's a simple yet powerful transfer of confidence from parent to child. Set the right example for the little ones who are watching your every move this summer.