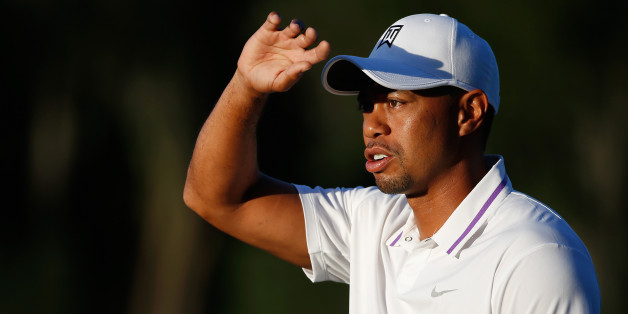 Tiger Woods returns to competitive golf at this weekend's Hero World Challenge, an 18-man field composed of golfers in the top 50 of the world rankings. After a spectacular 2013 season that included five first place finishes, a second place finish, not missing any cuts on the PGA Tour and finishing second in the FedEx standings, 2014 was another story. Tiger missed most of the year due to a back injury that included major surgery, Woods competed in only seven PGA Tour tournaments and ranked 218th in the FedEx standings.
As Woods makes his return to the links this weekend, what can we expect? Woods spoke to the media on Tuesday, and he's ready to go.
A few key takeaways from the press conference:
- When asked about his back, Tiger said, "It feels great. It feels fantastic."
- When asked if his best golf is behind him, Tiger said, "You can win at a late age because you don't have to dominate anyone. You just have to beat the golf course... I still have time."
- When asked about his new swing he's been working on with his new coach Chris Como, Tiger said, "My body feels excited about (the swing) because it's an old motor pattern. Ball is coming off the clubface faster."
In 2011, in an interview with The Golf Channel, I predicted a Tiger Woods comeback while many others said he was done. I was right that time and I am right again, and I'll say it right now and on the record: Tiger Woods will be back again and dominate the game of golf like the Tiger of old.
I am also predicting that in the next 10 years, he will go on to break Jack Nicklaus' record of 18 major championship wins. Even Jack Nicklaus believes Tiger will do it. In an interview in August, Nicklaus said, "I just think he's too talented, too focused, to not do it."
In addition, here's what else separates Woods from the majority of other PGA Tour professionals:
- Mental Toughness: The pros know that what goes on in between your ears can make a huge difference in the final outcome. And while all world-class performers need to possess a certain level of mental toughness, no one in golf has it like Tiger Woods. He's the master of this and we've seen him exhibit world-class mental toughness and do the impossible over and over again.
- Ability to Handle Adversity: If there's one person in golf who has been handed adversity and triumphed time and again, it's Tiger Woods. Granted, some of those obstacles were personal and self-inflicted, but his personal wrongdoings of the past are behind him. And on the course, few other professional golfers have dominated time after time like Woods. Adversity has been Tiger Woods' mental training ground. His back problems last year will be transformed into another success story of overcoming yet another obstacle for him. The stress and struggles of the past are going to make him even tougher.
- Hardwired Like Few Others: Woods is hard-wired through years of world-class programming to focus on a vision and persevere at any cost. He doesn't understand what giving up is. His dad, the late Earl Woods, programmed him for one thing: winning. It has been six years since Tiger last won a major, but I can guarantee you he's never taken his eye off of Nickalus' record.
- Talent: People can argue this all day long, but Tiger Woods is the most talented professional golfer ever. That's not to say there aren't a lot of talented pros who have done some extraordinary things on the golf course. But in the end, on the physical plain, Woods has perseverance. On the mental plane, he has toughness and on the spiritual plane, he has artistry like no one else.
Finally, if that's not enough to make the case for a Tiger comeback, a bet against a champion like Tiger Woods is always a bad bet. It might take him a few tournaments to work out the kinks and get his old footing back, but expect some very big things from Tiger in 2015.
As professional golfer Sam Snead said, "The mark of a great player is in his ability to come back. The great champions have all come back from defeat."