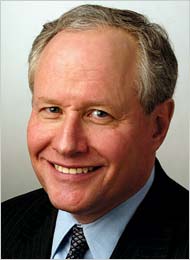 In what the media is calling "wacky, but long anticipated," conservative pundit, William Kristol, has moved his New York Times column over to the National Lampoon, which won a fierce bidding war with The Onion for the writing services of Kristol.
Until the offer was made official, Kristol had intimated to close friends that he would be leaving the Times to spend more time at home with his mistakes
"I was just treading water at the Times," said Kristol. "They just didn't get the subtleties of well-written irony. And when the right opportunity came along where I could do what I do best: satire, I grabbed it."
"I always felt that Bill's column was more apropos for the Lampoon than the Times," said National Lampoon creative director, Scott READ THE REST OF THE SHOCKING LITERARY MOVE HERE
Steve Young blogs at the appropriately-named SteveYoungOnPolitics.com