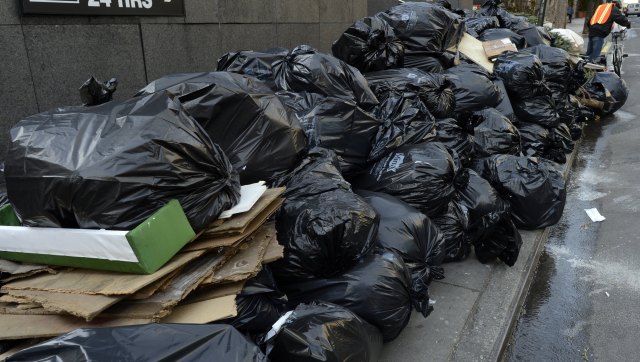 One indicator of a more crowded planet is the growing cost and complexity of solid waste management. Here in New York City, we used to dump our garbage into holes in the ground called landfills. In Brooklyn and Staten Island, these dumps grew so high that we had to close them and start exporting our waste, sometimes sending it thousands of miles away. One of the goals of the city's sustainability plan PlaNYC 2030 has been to divert more and more of our waste away from landfills to recycling, waste-to-energy plants, and composting facilities. Some of New York's effort to recycle waste relies on technology to sort and process waste, but some requires people to change their behavior to sort and reduce their waste.
Most people in New York City live in apartment buildings, and so changing how people discard their waste requires the hard work of environmental professionals working door-to-door and building-to-building to convince residents and building staff to sort their waste. Last week, the New York Times profiled the two of these sustainability professionals, graduates of Columbia University and Pratt Institute's environmental management master's programs. According to the profile, written by the Times' Constance Rosenbaum:
They aren't what you might think of as typical sanitation workers, but Haley Rogers and Lisa Brunie-McDermott, two Sanitation Department employees, are women with a mission: to persuade New Yorkers to separate orange peels, eggshells and other organic waste from the rest of their trash... The "organics collection" program is up and running in all five boroughs, embracing 100,000 households that are home to about 250,000 people. It is also operating in some 350 schools, one result being that children come home and urge their parents to sign up... And there's no question that Ms. Rogers and Ms. Brunie-McDermott bring considerable zeal to the task at hand.
The issue of New York's garbage is considered by many to be intractable due to the size, scale and the fast-paced lifestyle that this city is famous for. The city that never sleeps seems to be either too busy or too tired to sort its garbage. One strategy for pushing the food waste program has been to present it as a way to reduce the rat population. New Yorkers may be indifferent to waste management, but all of us hate and fear rats.
One key element of the Sanitation Department's strategy is to break the city down into manageable pieces. To visitors, New York is a huge, undifferentiated mass of people like the crowds trying to navigate Times Square. To New Yorkers, our city is a collection of neighborhoods--each distinct from (and of course better than) the other ones. Trying to change behavior citywide all at once can be very tough. Trying to change behavior family by family or building by building is hard work, but is doable and can lead to lasting change. A waste recycling competition between Park Slope and Astoria, for example, might actually work.
New York City has two different waste collection systems. Commercial businesses, like restaurants, pay private companies to cart away their garbage. Private residents and nonprofits have their garbage disposal handled by the city's Sanitation Department. That is one reason that the pilot program profiled by the Times focused on residents. A program directed toward residents and communities requires that we think about our waste management problem as an issue of culture and social change. The food waste program profiled by the Times might have been possible in Portland, Oregon a decade ago, but New Yorkers were not ready for it back then. It is significant that the department that calls its workers "New York's strongest" has taken on a pilot project in food waste sorting. It is an indication that New York may be ready for an approach to waste management that requires finesse as well as muscle. It is another sign that the world is changing and that sustainability management has gone mainstream.
Even in the multi-cultural "gorgeous mosaic" of New York City's diverse population, where many folks are simply trying to understand America, people are starting to think about where their garbage goes. The composting program's connection to schools is no accident. Particularly in immigrant families it has long been the school system and children who have helped their newly arrived parents understand the city and its ways. For those of us who have been here a little longer, it was often our kids who led us to sort waste, connect to the Internet, buy cell phone service, and undertake other "critical" activities they learned about in school.
The move to a renewable economy requires that we think about what we consume and what we throw away. While thought alone does not translate into action, behavior change still requires new learning and evolving values. In the case of waste management, it also requires government programs. If a New Yorker wants to recycle food waste, it's not the same as a rural resident starting a compost heap in the yard. In the case of New York's program, it requires distinctive colored large plastic bins and a place to keep them in a building's basement. The city also needs to have a well-managed system to collect and process the organic waste. This requires integration of individual behavior, government standard operating procedures and the work of private contractors.
The sustainability benefit in the case of food waste is closing the cycle of food production and consumption. Some of the waste generated by food consumption can be used to create the fertilizer for new food production. Unfortunately, a problem with closing this cycle is that it requires energy to transport and process the waste. Only when the energy itself is renewable is this process truly sustainable. But the long journey to a renewable economy begins with small steps, such as setting up a process for collecting food waste and convincing people to use that process.
The idea that individual behavior alone can lead to a sustainable economy is one that I have always rejected. But that does not mean that we do not need changed behavior. As in this case, we need changes in attitudes, values, and behavior, linked to new technologies and changes in public policy and management routines. We need to learn from our successes and our failures and recognize that the process we are engaged in is nothing less than the one we saw when we transformed ourselves from an agrarian, rural society to an industrial, urban one.
I am encouraged by New York City's food waste program and proud of the role of one of our graduates in making that program work. When you read the piece in the New York Times, you can't help but recognize the spirit of public service and dedication of the two environmental professionals who are profiled. Their energy and brainpower multiplied across their generation is what I am counting on to make this transition real.
But I am also counting on large-scale public policy and government programs. The food waste program will need to grow to serve more of the city and eventually cover the entire city. The city also needs help from the state of New York. At the state level, it's time to raise the deposit on beverage containers. While New York is one of only 11 states that has a deposit law, the state's bottle bill was enacted in 1982 and the nickel deposit has not been raised since then. A nickel is worth a lot less than it was three decades ago. Deposits should also be charged for all beverage containers including those used for milk and juice. We should begin to consider other types of packaging fees to reduce unnecessary packaging and with it the volume of waste we are generating. Modern waste management requires creative, proactive public policy. New York City's food waste program is a great initiative. Let's build on it and do more to reduce the heaps of garbage we still bury in the ground.