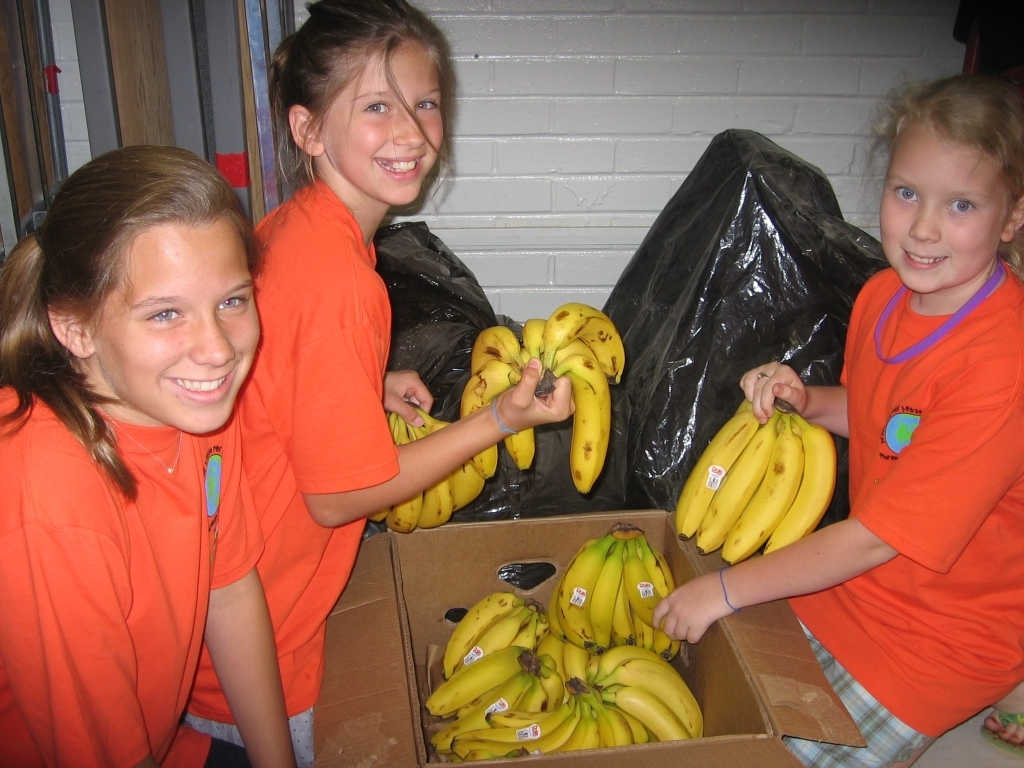 When my niece was nine, my sister organized a family trip to San Francisco. As my brother-in-law tells it, they'll never be able to afford to go back. See, young Elizabeth wanted to give money to every homeless person she passed. And her parents abided. With San Francisco having the largest homeless population in the U.S., you can see how a generous young lady might have stretched the family budget.
You might think that Elizabeth's parents were teaching her a life lesson. I think it's the other way around: Elizabeth was reminding her parents about the values of compassion and charity.
Elizabeth is not alone in her philanthropic spirit: Hunger and homelessness are among the top issue areas that motivate kids to serve. Kids understand what it means to feel safe and to have food in their bellies. Children know these feelings, and they almost instinctively hurt when they see kids just like them who don't have that same security. What's more, they find it unacceptable, and they are willing and able to do something about it. Their motivation to question why other children don't have a roof over their heads or food on their plates brings to life Dr. King's "fierce urgency of now."
National Hunger and Homelessness Awareness Week begins November 10. Co-sponsored by the National Coalition for the Homeless and the National Student Campaign Against Hunger, the event also marks the project kick-off for many grant recipients benefiting from a national partnership between YSA and Sodexo Foundation. These are schools and community organizations embarking on long-term service projects to raise awareness and create change around the issue of childhood hunger.
Too often, we see kids as problems to be solved, but Sodexo Foundation's view is just the opposite. YSA's partnership with Sodexo Foundation is built on the belief that young people are an integral, and urgent, part of the solution. With one in five children unsure of where their next meal will come from, the work of activating young people to strategic service can't start soon enough.
In just two years, YSA and Sodexo have engaged more than 50,000 young people in service that benefited a million people around the issue of childhood hunger. Even with such powerful results, these kids know that there is still a lot of work to be done. They write to YSA almost every day proposing smart, innovative community service projects, and systemic, sustainable solutions to hunger and homelessness.
One of my favorite leaders in this arena is 13-year-old Zach Bonner. YSA gave Zach his very first grant when he was seven, to fund disaster relief for homeless youth after Hurricane Charlie. The next year, Zach founded the Little Red Wagon Foundation, with a mission to help kids in distressed situations in a way that was simple and fun. He went on to gain international notoriety, walking 4,263 miles and crisscrossing the country to raise funds and engage his peers on behalf of other children who are homeless. Last month, the story of Zach and his Little Red Wagon was released as an independent film. He's an inspiration, and it all started with a little bit of funding and assistance, plus a big vote of confidence from YSA and its partners.
I want to offer every kid the spark that they need to get started in service to others. Just like Elizabeth taught her parents, YSA kids are teaching me about hunger and homelessness every day. In the spirit of Thanksgiving, here are some tips I've learned from YSA grantees about how kids can end childhood hunger:
We have enough food to feed everyone! Find ways to put surplus food to better use. Kids are adept at "matchmaking" between restaurants and school cafeterias, and food banks and shelters.
Food banks need help every day, not just on the holidays. Many kids start out in service by volunteering at a food bank, and seeing firsthand the power of their service.
Kids like competition. Some of our favorite projects have been competitions between schools and community groups to collect the most canned goods, clip the most coupons or contribute the most service hours.
Hungry kids suffer most during schools breaks, like weekends, holidays and summer vacations. Backpack feeding programs are not only effective, they're a perfect opportunity for kids to make a powerful impact.
Community resources go untapped because people who are hungry don't know about them. Kids can be a powerful force for spreading awareness.
Want to learn more about what kids can do to take action? YSA and Sodexo are accepting applications now for Sodexo Foundation Youth Grants to fund projects aimed at ending childhood hunger, and Share Our Strength's No Kid Hungry 2 is a great website for kids. YSA also offer a suite of resources, tip sheets, and technical assistance to help kids get started on their first project and take action on issues that matter to them.

Steven A. Culbertson is the president and CEO of YSA (Youth Service America), a nonprofit that improves communities by increasing the number and diversity of youth involved in service and service-learning. www.YSA.org or on Facebook.