Anderson Coopers' daytime show is more family friendly than the twisted serial killers and vile kidnappers we follow here at HuffPost Crime, so my role this morning as the "Anderson Live" Blogger of the Day was slightly easier on the stomach than sifting through police reports, to say the least.
We did, however, enjoy a little true crime to go with our Dancing With The Stars preview, Claire Danes interview, and discussion of whether Lady Gaga's back side is looking a little too "voluptuous," as guest host Maria Menounos put it.
Raffaele Sollecito spoke with Anderson about life after the Amanda Knox saga and his new book, "Honor Bound," that recounts key episodes from the case.
For those who don't know (where have you been?), prosecutors in Italy convicted Knox and Sollecito -- then, two young lovers -- for the 2007 murder of Meredith Kercher at Knox's apartment, only to have the decision overturned last fall.
"Foxy Knoxy" -- as the tabloids dubbed her -- and Sollecito served four years in prison, experienced a blinding media spotlight, and fell into the center of the biggest murder trial on the planet. They were dating for only eight days before Kercher's death.
"The media coverage missed a lot," Sollecito said, emphasizing the Italian media's behavior. "They didn't talk with us. There was no interaction between me and the media at all. They created a fog of nonsense."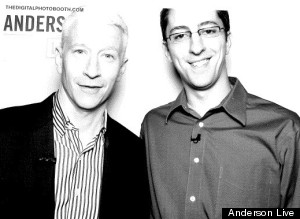 You might remember the striking image of the couple hugging and kissing after the murder. Sollecito said it was much later on than you might think
"It's just an invention," Sollecito said. "It created a very attractive story. If I read a story like that, or a move like that, it would be very interesting because it grabs your attention. But it's not real."
Of course, prosecutors want to reverse that ruling, but with Knox back in Seattle and Sollecito on book tour, a betting man might say this case is closed.
Want more highlights from the morning with "Anderson Live?" Here are the most popular tweets from the morning.
Special thanks to Anderson Cooper and the Anderson Live team!
PHOTO GALLERY
Anderson Live Blogger