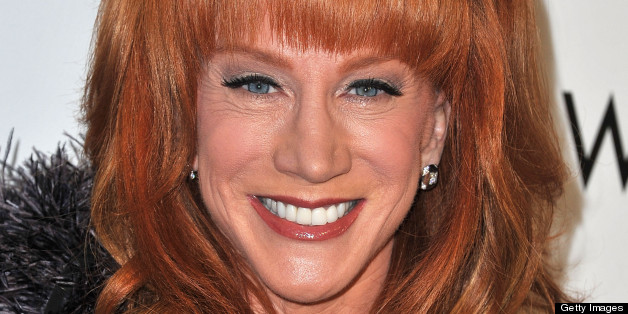 When Kathy Griffin is in the room, nobody else matters. Her ability to make us writhe in pee-withholding pain induced by hysterical laughter is only overshadowed by our intense desire to worship her like the comedic goddess she is.
After covering her whore-like domination of the being-funny business for close to six years now, Gay List Daily has written about her more than we've written any other celebrity, even Alec Mapa, whom we featured three times in the span of a month.
But in advance of her recent Dallas show, we finally got Kathy (we're on a first-name basis now) to sit down for an interview, which is a bigger get in our world than Oprah's post-rehab exploitation of a heart-to-heart with Lindsay Lohan.
Steven Lindsey: Thank you so much. We've been trying to get an interview with you for years.  It's truly a thrill.
Kathy Griffin: How can I not have done an interview with you at a place called Gay List Daily when my life is the Gay List Daily? What's the name of the gay neighborhood in Dallas?
Lindsey: Depends on who you ask. Some people call it Oak Lawn, some people call it Cedar Springs, but the main area is near the intersection of those two streets.
Griffin: [Laughs.] For one second I thought you said the streets get death threats. I thought only in Texas would a fucking cross street with gay people get death threats. [Speaking in a heavy Texas accent:] "Dear streets of Oak Lawn and Cedar Springs, I'm gonna kill you gay people." We're not there any more, honey. DOMA's gone. Prop 8 is gone. We're gonna talk it all out in my show.
I really do love playing Dallas, for real. I'll be bringing my heterosexual younger boyfriend, so just go ahead and start your judgment. I know how you gays are. You've got a lot of nerve. Let's cut the shit. You guys invented it, and now I can't have any fun, because my boyfriend just happens to be 18 years younger, you judgmental son of a bitch.
Lindsey: Oh, we're not judging. We're jealous. The only thing: When we look him up online, you're always in a bikini, and he's practically in a scuba suit or burka coming out of the ocean.
Griffin: [Laughs heartily.] No, I know. It's actually really funny. He goes in the water with a tank top, I don't know, probably because I convince him a lot of the time that he's fat and he's going to lose me and I'm going to dump him for a 24-year-old. Young guys -- you've gotta keep them on edge.
Lindsey: Oh, yeah, keep their self-esteem low.
Griffin: Do you think you can predict the activity of Grindr during my show?
Lindsey: It'll probably be like Twitter during Sharknado. It's going to shut down the whole Grindr system, for sure.
Griffin: You know, it's interesting that you say that. I'm actually giving out an award to [redacted after we promised not to reveal her comments, which she does anyway a few minutes later]. Oh, shit. I shouldn't have told you that. Fuck. Anyway, let's say that you knew someone who was giving out an award to a groundbreaking film, a film that changed the way we saw... fish. And I don't mean vagina. And, yes, so I'm a little too excited to be giving out an award at the Young Hollywood Awards. And this is like a televised, legit awards show. It's going to be televised, and they asked me if I wanted to give an award out to the cast of The Hunger Games or Twilight or any movie that young Hollywood people might like. Boom, this conversation's over. Sharknado.
Lindsey: You know they did a one-time midnight screening all over the country, right?
Griffin: Well, they should, because it goes like this: Gone With the Wind, let's throw in Platoon, and then, since this is a gay site, let's go ahead and throw in Showgirls and Burlesque, and Sharknado, and we put them in a time capsule, and we send them to Mars.
Lindsey: Well, they discovered water on Mars, so the whole Sharknado thing could really freak them out.
Griffin: Oh, can you imagine the sharks there? They could actually be in the middle of a Sharknado on Mars and we wouldn't even know about it.
I have a question for you: Where are all the gays with Justin Bieber? Are you into him now, have you kind of had it with him, or what?
Lindsey: I don't know about the gay population in general, but since I'm being put on the spot to speak for the entire gay community, I'll venture to say we're tired of him.
Griffin: I definitely want to say, as the heterosexual female population, that we're definitely tired of him. If you lose the gays and the ladies, you're in trouble, Biebs. I know you have like 41 million followers, but you're running out of groups. The teens are fickle; they're going to be on to the next. We're going to be breaking down the Biebs and his rather quick demise. It was rather speedy, and we'll be talking about how Dallas survived even just one year with Khloe and Lamar. Is there lasting trauma? I know there have been a lot of studies that that kind of trauma can take a while.
Lindsey: We're coping as well as can be expected.
Griffin: We're certainly going to be talking about your beloved Harry Styles saying that he's pretty sure that he's not a bisexual. Let me tell you why: As someone who dated several bisexual men in the '80s and '90s, my loving response to someone saying they're bisexual is, "Give it a week." Now my life is filled with gay pride events and celebratory DOMA events where I run into someone I slept with three times in 1991 -- and his husband.
I'm all for the LGBTQIA2 community. I'm trying to figure out the 2 -- I'm not going to lie -- but I'm very excited about the idea of Harry Styles possibly being bisexual, because I'm what's called a Directioner. And by the way, my good friend Morgan Spurlock is actually doing a documentary about One Direction right now. He's in London, and it's so funny. You know who Morgan Spurlock is, right?
Lindsey: Oh, yes.
Griffin: He's like 51, hetero as it gets, and knows everything about One Direction. Just giving you a little tip. You might want to request an interview with Morgan Spurlock now, because when this movie comes out, the LGBTQIA23456 community is going to be all over him.
Actually, with Harry running around banging Taylor Swift [and then media reports saying he might be bisexual], I now have empathy for Taylor Swift, someone I very much enjoy making fun of, because while I was not -- this is a shock -- a 6-foot-1, gorgeous model in high school with $10 million, I also have dated the bisexual. So for one day in my life, I can say I'm feeling what Taylor Swift is feeling.
Now, how are you feeling about the Housewives in general? Are you over it? Is there one city you like better? Where are you with that?
Lindsey: Over it. NeNe Leaks is the best thing to come out of all of them. We'd be fine to get rid of the rest of them.
Griffin: Well, you're in luck, because I guess she has a spin-off and is already in a lawsuit because of her spin-off.
Lindsey: Naturally.
Griffin: By the way, I'm going to brag: I just shattered the record for the most-ever recorded standup comedy specials in history. From the days of records to CDs and DVDs to actually televised specials, no one, male or female, has ever done what I have, and I'm just a girl, just a lowly, lowly female in a male-driven world. I'm going to do my next one in November, so I'm going to break my own record. I'm going to be doing material in Grand Prairie that's gearing up for that next special, which will break another record that nobody will give a shit about. But you know what? I love it too much. I have a standup comedy disorder. I don't know if I can go to rehab for it, or be put on a 5150 cycle, but I would like to. That sounds rather relaxing to me.
I also took my gone-but-not-forgotten, two-season talk show Kathy, and it just went live on iTunes, so you can buy it very cheap and enjoy many, many wonderful guests. But I feel that show was not seen. Maybe I should have been NeNe and the Housewives and getting into physical altercations with my 93-year-old, alcoholic mother. Maybe my mom and I should've sued each other. Maybe I should've gotten some DUIs, although I don't drink. Anyway, as I look at the Housewives constantly in the news, I'm thinking maybe that was my mistake. I didn't get arrested even one time.
Lindsey: There's still time.
Griffin: I agree. There's more to life. Especially when I've got the young boyfriend, I've got a new lease on life. I've got decades more to get arrested. God only knows what for.
Lindsey: Look at Paula Deen. One word can change your whole world in an instant. We have faith in you to do something horrible.
Griffin: Who knows what I could do on New Year's Day to Anderson Cooper?! I could implicate him in a crime he didn't commit.
Lindsey: Is anything happening with that talk show of you two together?
Griffin: I don't think so. I just talked to him last week. It's CNN, and I love CNN, but I love doing New Year's so much. I feel like they are very obviously shifting and trying to find a little bit of a newer identity, and they've had success with that Anthony Bourdain show. I think they just need to find their bearings a little bit. Are we going to be straight-up news? Are we going to throw in food shows like Parts Unknown? Are we going to have Kathy and Anderson do something that's a little lighter? We did a pilot, and it was a lot of fun, but I think we're both wondering if this is the right time.
So in the meantime I'm touring like an animal, and in addition to your beloved Grand Prairie, I'm literally playing everywhere, from Peoria to Carnegie Hall in November, headlining at the Sydney Opera House and then -- wait for it! -- the week after I see you guys, I will be performing on a gay cruise in Mykonos.
Lindsey: Jealous!
Griffin: Please let me just encourage you. Just for fun, just YouTube "Gays in Mykonos." The stuff that comes up is so unintentionally hilarious, and intentional. By the way, this is my second gay cruise in Mykonos, so I know what I'm in for. But I'm bringing the straight boyfriend, who does not at all know what he's in for. He has never seen a 4-foot ice cock sculpture in his life. And that's mandatory on the gay cruise. You walk in, you're greeted, you see the ice cock sculpture, you marvel at the detail. And then, as the cruise goes country to country, the cock melts. It's kind of a metaphor of a relationship. So I will be dragging my heterosexual boyfriend on the cruise, and he doesn't event know what Daddy Night is. We'll be going to the afternoon tea dance parties, and I think he assumes we'll be actually drinking tea. It's gonna be a fish out of water. It's going to be his personal Sharknado.
Lindsey: Just keep him away from the aft Lido deck after dark.
Griffin: Oh, you mean where they call the Jacuzzi "egg drop soup?"
Lindsey: Exactly.
Griffin: I'm very excited, because this is going to be my sixth gay cruise. I've even done the lesbian cruise, and let me tell you those gals are tough, and I'll say it right to their faces too, because God forbid you make fun of the kids. God forbid you make fun of a lesbian's kids. Oh, everybody's kids are so precious and gifted. So I did Rosie O'Donnell's cruise, and I did two shows. After I did the first show, I bombed so bad with the lesbians she actually came out on stage and yelled at them. She said, "That's it. I've had it with you lesbians. You better start laughing. She's not really making fun of your kids. She's a comedian." After that, my second show went really well. But all audiences are different. I'm excited to see who shows up [in Dallas]. I'm sure it's going to be some Dallas folks and some suburban folks, and you never know what gay just made the drive from... I was gonna say Hunstville, but I'm actually playing that on this tour. And though I can't tell you what my act is going to be yet, who knows what's going to happen between now and then, but it's going to be improvisational -- and hopefully offensive.
Lindsey: That's our only dream. That combination. Stop right there.
Griffin: Actually, I do have to go. I believe it might be for Huntsville, actually. Just make sure everyone has an open mind. Leave the Bible at home. I don't want to shock anyone's virgin ears.
Lindsey: Oh, come on, please.
Griffin: Thank you. I really, really appreciate it.
Kathy is currently on tour nationwide. Check KathyGriffin.net for dates and venues.