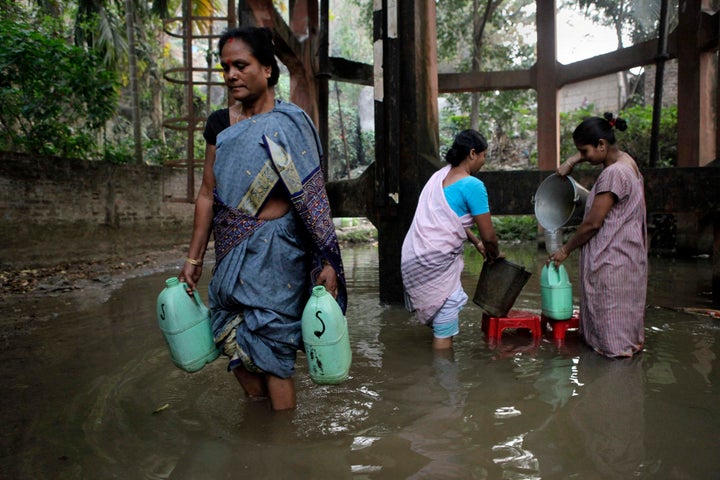 Today is World Water Day -- since 1993, an occasion to focus public attention on the critical importance of clean water to global health... and human progress.
This year there is much to celebrate: between 1990 and 2010, 2 billion people gained access to improved sources of drinking water, meeting the water target set in the Millennium Development Goals (MDGs) years ahead of schedule.
Reaching this milestone took sustained will, consistent funding and unflagging effort. Governments and international agencies, philanthropies and other civil society organizations, the private sector and private citizens have made clean water a priority. The return on that commitment is impressive, its impact measured first and most in the lives of the world's poor.
But even as we raise our (water) glasses to toast this success, we must also raise again the call to arms.
For around the world today, 783 million people -- nearly 100 times the population of New York City -- still lack access to improved sources of safe drinking water. Over 40 percent live in Sub-Saharan Africa. And not all of the "improved" water supplies we celebrate are yet as clean as they should be.
Our progress on the related goal of sanitation is nothing to celebrate.
2.5 billion people -- nearly half of the developing world's population -- still lack access to improved sanitation facilities. 1.1 billion people -- 15 percent of the global population -- still practice open defecation. 626 million in India alone.
And every day, nearly 3,000 children under five die from diarrhoeal disease caused by unsafe drinking water, inadequate sanitation and poor hygiene.
They are among the poorest and most vulnerable children in the world, deprived of nearly all their needs, and denied their right to reach their full potential.
These harsh markers of such elemental inequity should spur us on to do even more. Now is the time -- with success on clean water in sight, and failure on sanitation an unsettling prospect -- to redouble our efforts.
We must use the momentum of this milestone to focus greater effort and investment on reaching the most disadvantaged children, their families, and their communities. This is a moral imperative, and a practical one, too.
The World Bank assessed the economic impact of poor sanitation in a range of poor countries. The results show significant drops in GDP owing to lost productive working days and high medical costs. And the World Health Organization has shown that every $1 spent on improving sanitation can produce a return on investment of $11 -- with similar returns for investments in improving access to safe drinking water.

We reached the MDG water target because we made clean water a global priority and worked in partnership to achieve it. We need the same single-minded purpose and renewed partnership now.
Our organizations, together with many other partners, have worked together for more than a decade to expand access to clean water in some of the most water-stressed countries in the world, from Sub-Saharan Africa to South America and Asia. And we have seen progress, even in some of the poorest parts of some of the least developed countries.
Especially when it comes to sanitation, the first step for governments and donors alike is acknowledging both the severity of the problem and the critical necessity of taking action to solve it, through better planning and resource allocation. Here, we have seen real leadership emerge over the last decade. We must build on it.
We must also recognize that success depends as much on changing behavior as on digging wells and building sanitary facilities. Community-led initiatives are the key -- engaging people in altering their own habits and convincing others to do the same. People are challenging their neighbors and themselves to change. And it is working.

Consider the example of Anita Narre, a new bride from Madhya Pradesh, India, who left her husband and refused to return until he built a toilet for their home. He did so within a few days. The story quickly spread through her village ... and so did the message: Improved sanitation -- and safe water --are necessary steps on the path to a better life.
Let that message, on this World Water Day, resonate throughout the world.