The movies (variously known as cinema, film, flicks -- and I would now add television, TV, the boob tube) is an art form somewhat over a hundred years old. Not really a long time in the nearly 200,000-year history of modern humans. And an infinitesimally small molecule of time in the 13.7 billion-year history of the universe. Nevertheless, for almost everyone living today, especially in our Western culture, movies have had a huge impact on their lives -- and that culture. And by "movies" here I mean simply moving pictures of narrative fiction (this is why I've included television). I think I am safe in saying that it is unarguable that movies, in their so far short life span, have become the big elephant in our culture when it comes to art forms. They have, I believe, completely outstripped in popularity and possibly influence, the two other major (and older) forms of narrative fiction: the novel and the play -- although, being a novelist who has written one play, I am loathe to make that statement.
How did this happen? After all, movies started out as just curiosities, little tweaks of amusement projected in their cramp little storefront nickelodeons. There are probably many answers, some having to do with the power of the image, the power of the image in movement, the intimacy it gives to the art of acting, indeed the whole sensual potpourri it offers -- image, light, movement, voice, music, color (and, in the past and occasionally now, the "color" of black and white), all transporting one to worlds known and unknown.
Movies are no longer a curiosity. But being the big art elephant in our culture they are certainly worthy of our curiosity, the desire to understand how they came about, how they were made, what makes them work, and what makes them work on us. Professionally, this curiosity is the stamp of a hardy band of obsessives known as film historians. And in the best of them, that curiosity is melded with great passion and deep love for this now quite sophisticated infant art form. This is a grand thing and deserves to be celebrated.
One of the best celebrations of movies and the historians who dote on them happens on a fairly regular basis on the internet in a podcast beautifully titled The Commentary Track - Interviews with Film Historians and Filmmakers. It was created and is hosted by Frank Thompson.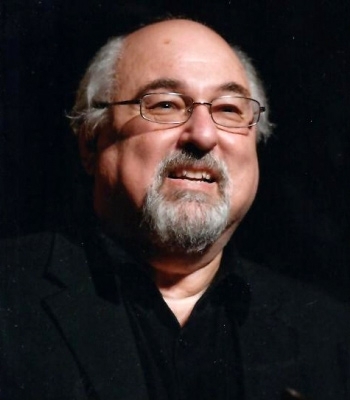 A man for whom the word "genial" must have been coined. Thompson is himself a film historian with over forty books to his credit, and a particular interest in director William Wellman. He has also written contemporary accounts of the making of the films Tim Burton's Nightmare Before Christmas and the 2004 The Alamo (he's an expert on the history of the battle at the Alamo), and even novelizations of films. He co-wrote with Clayton Moore the story of Moore's time playing the Lone Ranger on television, and he has written and directed a number of documentaries on film. The man knows his stuff and more.
The Commentary Track was named, of course, for that feature of many DVDs, where filmmakers comment on the film as you watch it. But his podcast could well be called The Conversation Track, for, although he asks good questions of his guests, what transpires is less an interview than a really good conversation between two people with a shared passion. Sparks of enthusiasm fly, gems of information sparkle, stories of love are told, laughs are generated. It is a comfortable, easy-chair podcast.
I was please to be guest on The Commentary Track last October, although bemused that Frank wanted to converse with me. But as I so enjoyed his conversations with others, I couldn't turn down the opportunity to join them on the list of his shows. Some of my favorite conversations were with Kevin Brownlow, the dean of film historians; Joe Adamson, who first declared animator Tex Avery to be a talent to revere and explained why seriously loving the Marx Brothers was a worthy emotion; Phil Proctor of the surrealist comedy group, The Firesign Theater, who debut in film acting with Orson Welles, Jack Nicholson, and Tuesday Weld (lucky man); and an old friend, Darrell Van Citters, an animator of no small talent who became an historian in order to save TV's first Christmas special, Mr. Magoo's Christmas Carol, from obscurity. Nice company to be in.
But there is another part of The Commentary Track, a sidebar really, that I have found much pleasure in listening to. Thompson calls it Radio Movies, and here he presents radio adaptations from the 1930s and 40s of what have become classic movies.
Of course, they were not always classic movies when these radio dramas and comedies were first broadcast on such shows as The Lux Radio Theater, Academy Award Theater, The Screen Guild Theater, and others. They were made for both promotional reasons and for just the sheer entertainment value of listening to your favorite film stars in these shortened -- but shorten artfully -- versions of popular films. Indeed, I was surprised to learn that some of the adaptations were made years after the film's release. Hardly a promotional item. They are just as entertaining today -- especially if you love movies from that era. And Thompson, being the fine historian he is, gives a fun facts filled intro to each radio play that always illuminates the experience you are about to have. Of the ones I've listened to I highly recommend Bob Hope in Ghostbreakers (very funny with a fine moment when the young June Foray -- later, Rocky the Flying Squirrel -- playing old cracks Hope up with an ad lib); Ruggles of Red Gap, with Charles Laughton and Charlie Ruggles with Laughton just as moving as he was in the film (made eleven years before this broadcast); The Lady Eve with Ray Milland taking Henry Fonda's role, but with original cast members Barbara Stanwyck and Charles Coburn, and a film I was unaware of, Remember the Night, with Stanwyck and Fred MacMurray, and the wonderful Sterling Holloway of the unforgettable voice, all essaying their original roles. Now it is a movie I have to see, and I will be obsessively checking TCM's schedule until I do.
You can check out The Commentary Track and Radio Movies here. And you can subscribe to the podcasts on iTunes here. If you have an interest in movies, their stars, directors, writers, and stories, you will thank me if you do.
Steven Paul Leiva's latest book, By the Sea, a comic novel, has just been published by Crossroad Press.