Admit it, part of the pleasure of ribs is that you get to eat them with your fingers. So they're a must-have at July 4th celebrations. With this First-Timer's Ribs recipe and these 10 expert tips, you'll always make perfect ribs.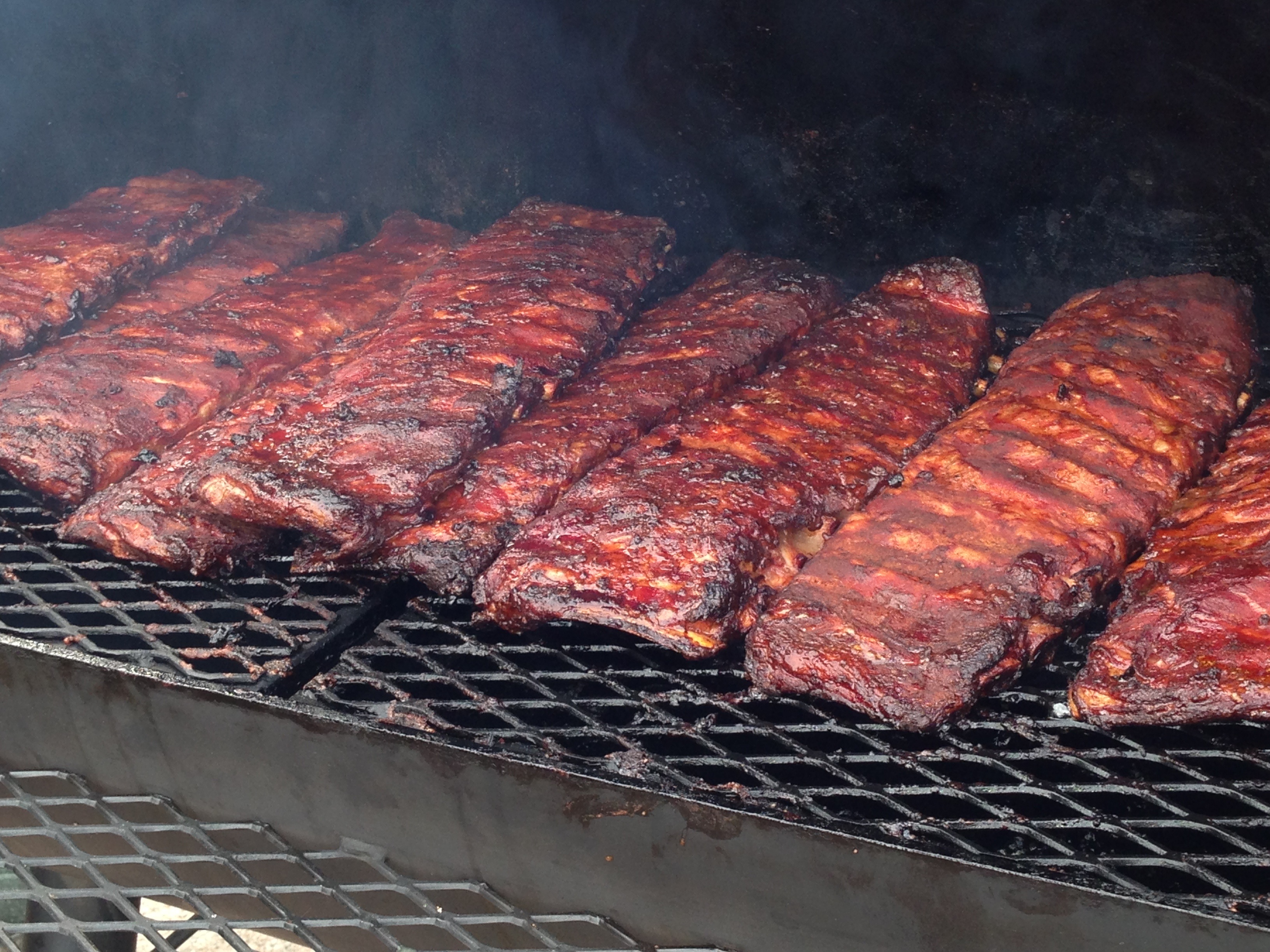 Choose the right rib. Baby backs make great starter ribs -- they're tender, well-marbled, and quick and easy to cook.
When buying ribs, look for plump meaty racks. Avoid "shiners" -- ribs with so much meat removed you see the shiny bones.
Pedigree counts: Sure, you can make tasty racks with supermarket ribs, but for really extraordinary bones, use a heritage breed, like Berkshire or Duroc.
Remove the membrane: The papery membrane (pleura in anatomical terms) is tougher than the meat below it and impedes the absorption of the spice and smoke flavors. Insert a slender implement, such as the tip of a meat thermometer, between the membrane and one of the bones under it. (Best place to start is one of the middle bones.) Using a paper towel or pliers to gain a secure grip, pull off the membrane. Note: some supermarkets sell skinned ribs; elsewhere some members of our barbecue community leave the membrane on to provide a contrast of flavors.
Great ribs are made by applying multiple layers of flavor. Use a rub or marinade to apply the base layer. Swab on a mop sauce to apply a second layer of flavor and keep the ribs moist during cooking. Apply the barbecue sauce at the end as a lacquer or glaze. (For even more flavor, sear it onto the meat directly over a hot fire.) And of course, the wood smoke provides the most important flavor of all.
The basic rib rub formula is salt, pepper, paprika, and brown sugar (in roughly equal proportions. Customize by adding garlic or onion powder, chili powder or cumin, or even a ringer ingredient, like coffee or cocoa.
If smoking ribs, maintain temperatures of 225 to 250 degrees F. If indirect grilling ribs, maintain temperatures of 325 to 350 degrees.


If your grill grate is small, invest in a rib rack. Not only will the rack enable you to grill more ribs, but it encourages self-basting as the juices travel down the length of the ribs.
Never, I repeat never, boil your ribs prior to grilling. Boiling denatures the flavor and texture. (That's what you do to bones to make stock.) You can achieve the requisite tenderness by indirect grilling or smoking. The same hold true for baking or braising prior to grilling.
Smoke is the soul of barbecue and great barbecued ribs. Hickory, apple, and oak are great woods for smoking ribs. Or use a mixture of all three. (Dang! I just gave away the formula for my Best of Barbecue Pork Smoking Chips.) Apply the smoke decisively but with restraint. It should enhance the meat, not overpower it.
GET 12 MORE MUST-READ RIB TIPS AT BARBECUEBIBLE.COM!
PLUS, DON'T MISS THIS!
The ONLY Ribs Recipe You'll Ever Need: First-Timer's Ribs!
Raichlen on Regional-Style Ribs
12 Surefire Ways to Build the Best Burger!
The Great American Hamburger Recipe
Steven Raichlen's UP IN SMOKE newsletter for more grilling advice. Sign up now!
THIS JUST IN!
Click here to enter the Barbecue Bible July 4th Sweepstakes!
Sign up for Workman's Blue Plate Special to get a FREE Steven Raichlen eCookbook and discounts on three of Steven's eBooks, including his eBook for Best Ribs Ever!