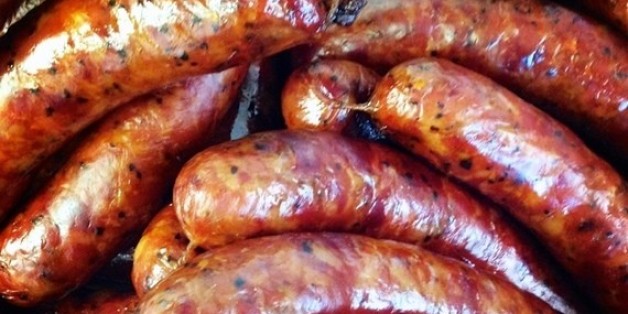 Is sausage the new bacon? Artisanal sausage restaurants are popping up like proverbial mushrooms after a rainstorm. My stepson runs one: Jake's Handcrafted in Brooklyn. Check it out and tell Jake that Steven sent you. According to Nielsen data, sausage sales more than doubled in the last 10 years, topping 4 billion dollars.
Germany remains the world's undisputed sausage capital with over 1,200 distinct varieties. But sausages are enjoyed all over Planet Barbecue, from Thailand's sai krok Isan (sweet fermented pork sausage) to Spanish morcilla (blood sausage spiked with cumin). If you've never ventured beyond Italian sausage or brats, read on. This post is for you.
Here's the best of the wurst--there isn't a better food for tailgating on the planet.
Knackwurst/Knockwurst: This plump, garlicky beef and pork sausage comes lightly smoked and precooked, so all you need to do is heat it on the grill. In case you're wondering, knack (sometimes spelled knock) means "crack" in German--a reference to the tendency of the taut natural casing to pop or crack when you bite into it.
Merguez: Native to North Africa and increasingly popular in the U.S., this fresh lamb sausage takes its firepower from harissa (North African hot sauce), paprika, cayenne, and other spices. Slender and short (rarely longer than 3 inches), this is North African street food at its best. I like to grill it with scallions and serve it on pita with hot sauce.
Bockwurst: Think of this one as albino sausage. The pale cream color of this mild pork and veal wurst (similar to weisswurst--"white sausage") demands the chiaroscuro of dark grill marks. Serve it with--what else?--bock beer, sauerkraut, and a dollop of fiery German mustard.
Cotechino: Isolated by enemy troops and desperate for meat, citizens of the Italian village of Mirandola (near Modena) pooled their pork scraps, added coriander and other spices, and came up with cotechino. This large (about 1 pound each) salami-like sausage traditionally comes served sliced with lentils, cannellini beans, and polenta. New Year's revelers take note: cotechino is thought to bring good luck when served on New Year's Eve. (The lentils are round like coins, symbolizing prosperity.) The Raichlen twist? Sizzle the slices over a hot fire before shingling them over stewed lentils.
Loukaniko: This pork sausage from Greece explodes with the Aegean flavors of orange zest, wine, fennel, oregano, and other herbs. Some versions contain lamb as well. Grill it fresh or cure and cold smoke it before serving. Often served in pita bread with tzatziki (yogurt cucumber dip) or as part of a meze (Greek tapas spread).
Find five more of the world's top sausages--and the best wurst recipes--at BarbecueBible.com.
SIGN UP for Steven Raichlen's UP IN SMOKE newsletter to learn more about barbecue!
READ MORE ABOUT GRILLING AT BARBECUEBIBLE.COM
--
Steven Raichlen is the author of the Barbecue! Bible cookbook series and the host of Primal Grill on PBS. His web site is BarbecueBible.com.