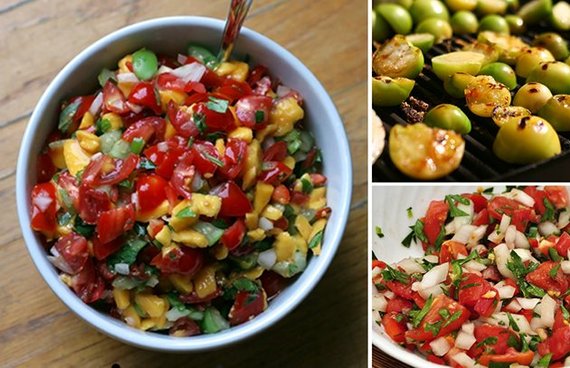 Born in pre-Colombian Mexico, this ancient condiment uses every flavor blaster in the New World arsenal—chilies, tomatoes, alliums, citrus, even squash seeds. And if you think salsa comes solely tomato red or tomatillo green, you haven't experienced melon, papaya, or pineapple salsa. You should.
Salsa is quick and easy to make -- indeed its essence is its spontaneity. Big in flavor, but low in sugar, fat, and calories, it just might qualify as health food.
Here -- just in time for Cinco de Mayo, Mexico's Independence Day -- are my favorite tips for making the best salsa possible.
Because of its simplicity and directness, salsa lives or dies by the quality of the raw materials. Start with ripe unrefrigerated tomatoes -- preferably from your garden or local farm stand tomatoes. Sweet onion. Fresh cilantro. You get the idea.
One exception to this rule is chiles chipotles (smoked jalapeᅢᄆos) -- the best actually come from cans. That's because they're packed in a spicy puree of tomato, vinegar and spices called adobo. For extra flavor, be sure to add a spoonful of these can juices to your salsa.
To make cooked salsas, like salsa verde or salsa chipotle, skip the traditional method of roasting the tomatoes, onions, garlic, etc., on a comal (flat cast iron griddle), and char the veggies on the grill instead. For an even more intense flavor, roast them caveman-style: directly on the embers.
Chiles are the animating spirit of salsa. Some salsas start with fresh chiles (like pico de gallo and xni pec). Others (see salsa borracha) start with dried chilies, which, in addition to heat, add earthly, chocolate, or tobacco undertones.
Remember, the hottest parts of a chile are the seeds and the veins, so add them only if you mean to. If you have sensitive skin, wear rubber or plastic gloves when handling chiles.
Salsas range in texture from chunky to smooth. For an interesting texture, grind the ingredients in a molcajete (lava stone mortar and pestle).
SIGN UP for Steven Raichlen's UP IN SMOKE newsletter to learn more about barbecue!
Steven Raichlen is the author of the Barbecue! Bible cookbook series and the host of Primal Grill on PBS. His web site is www.barbecuebible.com.