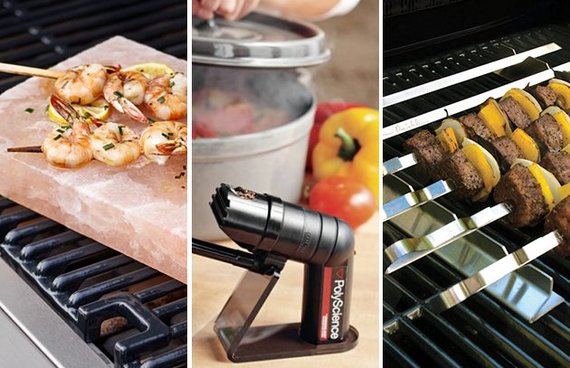 Speaking as a guy and a father, here's a bit of advice: Don't give Dad a gift he would store in a top dresser drawer. In other words, no socks, neckties, cufflinks, and monogrammed anything. We want toys. And time with you and yours. Gear for your grills satisfies both criteria.
Any of the following gifts will be appreciated by that special dad in your family and you just might benefit, too.
Looftlighter Fire Lighting Tool: Looking for a new way to start a charcoal or wood fire? Check out the Looftlighter, engineered by a Swedish inventor to super-heat air to a temperature of 1256 degrees. It can light a wood or charcoal fire minutes. Or, you could give Dad a flame-thrower. Ask Mom first.

Charcoal Companion Himalayan Salt Plate: When I first saw this thick slab of pink salt, I thought it was a gimmick. Having used it as a press for pollo al mattone (chicken under a brick) and as a resting platform for grilled steaks, I'm a convert. It also makes a pretty cool plancha and serving platter for grilled meats, vegetables, or seafood.

Solaire Anywhere Portable Infrared Grill: Gas grills aren't normally known for their portability and portable grills don't normally pump out the heat. The Solaire harnesses the searing properties of infrared, but is small enough take on a boat, RV, or to a summer cottage. But not so small that it can't accommodate eight hamburgers or bacon-wrapped filets mignon. Commercial-grade stainless steel firebox and welded construction, this grill runs on propane cylinders and is meant to last.

Polyscience Smoking Gun: Think of it as a wood smoker in pistol form. Or think of it as a bong for smoking hickory instead of, well, you know. Insert the rubber tube in a pitcher of bloody marys or a bowl of mayonnaise (cover with plastic wrap to seal in the smoke). Let smoke for 5 minutes, and you'll understand why the Smoking Gun is my favorite smoke delivery device of the season.

Lodge L410 Sportsman's Charcoal Grill: I love this sturdy hibachi-style grill. It's perfect for a party of two. Or buy two, and urge Dad to grill appetizers on it when he hosts larger parties. Not only is it pre-seasoned, but it features a convenient drop-down door so you can add charcoal as needed and a vent to regulate heat. Comes with a lifetime warranty, too. How often do you see that? Perfect for people who have downsized, but still have a patio.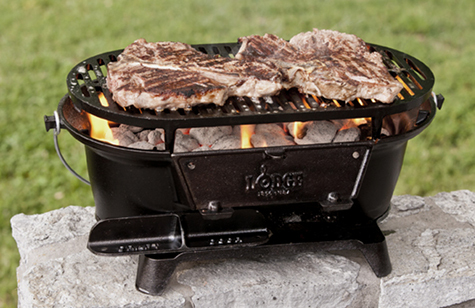 See 4 more great gifts for Dad and win a set of gear for him this year in our Father's Day giveaway.
SIGN UP for Steven Raichlen's UP IN SMOKE newsletter to learn more about barbecue!
READ MORE ABOUT GRILLING AT BARBECUEBIBLE.COM
--
Steven Raichlen is the author of the Barbecue! Bible cookbook series and the host of Primal Grill on PBS. His web site is BarbecueBible.com.