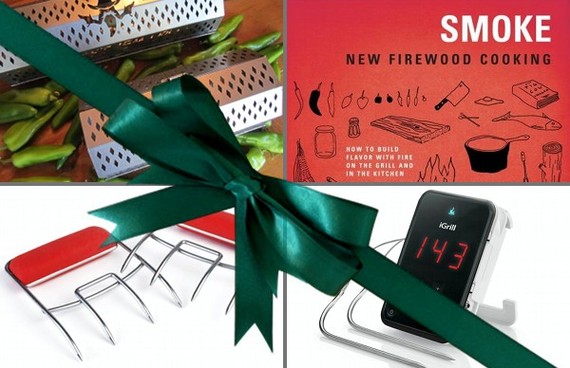 Some people have a, er, gift -- for gifting. Unfailingly, they divine other peoples' desires in the way a dowser can find ground water or buried treasure. They identify the perfect gift, they buy it, they wrap it. Don't hate them (I know -- it's hard), but these people have their holiday shopping done by Labor Day. On "Black Friday" (which, by the way, is being pushed back to Thursday by at least one large retailer), they're busy cozying up to Thanksgiving leftovers before taking a nap.
I can't promise ideas for everyone on your list. But if someone you know would be pleased with a lump of (char)coal in his or her stocking -- someone who loves live-fire cooking -- read on. And one other thing: Permission granted to email this list to people who might be looking for gift ideas for you.
The Smoking Gun: It looks like a tricked-out blow dryer with a rubber hose attached -- not normally a good look in barbecue circles. But The Smoking Gun is no toy: In 30 seconds, it will infuse meat, seafood, poultry, cheese, vegetables, and even cocktails (like a classic Manhattan) with fragrant wood smoke. It has a good pedigree, too. It's the least expensive product of PolyScience, a U.S. company that builds industrial temperature control devices. Way too fun. $99.95.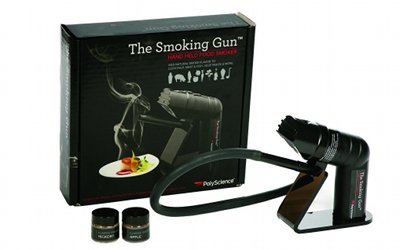 Charcoal Companion Stainless Steel Meat Claws: These belong in every grill jockey's toolbox. Not only can they reduce a barbecued pork shoulder to succulent shreds in a matter of minutes, but they make handling large hunks of protein -- like Thanksgiving turkeys, holiday hams, and prime rib roasts -- much easier. Soft-grip handles for comfort (important if you're pulling pork for a crowd). $13.36.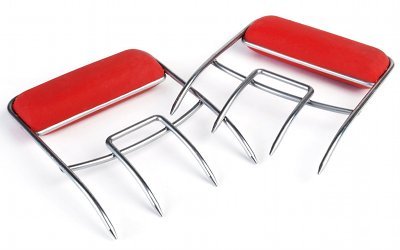 White Bincho-tan Charcoal: Grillers who knows their fuels will be wowed by this exclusive Japanese charcoal from the Miyazaki prefecture. Very slow-burning (it can last for 4 to 5 hours), chemical-free, and nearly smoke-free, white bincho-tan is the charcoal of choice for Japanese yakitori and robotoyaki masters. It can easily achieve temperatures in excess of 900 degrees. Yeah, it's expensive—but isn't the connoisseur on your list worth it? $149.90 for 20 pounds.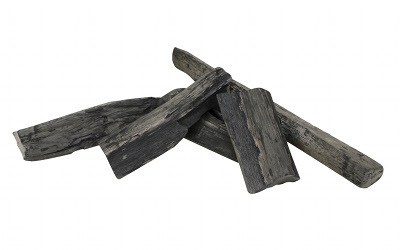 Total Jerk Kit: Speaking of luxury fuels, entrepreneur Gary Feblowitz built his Twin Cities-based company out of pimento wood (figuratively, not literally). Currently, Exotic Wood Chips is the only U.S. importer of Jamaican pimento wood, an essential ingredient for authentic jerk. You could gift a trip to Jamaica—Boston Beach's main street is lined with real deal jerk stands -- but for significantly less money, you could spring for a kit containing everything needed to replicate the flavors of the island. $95.00.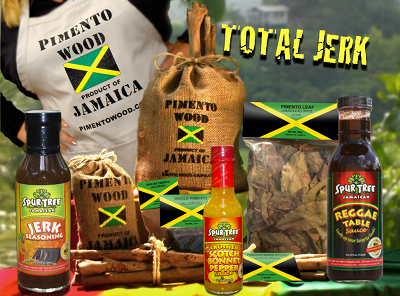 Roast 'Em Up Chile Roaster: Patrick Driscoll placed his annual order for 25 pounds of New Mexican Hatch chiles, then realized he didn't have an efficient way to roast them. Using materials mostly purchased from a local hardware store, the do-it-yourselfer from Arizona fabricated an octagonal chile roaster that fits on most rotisserie spits. It was a hit at Barbecue University this past June, inspiring us to whip up an addictive batch of chili verde. Available in several sizes, prices start at $139.50.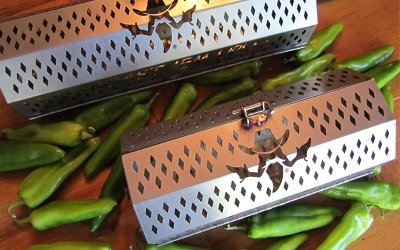 iGrill: One of my barbecue Ten Commandments is, "Never desert your post." Wise advice when you're quickly grilling bread, chicken breasts, burgers, etc. But not practical for large hunks of meat that require hours. Enter the iPad, iPhone, and iPod compatible, Bluetooth-enabled iGrill dual thermometer and app. Responsive within a 200-foot radius. $79.99.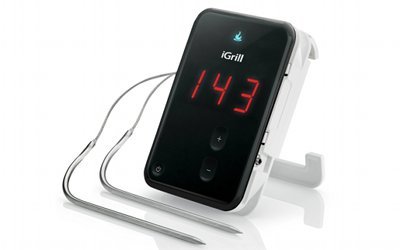 Lodge Cast Iron Round Mini Server: We have a well-seasoned collection of cast iron cookware at Barbecue University, virtually all of it from Lodge Manufacturing of South Pittsburg, Tennessee. In business since 1901, the company often sends us new products to try. We particularly like the 14-ounce mini server: It's perfect for grilled side dishes like Argentinean provoleta (barbecued cheese) and smoke-roasted au gratin potatoes. $12.33.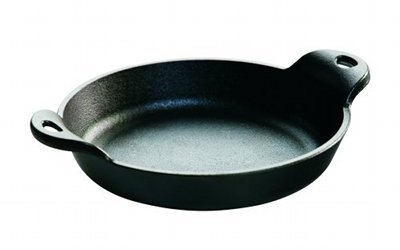 KettlePizza Deluxe Kit: Turn your 18.5- or 22.5-inch kettle grill into a pizza oven. An ingeniously designed 20-gauge stainless steel sleeve with an arched opening (just like a traditional pizza oven) thermodynamically moves heat under and over the top of your pizza for efficient, high-temperature baking using wood or charcoal. The deluxe version includes a pizza stone, wooden pizza peel, and thermometer. $188.14.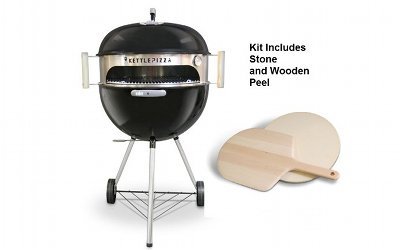 Smoke by Tim Byers: One of the best barbecue-themed books to come over the transom in 2013. Texas chef and restaurateur Tim Byers tackles one of my favorite subjects, live-fire cooking, with experience and enthusiasm and speaks with a genuine voice. Recipes, anecdotes, valuable how-tos (like how to build your own smokehouse), and drop-dead gorgeous photos -- they're all here. $27.79.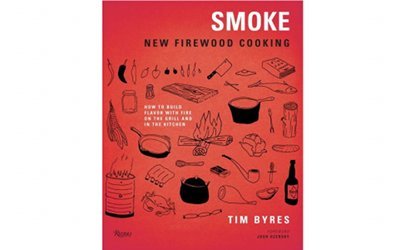 Get even more gift ideas for the barbecuer in your life.
Do you have a must-have product that made your list? Share your suggestions on the Barbecue Board.
READ THESE BOOKS BY STEVEN RAICHLEN:
READ MORE ABOUT GRILLING AT BARBECUEBIBLE.COM:

SIGN UP for Steven Raichlen's UP IN SMOKE newsletter to learn more about barbecue!
Steven Raichlen is the author of the Barbecue! Bible cookbook series and the host of Primal Grill on PBS. His web site is www.barbecuebible.com.