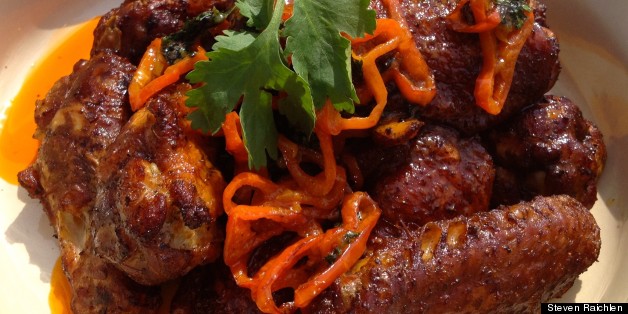 Wherever there's smoke, there's fire. I always try to satisfy gustatory pyromaniacs with a few appropriately incendiary dishes. This year, you have to try this Fire-Eater Chicken Wings recipe, electrified with a triple-blast of heat in the form of cayenne pepper, fresh red jalapenos, and a generous dose of hot sauce. With it, you'll please those pyro palates coming to your upcoming Fourth of July celebration, or you can make these scorching wings to set off the fireworks early. Just be sure to have plenty of cold beer on hand (or milk!) to put out the fires.
CLICK HERE FOR 4 MORE HOT CHICKEN WING RECIPES FROM AROUND THE GLOBE ON BARBECUEBIBLE.COM.
So what is it about wings that has earned them a cult following?
A high ratio of skin and fat to meat. And let's face it, the skin is the best part of the chicken -- regardless of what corner of Planet Barbecue you live it.
The bones are great to gnaw on, and working hard for the meat is part of the fun. Plus, cleanly picked bones help you keep a running tally of how many you've consumed -- important if you're a competitive eater. If you're really competitive, you might want to know the record is 337 wings eaten in 30 minutes by professional eater Takeru Kobayashi in Philadelphia's 2012 "Wing Bowl."
The diminutive size of the chicken wing makes them perfect finger food.
Though demand has driven prices up in recent years, chicken wings are still relatively inexpensive.
Wings are nearly blank canvases, as accommodating as tofu, absorbing whatever flavors you put on them. When paired with a dip, you can cram fiery, sweet, sour, salty, bitter, and umami flavors into one satisfying bite.
GO TO BARBECUE BIBLE.COM FOR ADVICE ON THE MANY WAYS TO PREPARE CHICKEN WINGS AND HOW TO KNOW WHEN WINGS ARE FULLY COOKED!
PLUS, DON'T MISS THIS!
The ONLY Wings Recipe You'll Ever Need: Fire-Eater Chicken Wings!
The ONLY Ribs Recipe You'll Ever Need: First-Timer's Ribs!
12 Surefire Ways to Build the Best Burger!
The Great American Hamburger Recipe
Raichlen on Regional-Style Ribs
Steven Raichlen's UP IN SMOKE newsletter for more grilling advice. Sign up now!
Steven Raichlen is the author of the Barbecue! Bible cookbook series and the host of Primal Grill on PBS. His web site is www.barbecuebible.com.