For 30 years I've been a food writer. For 18 of those years I've focused on barbecuing and grilling. So when I decided to write a novel -- a love story no less -- you can imagine I met with skepticism. Hell, I was skeptical about whether I could switch gears and write an entirely made up story without a single recipe.
So what on earth led a guy with several million barbecue books in print worldwide to try his hand at the dicey game fiction? And what was the path I took from The Barbecue Bible (Workman Publishing) to Island Apart (Forge)?
The short answer to the first question is that, since the age of 15, I've dreamed of writing a novel. It just took me 40 years to get to it. Lesson number one to aspiring writers: never give up on a dream.
The longer answer is that for all those years I was writing about grilling and traveling Planet Barbecue, I was acquiring the knowledge and skills I would need to write fiction. I just didn't know it at the time. Lesson number two: no experience or writing project -- no matter how seemingly tangential -- is a waste of time.
Island Apart is a foodie love story set on Chappaquiddick Island in Martha's Vineyard. I don't use the word "foodie" lightly. My protagonist lives off the grid and off the land, fishing, hunting, gathering wild berries and plants on an island with no restaurants or hotels, one paved road, and only 70 year-round residents. The Hermit of Chappaquiddick -- for that's his name -- sets lobster pots in Cape Pogue Bay, digs clams in Caleb's Pond, catches bluefish off North Neck, cures venison bacon at his home deep in the wood behind the Chappaquiddick cemetery, and even makes his own sarsaparilla using Chappaquiddick sassafras. (The latter, incidentally, was Martha's Vineyard's first commercial export.)
My co-protagonist also loves to cook. Her name is Claire Doheney and she's a New York book editor recovering from a serious illness. She has come to Chappaquiddick to house-sit for friends who own a mansion here and to nurse her wounds -- both physical and emotional. She cooks to fill voids left by a broken marriage, a difficult new boss, her health problems, and a troubled relationship with her teenage daughter.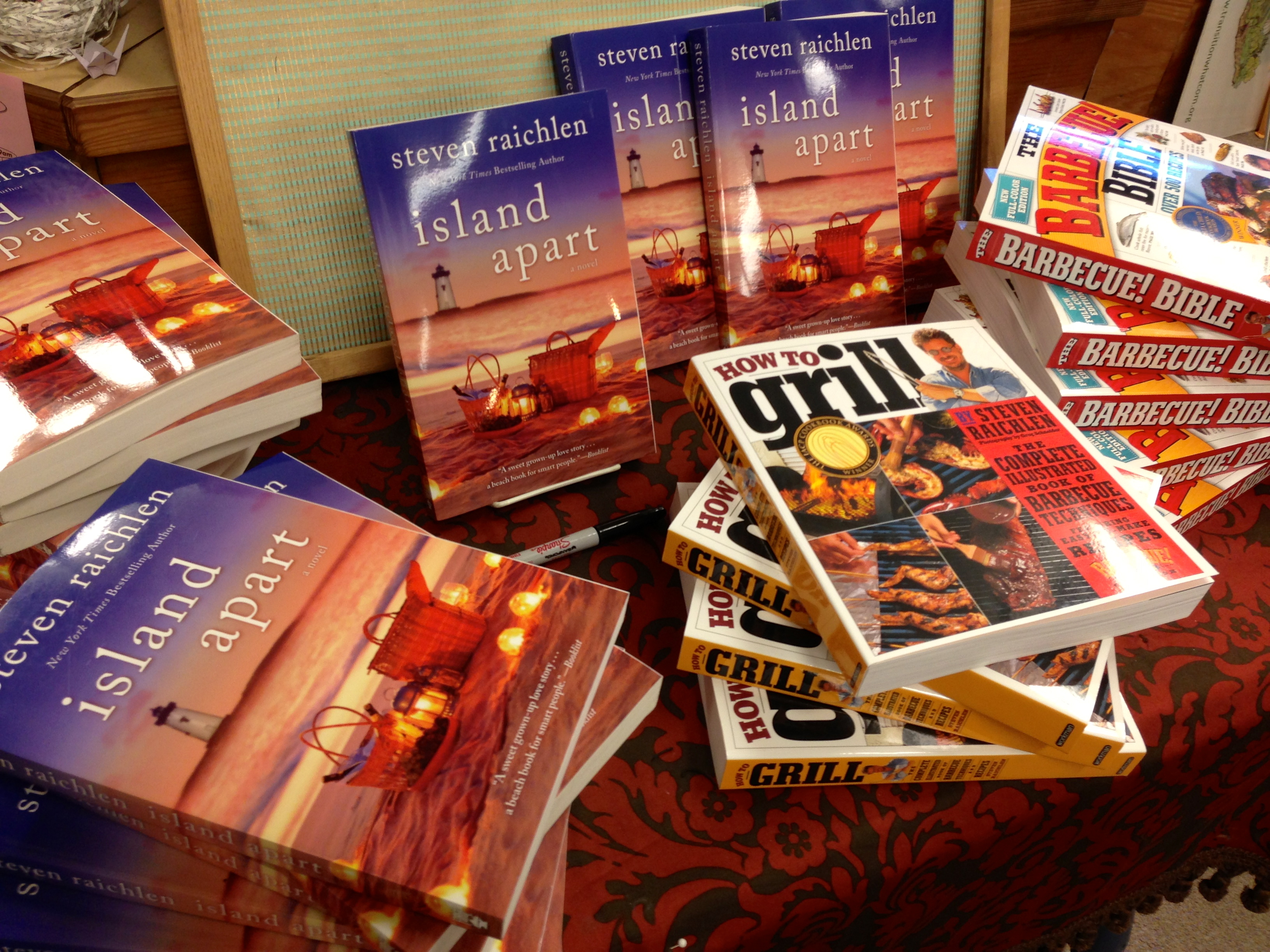 The irony for both these characters is that they love to cook, but have no one to cook for.
I won't tell you how Claire and the Hermit meet. (Yes, it involves food). I won't tell you how their relationship develops. (Hint: through a lot of cooking.) I will tell you that I followed the old adage about writing -- write what you know -- and that my former stints as a restaurant critic for Boston Magazine and Wine and Spirits columnist for GQ certainly helped me with the food and drink scenes in Island Apart.
But even more important is the advice I received from my writer friend John Dufresne to write about what you don't know. In the course of my research for Island Apart, I learned how Martha's Vineyard got its name (it involved a baby) and what really happened the night of July 18th, 1969 at Chappaquiddick's Dyke Bridge -- site of the infamous accident in which the late Senator Ted Kennedy was behind the wheel.
I learned about Marie Curie's ill-fated line of radium-enhanced cosmetics (her customers supposedly got skin cancer) and about Enlightenment social reformer Jean-Jacques Rousseau's secret sin (he abandoned his own children in an orphanage). I learned a lot about the real life iconoclastic psychotherapist, Wilhelm Reich -- an important supporting character in my story -- who was almost militantly indifferent to food, but whose strange life story in many ways mirrored that of the Hermit.
So how does one make the transition from food writing to fiction? I'm not sure I know the right way (I never took writing classes in college), but for me it began with the characters. I started with a man who had severed all the relationships that normally bind us to the world: family, friends, colleagues, even neighbors. Then I wanted to see what would happen when a woman with a heap of troubles of her own forced him back into society -- with the help of a cast of characters that includes a self-help guru, a Harley riding hellion, a philanthropic six-year-old, and the island of Chappaquiddick itself.
The one thing you won't find in Island Apart is recipes. I left them out on purpose. For better or worse, I wanted readers to judge the book as a work of fiction, not a cookbook. However, if you're curious know how to make Claire's cranberry walnut bread or the Hermit's Chappaquiddick clams casino or Elliot's Katama Kirs (champagne and blueberry syrup), you'll find recipes and photos on my web site.