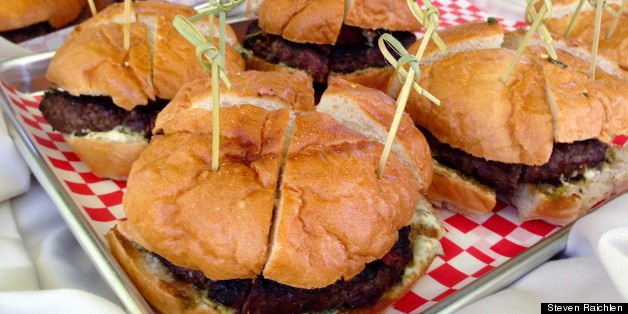 Today is Memorial Day and if you're like most Americans, your celebration will culminate at the grill over a sizzling hamburger. In the event you miss this date, tomorrow, May 28th, is National Hamburger Day.
To honor the almighty burger in proper form, here's a recipe from me to you -- the Inside-Out Burger. It's the only burger recipe you really need in your repertoire, designed to give you an incredibly succulent burger even when you cook it through to a food safe temperature.
Remember that you don't need a degree in food safety to know that it's no longer wise to eat rare or undercooked ground beef these days, especially if you buy it at the supermarket. To play it safe, you must cook a burger to an internal temperature of at least 160 degrees. (Tip: insert the probe of an instant read meat thermometer through the side of the burger, not through the top.)
Here's the secret: To keep the meat luscious and moist at that temperature, fold the coarsely grated cheese directly into the ground beef. The melting cheese keeps the meat moist -- even when you cook it through.
This is my go-to method now. I bet it will become yours, too.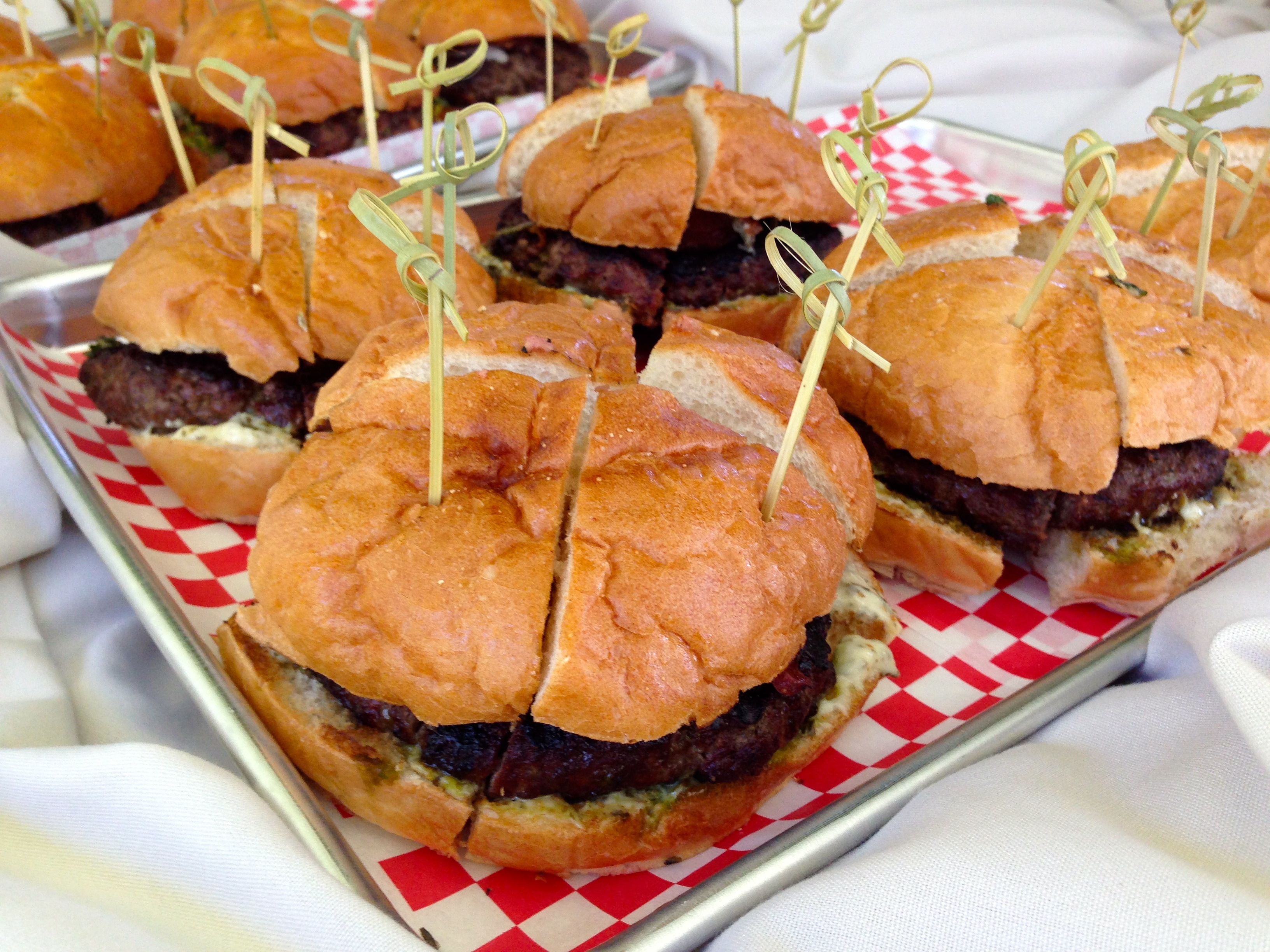 INSIDE-OUT BURGER
Makes 4 burgers
1-1/2 to 2 pounds ground beef (fat content of about 18 percent)
4 ounces (1 cup) coarsely grated cheddar, pepper Jack, smoked Gouda, or other favorite cheese
Coarse sea salt and freshly ground black pepper
4 hamburger buns or Kaiser rolls, cut sides lightly buttered
4 Boston or Bibb lettuce leaves
1 luscious red ripe tomato, thinly sliced
Condiments of choice: ketchup, mustard, mayonnaise, barbecue sauce, etc.
Place the beef in a mixing bowl. Mix in the cheese with a wooden spoon.
Form the beef into four patties, each about one inch thick and slightly larger in diameter than the bun. Work with a light touch, handling the meat as little as possible. Make a slight depression in the center -- the patty should be slightly concave. Arrange them on a plate lined with plastic wrap and cover with more plastic wrap. Store in the refrigerator until ready to cook. (Tip: You can form the burgers up to six hours ahead.)
Just before cooking, season the tops of the burgers with salt and pepper. (Note: You'll need less salt than for a normal burger, as many cheeses are salty already.)
Set up your grill for direct grilling and preheat to high. Ideally you'll grill over a wood fire or over charcoal or gas with a handful of soaked hardwood chips. Brush and oil the grill grate. Arrange the burgers on the grate. Grill until the bottoms are browned, three to five minutes. Gently invert the burgers, using a spatula. Season the other side with salt and pepper. Continue grilling the burgers until cooked to taste, seven to nine minutes in all for medium doneness -- 160 degrees in the center when read on an instant-read meat thermometer inserted through the side of the burger.
Line the bottom bun halves with lettuce leaves. Place the burger on the lettuce and top with tomato and any desired condiments.
Go to BarbecueBible.com for more great burger-grilling advice!
Sign up for the UP IN SMOKE newsletter to get surprising burger facts and more!
Steven Raichlen is the author of the Barbecue! Bible cookbook series and the host of Primal Grill on PBS. His web site iswww.barbecuebible.com.