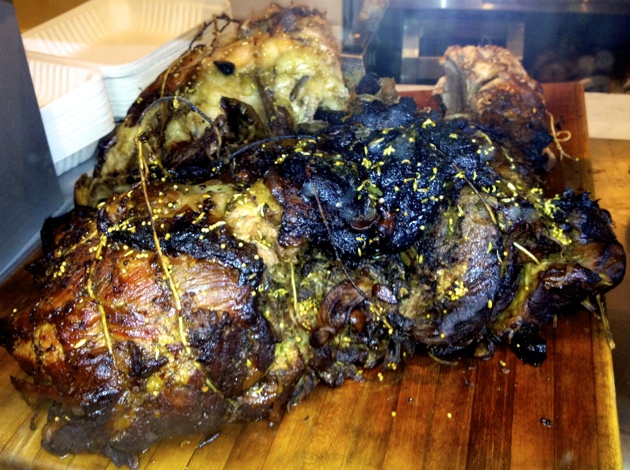 If you want a symbol of how much American attitudes about grilling have changed in recent years, consider Labor Day. It used to marks the end of summer barbecue season -- a last hurrah of smoke and fire before you mothballed your grill for the winter.
These days, most of us grill through Thanksgiving and a growing number of Americans (45 percent according to the Hearth and Patio Barbecue Association) fire up our grills year round.
Labor Day became a national holiday in 1894, when Congress resolved to honor the achievements of American workers on the first Monday of September. And the best way to celebrate Labor Day? Now as then, with a barbecue.
By this time of year, you've been grilling hard all summer long. So why not serve a menu that's big on flavor, but light on the actual labor? Of course, someone still has to man the grill, and nobody is better at it or enjoys it more than you do. But you don't have to sweat it out on Labor Day either.
Here are five strategies for staging a Labor Day barbecue -- hold the hard work.
Instead of commercial graham crackers, use artisanal or homemade cookies, like chocolate chip, gingersnaps, or shortbread.
Instead of cheap milk chocolate candy bars, invest in some interesting high cocoa-butter content chocolates, like Scharffen Berger or Lindt. Or buy an interesting flavored chocolate bar, like those made by Vosge (flavored with bacon or chiles).
Make your own marshmallows. It's easier than you think, and you can flavor the marshmallows with rum, bourbon, or other favorite spirit.
Build a big fire in your charcoal grill, adding a few logs for that campfire experience. Let everyone grill his own marshmallow and assemble his own s'more, vigorously debating whether or not to brown the marshmallow or set it on fire and blow it out. (I guess you know what school I belong to.)
FIND MORE GREAT LABOR DAY RECIPES ON BARBECUEBIBLE.COM!
GET THE PERFECT PORK SHOULDER RECIPE NOW!
CHECK OUT THESE BOOKS BY STEVEN RAICHLEN:
READ MORE ABOUT GRILLING AT BARBECUEBIBLE.COM:

SIGN UP for Steven Raichlen's UP IN SMOKE newsletter to learn more about barbecue!
Steven Raichlen is the author of the Barbecue! Bible cookbook series and the host of Primal Grill on PBS. His web site is www.barbecuebible.com.