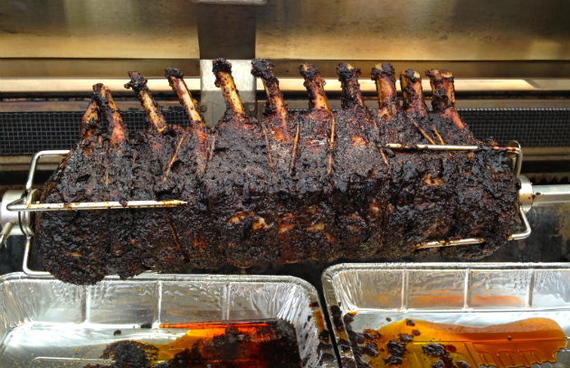 Prime rib too pricy this holiday season? How about a pork loin rib roast? You get the same rib bones standing at attention, the same crusty exterior, the same moist meat, the same protein wow-power--and you could buy three or four pork roasts for the cost of a single prime rib.
Essentially, a pork loin rib roast consists of conjoined pork chops--lean, tender, moist, sweet loin meat on bones you will gnaw without shame. Perhaps you've eaten it in the form of crown roast of pork, which is made by standing the chops upright and tying the bones with butcher's string into the shape of a crown shape. (Looks cool, but the meat inside gets soggy.) A single pork loin can present up to 17 bones. I ask my butcher for a center cut featuring the 8 largest bones. (One bone section equals one generous serving.)
My favorite seasoning for pork loin rib roast is a coffee based spice mix I call java rub. Click here for the recipe.
My favorite cooking method is, you guessed it, on a grill--more specifically on the rotisserie--over a charcoal fire made fragrant with apple wood. If you use a Weber kettle, you'll also need a rotisserie ring. And once you start spit-roasting meats with it over charcoal wood smoke, you'll wonder how you ever lived without it.
Don't have a rotisserie? Indirect grill the roast at medium-high (400 degrees) until the internal temperature reaches 145 degrees (if you like your pork with a blush of pink) or 155 degrees if you like it cooked all the way through. Use an instant read thermometer to be sure.
Either way, you've freed up valuable kitchen real estate (like the oven) for side dishes. And given yourself an unimpeachable excuse to get some fresh air.
Get the recipe for Coffee-Crusted Spit-Roasted Pork Loin Roast with Caramelized Apple Sauce at BarbecueBible.com.
SIGN UP for Steven Raichlen's UP IN SMOKE newsletter to learn more about barbecue!
READ MORE ABOUT GRILLING AT BARBECUEBIBLE.COM
--
Steven Raichlen is the author of the Barbecue! Bible cookbook series and the host of Primal Grill on PBS. His web site is BarbecueBible.com.