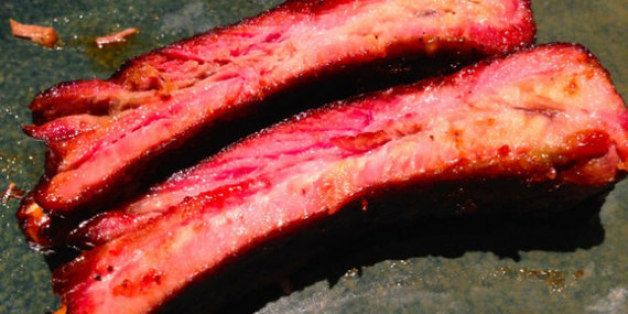 What's the best meat city in the U.S.? A reporter from a major international newspaper asked me this question recently, and it set me thinking about some of the most interesting carnivorous excesses I had during my 30-city book tour for Man Made Meals this spring and summer. Not just the obvious destinations, like New York, Memphis, and Houston. (These should be on anyone's hit list, of course.) But how about cities you wouldn't normally associate with great meat eating, like Portland, Oregon, and Brooklyn?
I know my list will generate controversy--that's why I wrote it. I'd like to hear about your favorites and why. (Share them on the Barbecue Board.)
Herewith, my Top 5 Meat Cities in the U.S.:
Portland, Oregon: The secreto at the Imperial restaurant. The asado argentino at Ox restaurant. The "Porkstrami" at Tails & Trotters. This meat-tropolis on the Willamette River has become a carnivore's paradise.

Brooklyn, New York: Hometown Bar-B-Que, BrisketTown, Fette Sau, Der Kommissar (hand-crafted, out of the box sausages), not to mention the landmark Peter Luger Steak House. Need I say more?
Washington, DC: Never mind all the pork that gets generated by Congress. Don't miss the herb-smoked steaks at Del Campo and the spit-roasted whole lamb at Kapnos.

Los Angeles, California: The Italian steak house on Melrose, Chi Spacca, may serve the biggest steak in North America--the four-inch thick, 50-ounce wood fire-grilled costata alla fiorentina. And that's just the beginning.
Austin, Texas: Where else do people start lining up at 8 a.m. at Franklin, La Barbecue, Micklethwait Craft Meats and other great barbecue joints that won't open until 11 a.m.? Doesn't anyone in Austin have a job?
Find out the rest of my Top 10 Meat Cities at BarbecueBible.com.
SIGN UP for Steven Raichlen's UP IN SMOKE newsletter to learn more about barbecue!
READ MORE ABOUT GRILLING AT BARBECUEBIBLE.COM
--
Steven Raichlen is the author of the Barbecue! Bible cookbook series and the host of Primal Grill on PBS. His web site is BarbecueBible.com.