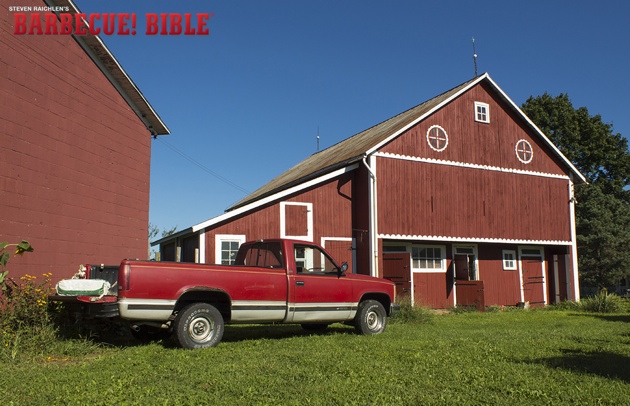 Many Americans consider themselves bona fide tailgaters, with millions more hosting pre-game and post-game parties at home. The concept bundles two of our favorite collective passions: live-fire cooking and competitive sports. In fact, tailgating itself has become a competitive sport since it was first practiced at the Princeton-Rutgers football game in 1869.
But to be a tailgating champ, the food must impress. Basic burgers and dull dogs don't cut it anymore. And whipping out some serious gear will help, but so does an over-the-top menu.
To bring your "A" game to this contest, practice what I like to call GPT, "Gold Plate Tailgating."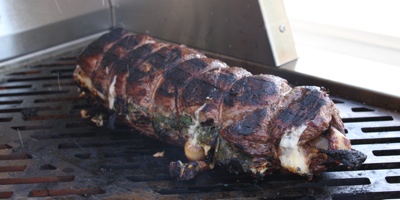 Build your GPT menu around a large hunk of meat that serves lots of people, such as prime rib or The Ultimate Cheesesteak, a whole butterflied beef tenderloin stuffed with poblanos, onions, and provolone cheese, then grilled and served with chipotle sauce.
Bring two grills if possible, one for direct grilling appetizers like pepper Jack or Cheddar cheese quesadillas, and another for foods needing lower, slower cooking times, like barbecued onions or pork shoulder. While I personally prefer charcoal or wood-burning grills, there are a number of good portable gas grills.
Be a prepared weekend warrior: Develop a master list of tools, fuels, and other essentials -- like tickets! -- and have it laminated. You can use it over and over again. If tailgating at home, of course, your chances of recovering from a fumble are better.
"Safety" is a word all football fans understand. It's important in the parking lot, too. Keep cold foods cold, hot foods hot, and always position a fire extinguisher near your improvised outdoor kitchen. Take advantage of coal disposal bins if the stadium offers them. Otherwise, thoroughly douse your fire and transport the remains in an ash can.
CLICK HERE FOR 4 MORE GOLD PLATE TAILGATING TIPS!
And don't forget to add these handy tools to your equipment locker, too: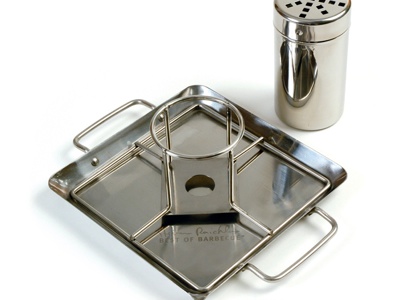 Beer Can Chicken Roaster: Designed by the guy who literally wrote the book on beer can chicken (that would be me), this stainless steel chicken roaster (pictured, above) eliminates several potential problems for the tailgater. Chicken enthroned on a beer can has a tendency to tip over -- especially when beer has been consumed during its preparation. The roaster stabilizes your bird so you won't find it lying on the grill grate like a downed player. The easy-to-clean tray collects dripping fat and juices, eliminating flare-ups. Or skip the can altogether and pour your favorite beverage -- wine, rum and fruit juice, ale, etc. -- directly into the stainless steel canister.
Sausage Basket: If you've ever tried grilling brats or Italian sausages for the multitudes, you know that managing individual sausages on the grill can get old. Make your life easier with the Best of Barbecue™ Sausage Basket. It locks as many as 10 full-size sausages in place, allowing you to turn them all with one flick of the wrist. Helps you dodge flare-ups and keeps sausages from rolling into the fire. P.S. Here's a little-known fact in tailgating history: Stadium sausages used to be served by vendors wearing gloves. But one vendor ran out of gloves, so he slapped his sausages on rolls--the birth of the sausage sandwich.
Ultimate Rib Rack: Do the math -- two full racks of pork or beef ribs take up most of the space on your grill grate, especially if you rely on a smaller, portable-style grill for tailgating. With this sturdy nonstick rib rack, you can barbecue four racks of ribs in an upright position in the same amount of grill grate real estate. Vertical ribs self-baste as they cook, becoming admirably tender and succulent.
Ultimate Suede Grilling Gloves: And while we're on the subject of hand wear, any serious tailgater needs a pair of suede grill gloves. Ideally with extra padding in the fingers and palms and a sleeve that protects your arm past the elbow. Cooks Illustrated magazine gave top rating to these Best of Barbecue Suede Grill Gloves. A full 18 inches long, these tough-looking black and orange gloves are great for fireplace cooking, too.
CHECK OUT THESE BOOKS BY STEVEN RAICHLEN:
READ MORE ABOUT GRILLING AT BARBECUEBIBLE.COM:

SIGN UP for Steven Raichlen's UP IN SMOKE newsletter to learn more about barbecue!
Steven Raichlen is the author of the Barbecue! Bible cookbook series and the host of Primal Grill on PBS. His web site is www.barbecuebible.com.