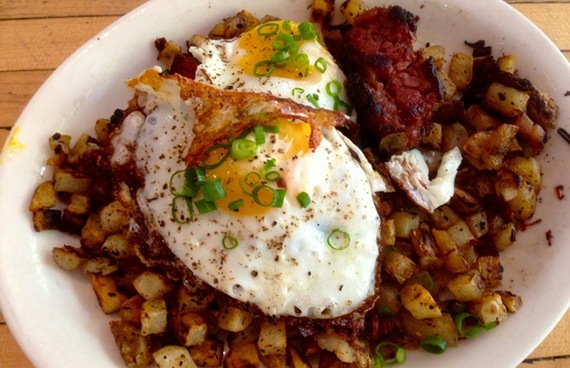 Remarkably, 88 out of 100 people in the U.S. eat turkey on Thanksgiving Day, according to the National Turkey Foundation. So you can safely conclude 88 people out of 100 will be hungering for leftovers on Black Friday, formerly known as The-Day-After-Thanksgiving.
Personally, I can't wait for leftovers, which rise, phoenix-like, from the chaos of Thanksgiving dinner. Hopefully, you have plenty on hand. Some forward-thinking people even roast an extra bird—or at least a turkey breast—in anticipation.
All this month, I've been sharing some of my favorite ways to cook turkey on the grill. You've mastered my spit-roasted adobo-marinated Cuban turkey with mojo. You've brined the bird in bourbon and smoked it over maple wood. You've even cooked turkey on an oversize beer can. I hope you've managed to squirrel away a pound or four of the cooked turkey meat for post-Thanksgiving meals.
Here are some suggested uses:
Being from Miami, it's natural to reimagine a Cubano. Build a sandwich using mayo, mustard, sliced turkey, thinly sliced ham, dill pickle slices, and Swiss cheese on a hero or sub roll. Butter the outside of the bun, and grill the sandwich under a grill press over a medium flame until the cheese melts.
Cook up a batch of ramen (c'mon, you know you want to) and fortify it with shredded turkey, thinly sliced scallions, minced fresh ginger, slivered carrots, soy sauce, and slivered shiso (perilla) or Thai basil.
Make a savory bread pudding: Cube leftover turkey and combine with leftover stuffing. Bind with beaten egg (roughly 1 egg per 2 cups of stuffing, depending on how moist your stuffing is), pack into a baking dish, and bake at 350 degrees until crusty on top.
Sprinkle shredded cheese on half of a tortilla and top with shredded turkey, sliced scallions, pickled jalapeno slices, and fresh cilantro leaves (optional). Salt the quesadilla lightly, then fold over (making a half-moon shape) and grill over medium heat, turning once, until the cheese melts. Cut into wedges and serve with sour cream and/or salsa.
But my favorite use for Thanksgiving leftovers: turkey hash. (Get the recipe for Smoked Turkey Hash.)
The English word "hash" comes from the French verb hacher, "to chop." (Yeah, it's the same etymological root as that chopping device favored by George Washington, the hatchet.)

Hash originated as a way to use up leftovers, but it now turns up not just at hash houses (a nickname for diners) but at highfalutin restaurants from coast to coast. There are two schools of thought in making hash. One school consists of the grinders, who like to chop the ingredients to a fine harmonious mush. The other school takes a more pointillistic approach, leaving the ingredients in large pieces so you can appreciate the flavor and texture of each. My personal preference runs to the latter—especially when it comes to turkey hash, ideally made with meaty chunks of smoked turkey left over from Thanksgiving dinner.
Do you have your own ideas for leftovers? Share them and your photos on the Barbecue Board.
READ THESE BOOKS BY STEVEN RAICHLEN:
READ MORE ABOUT GRILLING AT BARBECUEBIBLE.COM:

SIGN UP for Steven Raichlen's UP IN SMOKE newsletter to learn more about barbecue!
Steven Raichlen is the author of the Barbecue! Bible cookbook series and the host of Primal Grill on PBS. His web site is www.barbecuebible.com.