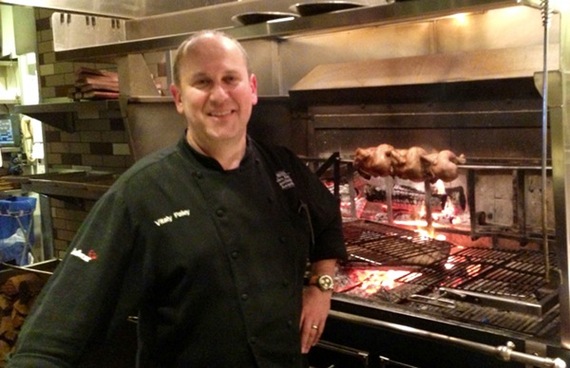 Ah, for the good old days. When legendary smoke men, like Sonny Bryan in Dallas and Arthur Bryant of Kansas City, fired the pits, turning out briskets and spareribs that defined American barbecue.
Well, if you're expecting me to say that barbecue just isn't what it used to be, guess again. It's better! A new generation of pit masters have—choose your metaphor—taken the tongs, relit the torch—turning out smoked meats worthy of our barbecue founding fathers.
Only now, they're cooking with heritage pork, grass-fed beef, and organic or natural chicken. They're expanding our notion of what traditional barbecue is to include lamb and goat, salmon and shrimp (wild when possible), even artichokes, corn, and tofu. The good old days may be gone, but the future looks even brighter. 2013 will go down in history as an incredible year for live fire cooking. Here's my top 6 best barbecue joints and grill restaurants for 2013.
Steven with the Rattray brothers, Alex (left) and Tim (right)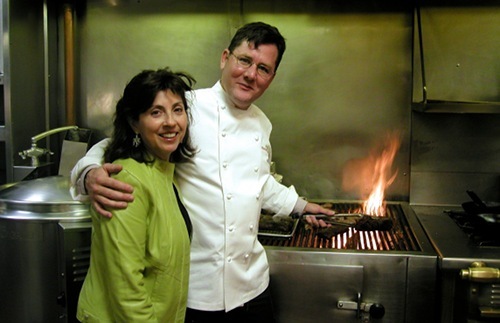 Steven's wife, Barbara, with Charlie Trotter.
Find out about the last six restaurants that made the list at BarbecueBible.com.
And just in time for 2014, we're announcing our new Barbecue! Bible Wiki. The goal is to make it nothing less than the world's most comprehensive encyclopedia of barbecuing, smoking, and grilling terms. This is a community effort so we need your help. Add to the lexicon with your own barbecue and grilling knowledge.
READ MORE ABOUT GRILLING AT BARBECUEBIBLE.COM:
READ THESE BOOKS BY STEVEN RAICHLEN:
SIGN UP for Steven Raichlen's UP IN SMOKE newsletter to learn more about barbecue!
Steven Raichlen is the author of the Barbecue! Bible cookbook series and the host of Primal Grill on PBS. His web site is www.barbecuebible.com.