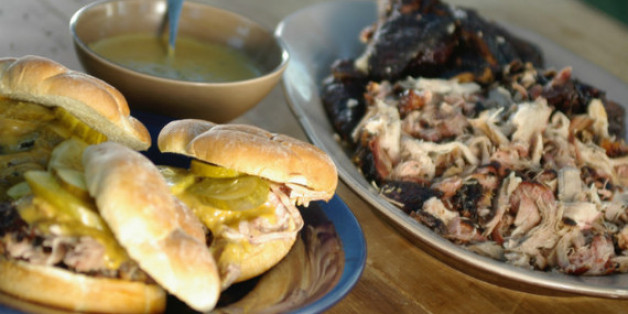 If you're like me, after a summer of cookouts, you're ready for a Labor Day barbecue that's anything but labor-intensive. A feast that's big on flavor, but light on actual work.
I have the answer and it's an icon of American barbecue: pulled pork--specifically, the South Carolina version, which features a mustard rub, mustard slaw, and mustard barbecue sauce. Serve it on grilled sesame seed buns with smoked salsa and chips to start with and drunken watermelon for dessert.
Yes, it's easy--you can prepare the whole meal on kettle grill. You're looking at maybe 45 minutes of prep time, but it will look and taste as though you've been cooking all day. In a sense, both are true. All you need to do is to remember to add charcoal and wood chips every hour. Oh, and supply plenty of beer.
Happy Labor Day!
The Raichlen Labor Day Menu:
Smoked Salsa with Chips
Pulled Pork Sandwiches with Mustard Slaw and Mustard Barbecue Sauce
Drunken Watermelon
Find out how to take the labor out of your Labor Day with these time-saving tools and grills.
SIGN UP for Steven Raichlen's UP IN SMOKE newsletter to learn more about barbecue!
READ MORE ABOUT GRILLING AT BARBECUEBIBLE.COM
--
Steven Raichlen is the author of the Barbecue! Bible cookbook series and the host of Primal Grill on PBS. His web site is BarbecueBible.com.