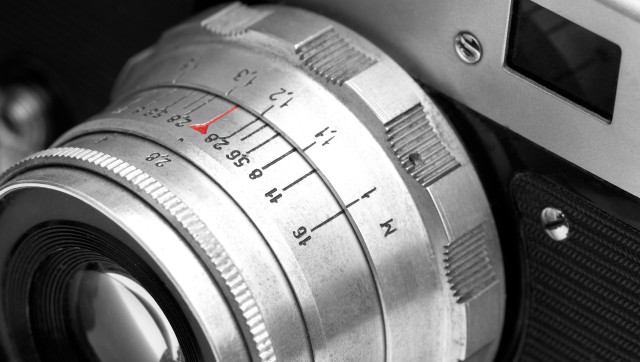 At The Cincinnati Art Museum's current extensive survey of photographer James Welling's work, which is on display through May 5, you might wonder what you're looking at... or why you're looking.
Not all his subjects are recognizably photogenic or traditionally "pretty," such as sunsets on the beach, wilderness vistas, colorful flowers, cityscapes and the like. It is not that he rejects such straightforwardly cheerful photography -- he has done some soothing color work documenting farm landscapes -- but rather, he believes it's important to not be a prisoner of viewer expectations.
Thus, for the exhibit James Welling: Monograph -- the first full survey of his work, containing some 200 photographs from his five-decade career -- you will also see black-and-white and color prints of such objects as aluminum foil, drapery folds, home interiors, railroad bridges -- even abstract studies of color itself. A Connecticut native who studied art at Carnegie Mellon University and California Institute of the Arts, he only pursued photography after first being interested in other media. Known as a stickler for process -- he likes to do his own developing or inkjet printing -- he has shown internationally.
"I do photograph beautiful things," explained Welling, 61, by telephone from Los Angeles, where he teaches art at UCLA.
Sometimes the subject matter is not apparently beautiful -- railroads or 19th Century architecture that kind of make for gloomy-looking pictures. But the important thing about photography is to photograph something you're not sure will even be beautiful or interesting to look at. A lot of times, the things that are not spectacular, that don't even seem to be photogenic, make really interesting photographs.
"Sometimes that small little vista that doesn't look that fantastic, when photographed in a careful way, is much more interesting than the majestic Grand Canyon," he said.
The camera transforms the object. Just photographing things that look good in photographs only makes for pictures that look good. They may not be that good to think about, and may not transcend themselves. Hopefully, in looking at some of the things I've photographed, it maybe will enlarge people's imaginations a little bit.
The photographs that are his "summation" to date, according to exhibit curator James Crump, are especially transcendent. (Crump recently resigned as Cincinnati Art Museum's chief curator and photography curator.) To profile architect Philip Johnson's iconic Glass House in New Canaan, Conn., he placed color filters in front of his camera so the result is more subjective than architectural, as much about the soft glow from the light as the hard geometric lines of the house.
His "0818," from 2006, is like an eruption of white light/white heat atop a brilliantly yellow screen. Behind it, one can see the obscured interior of the Glass House, a Modernist classic.
For the Glass House series, he was commissioned by New York Magazine to do something fresh with the oft-photographed site. With one hand, he held small rectangular pieces of colored plastic filters in front of the digital camera's lens, while he clicked the shutter with his other. (The camera was on a tripod.)
"It is an incredibly beautiful house and I didn't think I could add anything by making a straight photograph of it," he explained. "So I decided to do something different.
"I've tried making other pictures with filters and it doesn't seem to work as well as having this glass house as the subject, but then so do all these interventions in front of the lens," Welling said. "It's letting you see the subject in a new way."
That kind of experimentation is what has made Crump an admirer. It's been evident in earlier black-and-white series, such as 1981's "Island," the abstracted image of a folded drape with white splotches at the bottom, or the locomotive-eye's view of a railroad bridge in 1990's "Moveable Bridge," or the color experiments that yielded the floating-jellyfish-like wavering blues of the photogram "9-7," from the 2005-2007 Torsos series.
"Over the years, Jim has always surprised me because he's been able to go back and forth between abstraction and what I'd call a documentary style," Crump said. "You're going to see young artists influenced by this guy. He's had a remarkable outpost over 35 years and it all holds together."
Crump believes a big breakthrough came with Welling's 1981 Aluminum Foil series, where the unusual, provocative images were of a conventional object yet totally avant-garde in the way he presented it. The folds, reflections and edges of the foil stretched viewer perceptions.
That series, Welling recalled, was deeply influenced by music. Living in New York at the time, he became friends with some of the more experimental, noisier rock musicians and did the cover art for Sonic Youth's "Bad Moon Rising" album.
"Sonic Youth were getting a lot of strange sounds from electric guitars," Welling recalled. "They would bang them with drumsticks or different boxes to distort the sound. I saw the Aluminum Foil pictures as mimicking those acoustic affects of turning a guitar into an instrument that makes other sounds."
Welling credits his family with sparking his interest in art -- his father worked for a company that printed museum catalogs and would take him to New York art museums regularly. A grandfather was an American Impressionist painter. But he also credits classes at elementary and secondary school, and worries that public schools today are cutting back on arts classes due to budgetary woes.
"That's a huge problem," he said. "It's a crime that kids aren't being educated in art. It's not about making artists, it's about teaching people to think creatively."
(This story originally ran, in a slightly different form, in Cincinnati Enquirer, www.cincinnati.com. For Cincinnati Art Museum information, visit www.cincinnatiartmuseum.org. Photo courtesy of the art museum, of photography 0818 2006, made at Philip Johnson's Glass House in New Canaan, Conn.)