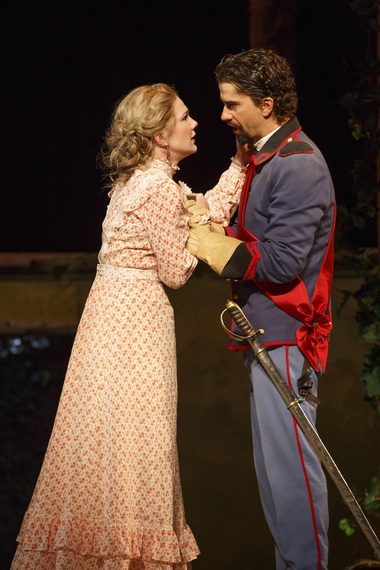 Lily Rabe and Hamish Linklater in Much Ado About Nothing, photo credit: Joan Marcus
Much Ado About Nothing with Lily Rabe and Hamish Linklater, under the direction of Jack O'Brien beneath the stars at the Delacorte in Central Park. What doesn't sound enchanting about that? With masterful support from Brian Stokes Mitchell and John Glover, plus free tickets too. The Public Theater's 52nd season of Shakespeare in the Park perfectly fulfills expectations; I'd call it a midsummer night's dream, but old Will already used that.
The enjoyment level of any Much Ado is tied, in part, to the Beatrice and Benedict of the case. Rabe and Linklater shine, like a latterday Hepburn and Tracy. Or perhaps Hepburn and Cary Grant. Rabe, who made her mark--or more precisely held her own against protean scene-stealer Al Pacino at the Delacorte (and on Broadway) in the 2010 Merchant of Venus, and who returned in 2012 in As You Like It -- is razor-sharp, abrasively funny, and in "take no prisoners" mode. Linklater, too, is a serial Shakespearean, having appeared in the Public's 2009 Twelfth Night and as the rambunctiously delightful Antipholus twins -- both of them simultaneously -- in last summer's Comedy of Errors.
Rabe and Linklater have sparred before, you might hazily recall, in the not-too-memorable 2011 Broadway comedy Seminar. But that was Rebeck, not Shakespeare. In Much Ado, they play a continual game of top-each-other until the playwright's handiwork starts to work its magic. Linklater falls first; actually, he literally falls from a tree and gets all a'tangled in a trellis. When Linklater's Benedick falls in love, he is moonstruck; no use hiding behind that bushy-curled beard. Rabe keeps firing bull's eyes until she, too, gives in. After all, the world must be peopled.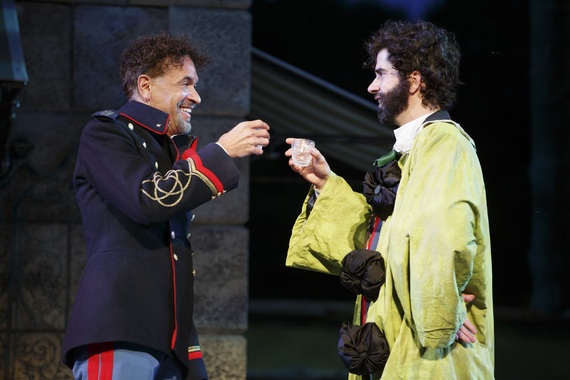 Brian Stokes Mitchell and Hamish Linklater in Much Ado About Nothing, photo credit: Joan Marcus
Jack Cutmore-Scott and Ismenia Mendes are the Claudio and Hero of the occasion, although overshadowed by Rabe and Linklater on one side and a clutch of mummers on the other. Mr. Mitchell -- Broadway's boomingest baritone, with a keen comic sense -- does regally well as Don Pedro. Director O'Brien even gives him his own refrain of the Shakespeare/Yazbeck song "Sign No More." (That's right, the music of the evening is effectively provided by David Yazbeck, who wrote the score for O'Brien's Full Monty and Dirty Rotten Scoundrels). Mitchell is equally matched by fellow Tony winner John Glover as Leonato. Kathryn Meisle (Ursula) and character man David Manis (Antonio/Verge) score in smaller roles, as does Steel Burkhardt as the guitar-playing Balthazar. John Pankow makes an amusing but not yet entirely successful Dogberry, at least at the Thursday preview before the Monday opening.
Director O'Brien gives us yet another skillful evening of high enjoyment, happily so as his most recent local Shakespeare -- the Ethan Hawke Macbeth -- was a rare-for-him miscalculation. Also on board are designers John Lee Beatty and Jane Greenwood, who once more do what they unfailingly do so well.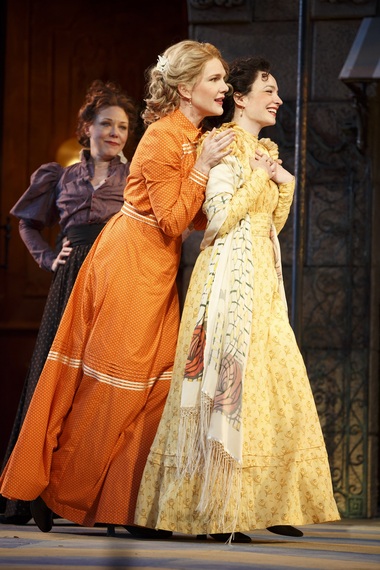 Kathryn Meisle, Lily Rabe, and Ismenia Mendes in Much Ado About Nothing, photo credit: Joan Marcus
Let it be added that the press preview was accompanied by a steady rain through the first act, followed by a strong deluge that swept the cast to shelter during the second. (While a fair portion of the audience fled the park, conscientious critics are made of heartier stuff than that -- although my pad full of notes disintegrated by ten o'clock.) We were rewarded with some choice rain-related comedy from Linklater and Rabe, both of whom have seemingly undergone Delacorte drenchings before.
.
Much Ado About Nothing, by William Shakespeare and directed by Jack O'Brien, opened June 16, 2014 at the Delacorte Theater