When devising a one-man play about show biz, it is understandably helpful to choose a famously crusty, famously crotchety, famously charming scene stealer as your subject. Ed Dixon--himself one of those weathered show biz types who has gone from chorus boy to character man, while also writing plays and even a memoir detailing his off-stage struggles with addiction and homelessness--has chosen to memorialize his friend George Rose, who easily fits the descriptors above. But whose life also brings a built-in problem and not an inconsequential one: a secret course of action which he was never made to pay for, until one fine day when he was bludgeoned to death.
How do you make merry of such a man? And is it even proper to put him in any sort of spotlight?
The magic of Georgie: My Adventures with George Rose is that Dixon was and remains clearly tortured by his discovery of Rose's dark side. A loving and comedic stage portrait of Rose might be seen as dishonest; how can you paint a bright picture and ignore the unspeakable beast lurking behind the façade? What makes Georgie a remarkable theatre piece--and what saves it from those who might ask how can you under any circumstance celebrate such a monster?--is Dixon's portrayal of his own shock and dismay as he discovers the true Georgie. How could he have been a confidant of Rose? And what was there about Dixon that made the famously private Rose bring him into the heart of his secret? Rose died--or rather--was hacked to death--in 1988. One imagines that Dixon has been struggling with the relationship for decades, and that it took this play for Dixon to finally make sense of these deeply personal questions.
Rose was a British actor who worked at the Old Vic with Gielgud, Olivier, Richardson and other stage legends. His success in the major role of The Common Man in Robert Bolt's A Man for All Seasons brought him from London to Broadway in 1961, where he remained thereafter. By 1966 he was starring in musical comedies, most notably opposite Katharine Hepburn in Coco, opposite Kevin Kline in The Pirates of Penzance, and in Best Actor Tony Award-winning performances in the 1976 revival of My Fair Lady and The Mystery of Edwin Drood. Those who recall his Penzance or Drood will recall that once in the spotlight, Rose became an insatiable, unstoppable clown
Dixon linked with Rose in a 1973 pre-Broadway tryout of Sigmund Romberg's The Student Prince which never reached Broadway. They remained comrades until Dixon visited the house Rose bought in the Dominican Republic in 1984, using his salary from the film version of The Pirates of Penzance, and recoiled in horror when he discovered what Rose was hiding. We don't reveal this here, although you can easily find the facts on the Internet. Given that we highly recommend Georgie, we pay deference to unsuspecting theatergoers so that the reveal will be as shocking to them as it was to Dixon at the time.
The play is all Dixon, mostly sitting on an overstuffed divan against a backstage pinrail. Eric Schaeffer, who originated the play at his Signature Theatre in Arlington VA, repeats his direction and does a capital job of it. (While the production is properly spare, we must add that the new space they call the Loft at the Davenport receives instant high marks as perhaps the most ramshackle and least comfortable playhouse in New York).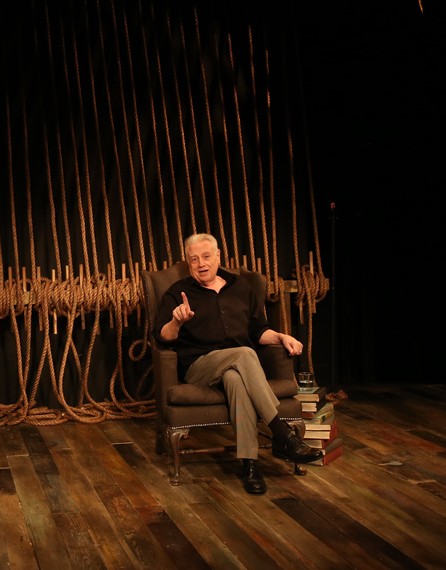 Ed Dixon in Georgie
Photo: Carol Rosegg
Dixon mimics Rose, naturally, but also many others who play a part in the tale (Rex Harrison, Noël Coward, Gielgud, Burton, Edith Evans and more). The combination of the stories, the characters, and Dixon's own persona make Georgie an evening of charm and delight. That is, until the shattering and brutal truth comes blustering in, as it must.
.
Ed Dixon's Georgie: My Adventures with George Rose opened February 1, 2017 and runs through April 15 at the Loft at the Davenport Theatre