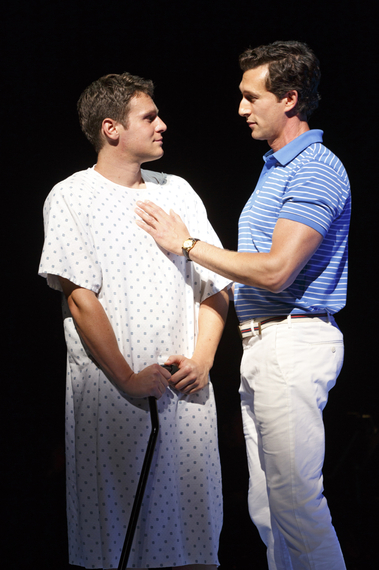 Jonathan Groff and Aaron Lazar in A New Brain. Photo: Joan Marcus
Theatergoers with a keen interest in dramatic, entertaining and decidedly off-beat musicals should head immediately to City Center, where Encores! Off-Center is presenting the William Finn-James Lapine A New Brain.
A New Brain makes an interesting specimen. First produced in 1998 by Lincoln Center Theater at the Newhouse, the show was sparklingly wonderful. In 1998, though, a brief plot description--a musical about a composer who undergoes brain surgery--was more than enough to keep general audiences away, or send them fleeing. Nowadays, in the wake of musicals like Next to Normal and Fun Home, A New Brain fits right in. While it was too intense--or just too strange--to win over a substantial majority in a 299-seat house in 1998, it should earn roars of approval this week from the vast majority of playgoers at the 2,200-seat City Center.
This was composer/lyricist Finn's response to the arteriovenous malformation which felled him in 1992, just three weeks after he won twin Tonys for Falsettos. Thus, the piece is fictionally-autobiographical; the hero Gordon Schwinn fills in for William Finn. (One of several delightful showstoppers--a number in which the ensemble tells us "the bad trait will always predominate"--sounds like it was probably written as "the law of genetics according to Finn" and later changed to "Schwinn.")
Gordo (Jonathan Groff, of Spring Awakening), while slaving away writing songs for a talking frog on a kiddie show for the autocratic Mr. Bungee (Dan Fogler), suddenly collapses. He is rushed to the emergency room, with support from best friend Rhoda (Alyse Alan Louis), mother Mimi (Ana Gesteyer), and boyfriend Roger (Aaron Lazar). Also in attendance are Nancy D., the thin-and mean-nurse (Jenni Barber); Richard, the nice nurse (Josh Lamon); a distracted surgeon (Bradley Dean); and a trying-to-be-helpful hospital minister (Quentin Earl Darrington). Rounding out the cast is Lisa (Rema Webb), an Upper West Side bag lady seeking justice and change.
Everyone in the cast has a chance to shine, and everyone is very good. This is a rare case where people who remember the several unforgettable performances in the original--the mother of Penny Fuller, the bag lady of Mary Testa, the Roger of Norm Lewis (a replacement) and the male nurse of Michael Mandell--will be just as happy with the present counterparts. Groff, in the central role, seems better than his predecessor; this Gordo is less abrasive, which helps the story in certain moments. Gasteyer, who sounded like questionable casting, turns out to give a winning performance as the high-spirited mother on the verge of despair.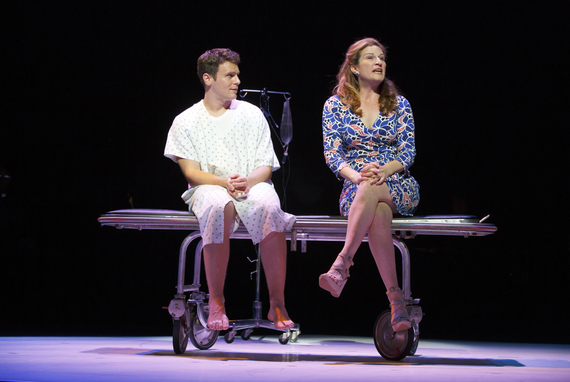 Jonathan Groff and Ana Gasteyer in A New Brain. Photo: Joan Marcus
Lazar scores--and brings both calm and romance to the up-to-then frenetic proceedings--with the beauteous "I'd Rather Be Sailing," while Webb knocks her solo ("Change") to the rafters. Dan Fogler, a Tony Award winner for his performance as Barfée (with the magic foot) in the Finn/Lapine 25th Annual Putnam County Spelling Bee, also stands out as Mr. Bungee. This role was created by--and devised specifically for--character comedian Chip Zien. The always excellent Zien seemed to stand out from the show, in an uncomfortable manner; Fogler's Mr. Bungee fits in better.
It should be noted that this musical about a fellow who is dying is extremely funny; not a surprise coming from the composer of Falsettos and The 25th Annual Putnam County Spelling Bee, but still unlikely. Serious-themed numbers are countered by items like the intensive care nurse's rollicking plaint about being "Poor, Unsuccessful and Fat." Finn turns out a parade of wonderful songs, including "Heart and Music," "I Feel So Much Spring," "An Invitation to Sleep in My Arms," "Change" and the mother's stunning "The Music Still Plays On." Best of all, perhaps, is Gordo's "And They're Off," a concise, child's-eye view of growing up in a family destroyed by a gambler-father.
For those who care about such things, the show has been effectively trimmed to about 100 minutes. Deleted from the score are the waitress scene, in which a young Kristin Chenoweth memorably sang a song about "Calamari"; and two sections of the "Brain Dead" coma sequence, "Whenever I Dream" and "Eating Myself up Alive."
Co-author Lapine, who usually directs his own shows but did not do the original New Brain, does so effectively here. The choreography by Josh Prince, though, does not approach the excellence of Graciela Daniele's work in 1998. Michael Starobin's six-piece orchestration--mixing piano, synthesizer, drums and one wind player with cello and French horn--is marvelous and happily fills the hall. It should be noted that the vocal arrangements were done by the up-and-coming young composer Jason Robert Brown, resulting in a half-dozen group numbers that are glorious.
Encores! Off-Center exists to bring us off-Broadway musicals that present-day audiences really need the opportunity to see. Their current offering--through Saturday night only, alas--demonstrates just how good Finn's A New Brain is.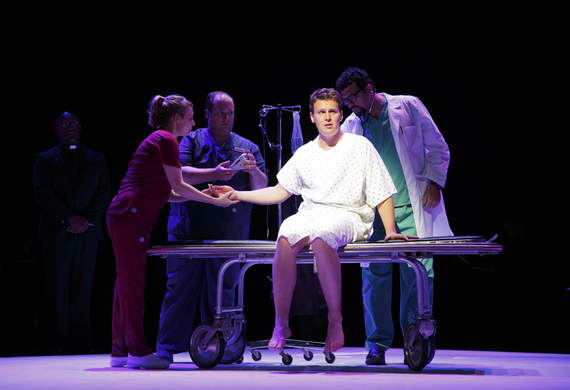 Jonathan Groff in A New Brain. Photo: Joan Marcus
.
A New Brain, with music and lyrics by William Finn and book by Finn and James Lapine, opened June 24, 2015 and continues through June 27 at City Center