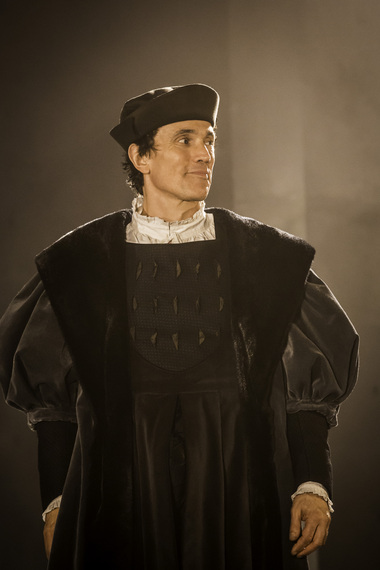 Ben Miles as Thomas Cromwell in the
Royal Shakespeare Company production of Wolf Hall. Photo: Johan Persson
There's a rip-roaring, malevolently Machiavellian, viciously nasty, blood-letting saga of intrigue and incest on view just now. No, not in the cloistered cloakrooms of the U.S. House of Representatives; no incest there, presumably. The cornucopian epic in question can be found at Broadway's Winter Garden, where the Royal Shakespeare Company's impressively adventurous production of Hilary Mantel's Wolf Hall has set up shop for fifteen weeks.
Wolf Hall is the five hour, two-session historical drama of deceit and betrayal in the court of King Henry VIII based on Dame Hilary Mantel's Booker Prize-winning novels, "Wolf Hall" and "Bring Up the Bodies." The two plays, adapted by Mike Poulton, were major 2014 hits for the RSC. The theatrical tour de force has now been transported to New York, complete with a cast of twenty-three members of British Equity. Presented in Stratford and London under the titles of Mantel's two best-selling fictional novels, they are here more simply called Wolf Hall: Parts 1 & 2.
Ms. Mantel's conceit is to chronicle the rise of Thomas Cromwell (Ben Miles), a lowly blacksmith's-son-turned-lawyer who becomes the all-powerful "fixer" for King Henry VIII (Nathaniel Parker). Henry has a problem, as the play begins: his long-time wife Katherine of Aragon (Lucy Briers) has been unable to bear a son. What to do? His solution is to get rid of Katherine so he can marry the presumably more fertile Anne Boleyn (Lydia Leonard). How to accomplish this, given the opposition of the Catholic Church--and the all-powerful Pope--to divorce? When his royal ministers cannot devise a course of action, Henry enlists the lower-class Cromwell. He manages to pull it off, knocking off the principled Sir Thomas More (John Ramm) in the process and becoming Henry's Master Secretary.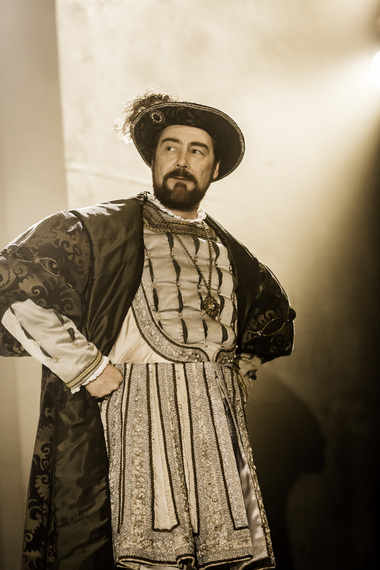 Nathaniel Parker as Henry VIII in the
Royal Shakespeare Company production of Wolf Hall. Photo: Johan Persson
This is familiar ground; at least it is for British audiences. U.S. patrons with intensive PBS training will be right at home in Henry's court, although it was apparent at a packed and enthusiastic press preview that the story is not quite so familiar here. (The sudden identification of one of the ladies-in-waiting near the end of the first act--"Oh, I'm nobody, I'm only Jane Seymour"--is clearly intended to have maximum effect, but the moment doesn't land quite so well if only a sliver of the audience realize that she is to be the next Mrs. Henry.) As for More, that "Man for All Seasons" as Robert Bolt so memorably sketched him, he is here drawn as something of a weasely martinet who is not mourned when Henry has them chop off his head. I suppose that in life, More was more admirable and Cromwell more slimy than suggested in Wolf Hall. No matter, as More eventually won sainthood and an Oscar.
Poulton is a prolific dramatist specializing in adaptations; he has previously been represented here by the Alan Bates vehicle Fortune's Fool. He has skillfully whittled down Mantel's two-volume, 1,100-page work so that it veritably breezes by in the theatre. Full credit also goes to his all-important collaborator on the project, director Jeremy Herrin. When your audience streams eagerly back to their seats for the second act of the first play, knowing that they have another hour plus another full-length evening to come--you know you have them well and truly hooked. Christopher Oram, of Red and Frost/Nixon, provides a massive but simplistic set for all seasons, which allows the director to keep things flowing. The company also make effective use of the auditorium, with the stage area spilling over onto the orchestra floor. Costumes (by Oram), lights and sound add to the panoply.
Central to the proceedings is Mr. Miles (previously seen here as Tom, the complaisant veterinarian, in the 2009 import of Alan Ayckbourn's three-part Norman Conquests). Cromwell is ever-present in this sixteenth century tale, and he--rather than the legendarily larger-than-life Henry--remains our focus throughout. Miles carries it off with the presence of--well, Paul Scofield in A Man for All Seasons. He is ably supported by Mr. Parker, who brings us a human Henry who struggles to believe in the right of what he is doing. Ms. Leonard, too, makes a strong showing as a Machiavellian Anne Boleyn. The personae is filled with interesting characterizations from the company, most of whom play multiple roles.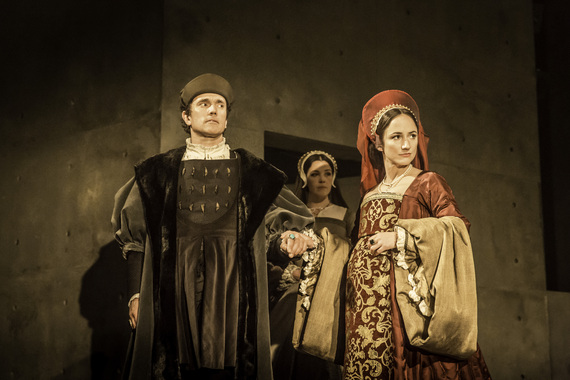 Ben Miles and Lydia Leonard in the
Royal Shakespeare Company production of Wolf Hall. Photo: Johan Persson
Through what was likely an unforeseen consequence, the RSC's two-part adaptation of Mantel's novels arrived on our shores the very same time that the BBC's six-part television adaptation began airing on PBS. The TV version is built around the Cromwell of Mark Rylance. Not wanting to cloud my reaction to the plays, I have refrained from watching the series; one imagines that Rylance, being Rylance, is commanding. But that is suitable for watching in your living room or on your tablet. The RSC Wolf Hall offers an evening--or, rather, two evenings--of live, inventively rousing theatricality.
.
Wolf Hall; Parts I & II, Michael Poulton's adaptation of the novels by Hilary Mantel, opened April 9, 2015 and continues through July 5 at the Winter Garden Theatre