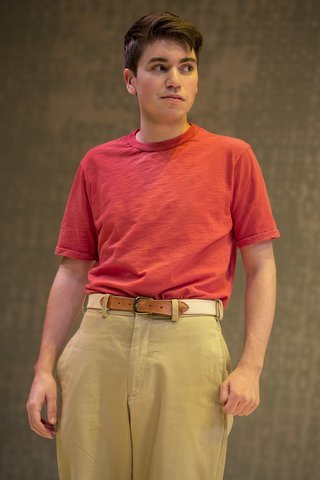 Noah Galvin in A.R. Gurney's What I Did Last Summer. Photo: Joan Marcus
If you have written upwards of fifty plays over fifty years, it's likely that the bigger hits are balanced by some titles which have in one way or another gone astray. The Signature Theatre -- which has appointed A.R. Gurney as playwright-in-residence this season -- has seen fit to dust off a 30-year-old piece of what might well have been assumed to be lesser Gurney. What I Did Last Summer, surprisingly, turns out to be a delectably flavorful all-round treat.
An aimless 14-year-old (Noah Galvin) from Buffalo -- not unlike Gurney himself -- spends the summer of '45 in an upper class resort on the Canadian side of Lake Erie. There he encounters local eccentric Anna Trumbull, A.K.A. "The Pig Woman" (Kristine Nielsen). Before we go on, let it be noted that even if the play wasn't any good, the performances of Galvin (from the Playwrights Horizons musical, The Burnt Part Boys) and Nielsen (whose Maggie Smith phone monologue in Vanya and Sonya and Masha and Spike was one of the acting highlights of 2013) make a trip to Signature its own reward. But the play is good. What's more, the Signature Ticket Initiative keeps the admission price for all seats down to $25 (except for any extension period), which makes What I Did Last Summer not only a delight but a bargain.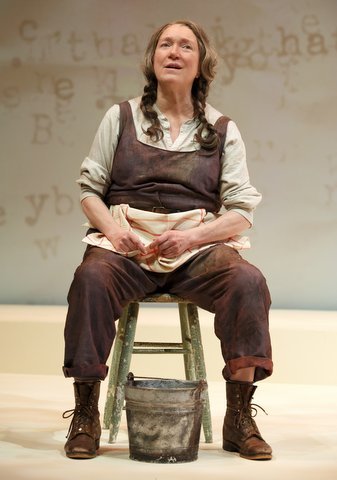 Kristine Nielsen in A.R. Gurney's What I Did Last Summer. Photo: Joan Marcus
The so-called Pig Woman teaches the boy to develop his potential, be it in paint, clay, woodwork or even knitting. As it turns out, the boy will eventually become a playwright and write upwards of fifty plays over fifty years. Which is to say, this is indeed a young Gurney, who has noted that some of the scenes between the two are verbatim exchanges from 1945.
Galvin -- who will play a central role in Dan Savage's upcoming ABC series, The Real O'Neals -- exudes charm as the awkward teenager, bringing to mind Matthew Broderick in Brighton Beach Memoirs. Nielsen is rivetingly magical as the mentor, a sort of backwoods Auntie Mame. The rest of the cast -- Carolyn McCormick as the mother, Kate McGonigle as the sister, Juliet Brett as the neighbor girl, Pico Alexander as the son of the local gardener -- all contribute to the affair while knowing well enough to keep out of the way of Galvin and Nielsen. One of Gurney's conceits is to give the four lesser characters monologues in which they admit the play is not about them, although they'd prefer that it was.
What I Did Last Summer was written in 1981 or thereabouts and produced in New York in 1983 at Circle Rep. The production, apparently, was a shambles; director Joan Micklin Silver ("Hester Street") either quit or was fired, leaving the show to open with no director credited. This is always a dire sign, and the play was seen as a half-baked attempt by the playwright, just then riding high with the off-Broadway hit The Dining Room. A prior summer stock tryout, at the Westport Country Playhouse in 1982, sounds at least interesting in that it starred Barbara Feldon (of "Get Smart") as the mother and the celebrated Eileen Heckart as Anna.
The Signature production reveals that this is indeed a viable coming-of-age comedy. Clean, spare and nostalgic, it gently pokes fun at its hero/author and at itself. Gurney devised it to be simply performed with minimal furniture and props. Director Jim Simpson (of the Flea Theater) does this, effectively so. (The practically empty stage -- a bench, a platform, an upstage wall -- comes from Michael Yeargan, whose sumptuous King and I is presently at Lincoln Center.)
Two directorial devices stand out: the use of a musician (Dan Weiner) at a drum kit on the far right of the stage space, providing sound effects including minor sounds for the invisible props; and frequent projections on the back wall (stage directions, occasional lines and key words from the dialogue -- or merely letters -- scattered randomly). It is hard to say whether these devices help or hinder; they border on distraction at times, but they might be part of what gives the production a resonance that the play apparently has not had in the past.
Perhaps it's the directorial contributions of Mr. Simpson; perhaps Gurney has honed his script with expert rewrites; or perhaps it's a combination. Certainly, Galvin and Nielsen offer a grand acting holiday that it would be a shame to miss. The results are admirable: thirty years on, Gurney's What I Did Last Summer turns out to be an enjoyably delectable charmer.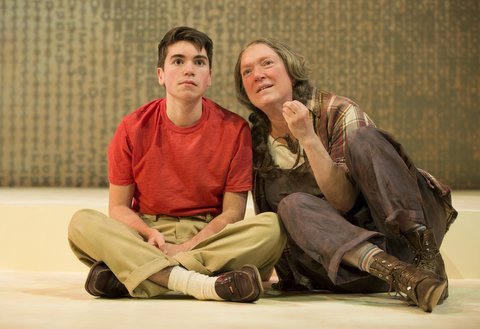 Noah Galvin and Kristine Nielsen in A.R. Gurney's What I Did Last Summer.
Photo: Joan Marcus
.
What I Did Last Summer, by A.R. Gurney, opened May 17, 2015 and continues through June 7 at the Pershing Square Signature Center