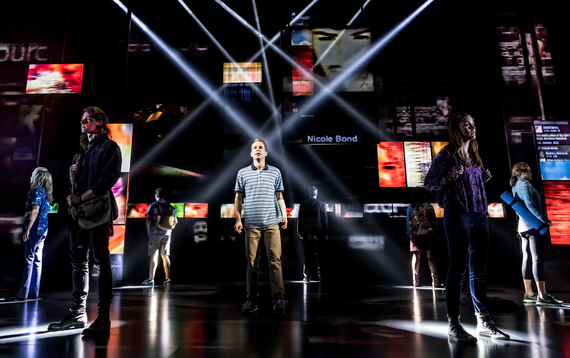 Ben Platt in Dear Evan Hansen
Photo: Matthew Murphy
"Don't ask questions, just go see Dear Evan Hansen" began my review of last May's Second Stage Theatre production of the new musical, which after a hiatus opened tonight at the Music Box. "Dear Evan Hansen is absorbing, wrenching, heart-breaking and at the same time exhilarating."
The new Benj Pasek and Justin Paul (remember those names) musical is even better in December, thanks in part to the extraordinary acting company's continued refinements and their apparent love and respect for the characters they inhabit. This, plus one major casting change. You've perhaps been hearing about the show over the last months, with a new round of great word-of-mouth over the two weeks of previews. Everything you've heard is accurate; this is a show that captures your attention immediately, enchants you with its characters and its songs, pulls you through emotional turbulence, and leaves you cheering and wanting to go back for more.
The formerly promising young songwriters Pasek and Paul, who created an interesting score for Dogfight and a surprisingly accomplished one for the holiday show A Christmas Story, are promising no more; their talent is thoroughly realized with Dear Evan Hansen, one of the strongest scores in years. The songs are not merely tuneful and funny and touching; Pasek and Paul can plumb the inner depths of their characters and rip through emotions in words and music. And as contemporary as their new score is, it should be added that their three musicals have demonstrated that they are equally adept in varied musical theatre styles.
Librettist Steven Levenson (The Unavoidable Disappearance of Tom Durnin), too, has given us an impressive book which tackles a difficult subject with warmth and consistent humor. And no, this one isn't based on some movie or novel; it's an original suggested by an event Pasek remembered from his high school days. Unlike adaptations, this allows the authors the freedom to follow whatever plot path they choose without taking into consideration what fans of the source material might demand.
Ben Platt is already being talked up as this year's Best Actor in a Musical, which is somewhat extreme considering the number of musicals to come before the last Thursday in April. Even so, this is a bravura performance of award-winning strength. The hero is a high school outsider with behavioral issues; not so severe as the hero of the recent Curious Incident of the Dog in the Night-Time--Evan is able to function (barely) in a mainstream public school--but debilitating nonetheless. In the course of the action, the thoroughly isolated Evan learns the advantage of telling people what they want and need to hear. He provides this information, even when it is untrue, until the falsehoods collapse upon him.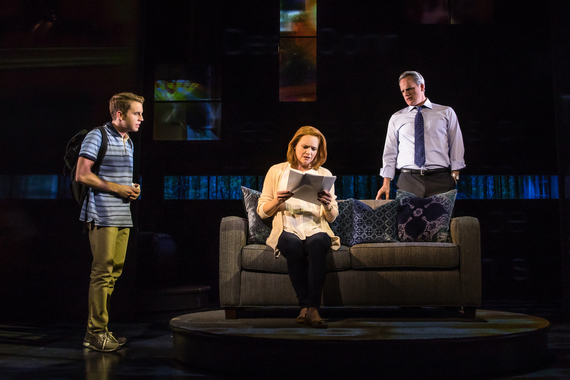 Ben Platt, Jennifer Laura Thompson, and Michael Park in Dear Evan Hansen
Photo: Matthew Murphy
Platt not only gives an excellent performance as the troubled boy; we see him inwardly recoil as he is trapped into these friendly falsehoods (what else can he possibly say?) to the extent that Evan is trapped in a web, with the cords pulled ever tighter. Platt is somehow able to inflict these restraints on his body; he seems to inwardly shrink at the dinner table as he's offering comfort--all of it false--to the grieving family.
The performance is crowned by one of those astounding "eleven o'clock" numbers which provide a complete psychological breakdown as the character breaks down before us. "Words Fail" is not "Rose's Turn," but close enough. Platt--a replacement Elder Cunningham in The Book of Mormon--is altogether extraordinary in what is one of the most unconventionally difficult characters we've seen in a Broadway musical.
The actors around him are universally excellent. Laura Dreyfuss captures the turmoil of anger and guilt felt by the sister of the teenager whose suicide sets the plot in action, sensitively forging into a relationship with Evan whom she believes has given her her brother back. Jennifer Laura Thompson (who is ever remembered as the girl from Urinetown) is that boy's mother, struggling under the pressure of her disruptive son and her crumbling marriage. Mike Faist (formerly one of the Newsies) plays Connor, the troubled son-and-brother whom Evan befriends, sort of. Even the actors in the most relatively minor roles are superlative: Kristolyn Lloyd as Alana, Connor's "close acquaintance"; and Will Roland as Jared, Evan's confidant who takes troubles to point out that he is not a friend, only a "family friend." Mr. Roland is very funny, continually brightening the troubled atmosphere at the Music Box. In fact, the entire trio of supporting young actors--Faist, Lloyd and Roland--make a mighty contribution to the entertainment value.
The one replacement from Second Stage is Michael Park, as Connor's father. Park created the role in the show's initial production at the Arena Stage in Washington, but missed the Second Stage engagement (being stuck in the swamp of Tuck Everlasting at the time). His replacement was strong, in a subdued manner, but Park surpasses him. The father's main song, "To Break in a Glove" was the one weaker spot last spring; it fit the show, but wasn't quite up to the emotional task of bringing us back into the emotional life of the show after intermission. As delivered by Park, though, it is touchingly heartbreaking and helps "complete" his character. The other member of the cast, Rachel Bay Jones--who did a fine job as Pippin's wife in the revival of that show at the Music Box--seems separate from the rest; almost as if she is playing the show in a different universe. As it turns out, it's not the actor: that is precisely where her character is, outside the world of the rest and unable to express her frustration. Pasek, Paul, Levenson and director Michael Greif place her behind a wall until the next-to-closing spot, when she altogether explodes with "So Big/So Small." The song and the performance is the breaking point, likely to leave many of the audience fighting tears (and just as likely to result in a deserved Tony nomination for Jones).
Greif, of Rent and Grey Gardens, has placed the show in an up-to-the-minute, multimedia production awash with text messages, Facebook posts and the like. (The approach is in some ways similar to Greif's Next to Normal and If/Then, but Evan Hansen is far more engrossing than those shows.) Sets come from David Korins of Hamilton, projections from Peter Nigrini of Fela!, lighting design from Japhey Weideman of The Visit. Alex Lacamoire, of Hamilton provides suitably tech-pulsing orchestrations, with an eight-piece band under the direction of Ben Cohn. Choreographer Danny Mefford of Fun Home is not provided with many opportunities for dance, but he sets his three teenage boys to leaping about the stage with such abandon in "Sincerely, Me" ("all that it takes is a little re-in-ven-tion") that you might feel the repressed urge to join them in the aisles.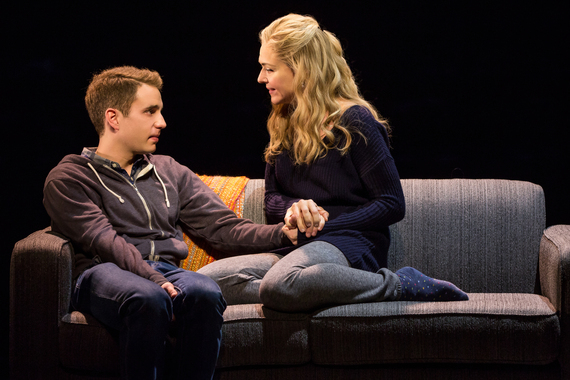 Ben Platt and Rachel Bay Jones in Dear Evan Hansen
Photo: Matthew Murphy
The show continues the progression of astonishing musicals which the city's non-profits have generated since the fall of 2012 (namely Here Lies Love, Fun Home, The Great Comet and Hamilton--plus Dear Evan Hansen). There was a time not so long ago, i.e. 2010, when the Broadway cupboard was so bare that something as non-exceptional as Memphis could sweep the awards of the season. Not anymore. This week, there are no less than six musicals running on Broadway--new and old--that we can eagerly recommend to all theatergoers, any one of which we'd be glad to rush back and see again tomorrow. With Evan Hansen atop the list.
.
Dear Evan Hansen opened December 4, 2016 at the Music Box Theatre