2015: THE BEST NEW YORK THEATRE
We are accustomed, in these year-end roundups, to rue the fact that new Broadway musicals rarely find their place on our ten best lists. This year, there are two; and not only do they fall on our Best of 2015 list, they both easily rank among the best of the present century. (I place them among the very best musicals of the last quarter century, if you want to go in for superlatives.) And no, they are not based on hit movies; they do not feature ticket-selling film or television stars; and they are not what you might consider "easy sells." A musical about a lesbian cartoonist whose father kills himself in the second act? A musical about a founding father who did not become president but designed the U.S. financial system before he's killed in the second act?? Yes, Hamilton and Fun Home are the only new musicals on this year's list, but Broadway hasn't had a year with two instant classics since -- when? 1957?, with West Side Story and The Music Man?

HAMILTON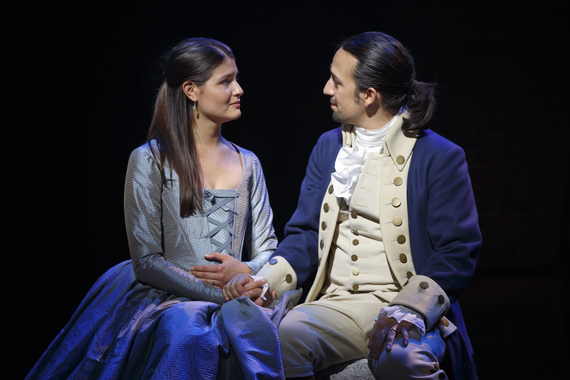 Phillipa Soo and Lin-Manuel Miranda in Hamilton. Photo: Joan Marcus
What more need be said? It is, yes, as good as you've heard. What a shame that the ticket situation will keep it out of the reach of the general theatergoing public for another year or three. As for Lin-Manuel Miranda, he is the first person we can think of who has written the songs and script and starred in his very own Broadway musical since George M. Cohan. But while George M. Cohan wrote some catchy songs over his long career, he never came up with anything approaching Hamilton. [reviewed here]
FUN HOME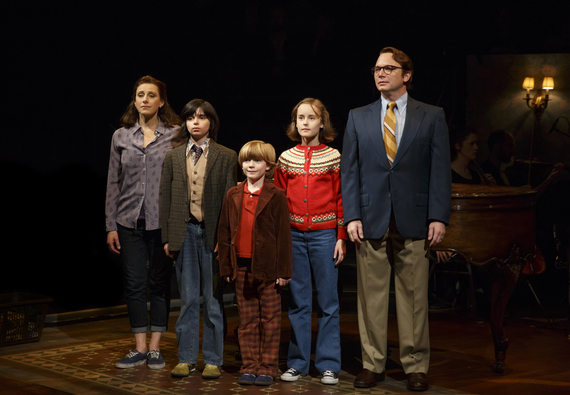 Judy Kuhn, Oscar Williams, Zell Steele Morrow, Sydney Lucas,
and Michael Cerveris in Fun Home. Photo: Joan Marcus
The Jeanine Tesori-Lisa Kron musical was at the top of our list in 2013, when it premiered at the Public. With canny rewrites and an altered staging by original director Sam Gold, Fun Home is even better -- and more emotionally stunning -- in its uptown move. It's incredibly satisfying to see this uncompromising musical move to Broadway as an artistic and commercial success; and even better to see a large, mainstream audience embrace this triumphant tale of family love and forgiveness. [reviewed here]
A VIEW FROM THE BRIDGE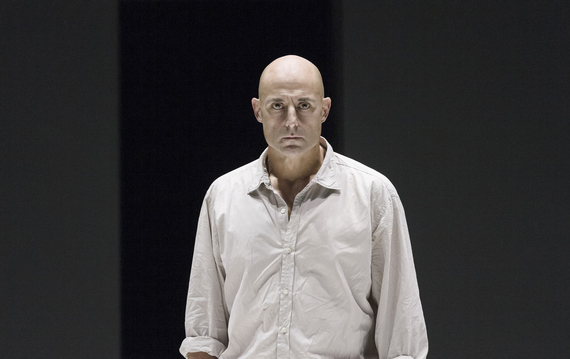 Mark Strong in Arthur Miller's A View from the Bridge. Photo: Jan Versweyveld
What has seemed to be -- in excellent revivals -- a highly effective period piece from the mid-'50s is now strikingly compelling and not to be missed. Director Ivo van Hove's stark new production explodes the play, revealing the racing pulse within Arthur Miller's characters. Mark Strong gives what, thus far, is the dramatic performance of the current season.
THE FLICK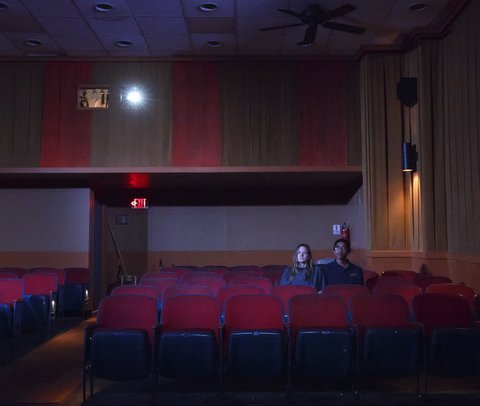 Louisa Krause and Aaron Clifton Moten in The Flick by Annie Baker.
Photo: Joan Marcus
Annie Baker is a brave new voice in the American theatre, and her Pulitzer Prize-winner is a deceptively beautiful and moving character study. The play is not unlike early Albee; too intense and too unconventional for some, but a play that ultimately envelops the audience and keeps them thinking for weeks afterward. The Flick -- which originated in 2014 at Playwrights Horizons -- has enjoyed an eight-month commercial transfer to the Barrow Street, where it remains until January 10. People will be talking about this one for years, so it's worth a trip to the Village if you still haven't seen it. [reviewed here]
KING CHARLES III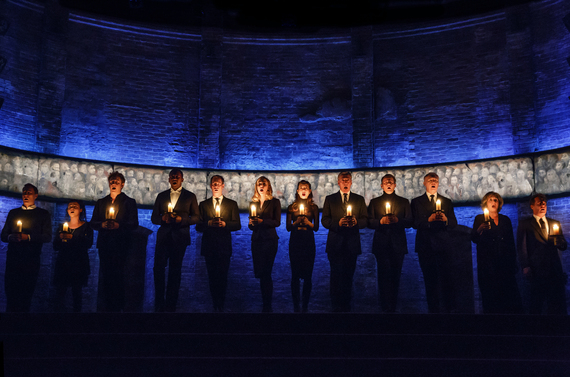 The cast of King Charles III. Photo: Joan Marcus
Mike Bartlett has given us what is for all purposes -- or most purposes -- a new Shakespearean tragedy, another one of those history plays except this time the king's lady is called Camilla. King Charles III keeps us raptly on the edge of our seats by expertly folding modern-day royalty into what might as well be a rediscovered play by the Bard. Or maybe Christopher Marlowe or Sir Francis Bacon. Tim Pigott-Smith makes a noble protagonist, surrounded by a stunningly good production by Rupert Goold. [reviewed here]
SKYLIGHT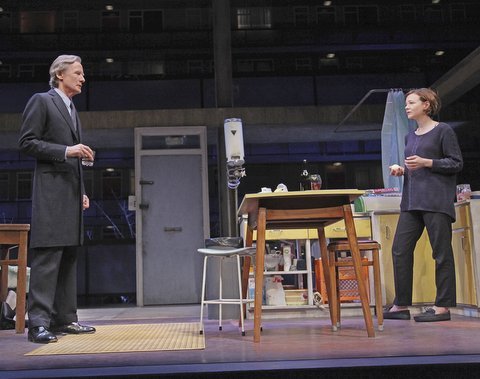 Bill Nighy and Carey Mulligan in David Hare's Skylight. Photo: John Haynes
David Hare's Skylight was another one of those provocative plays which -- due to the excellent revival, the star performances, or simply the passing of time -- seem even stronger than before. Carey Mulligan and Bill Nighy were exquisite, while Stephen Daldry's direction -- along with the stellar design team of Bob Crowley and Natasha Katz -- brought new layers to this 1995 play. [reviewed here]
GHOSTS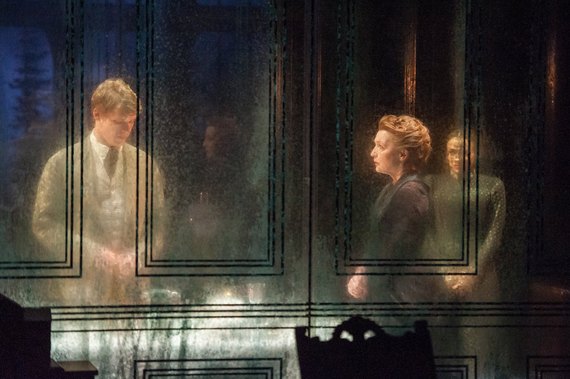 Billy Howle and Lesley Manville in Ibsen's Ghosts. Photo: Stephanie Berger
Speaking of revivals that ignite old plays into new life, director Richard Eyre's streamlined adaptation of Henrik Ibsen's Ghosts was a theatrical highpoint for those intrepid playgoers who caught it during its brief twenty-nine performance visit to the Harvey at BAM. Lesley Manville gave one of the finest performances of the season as Mrs. Alving; Eyre was ably abetted by stunning work from designers Tim Hatley and Peter Mumford; and the entire production -- from London's Almeida Theatre, which also sent us King Charles III -- was transcendent. [reviewed here]
GLORIA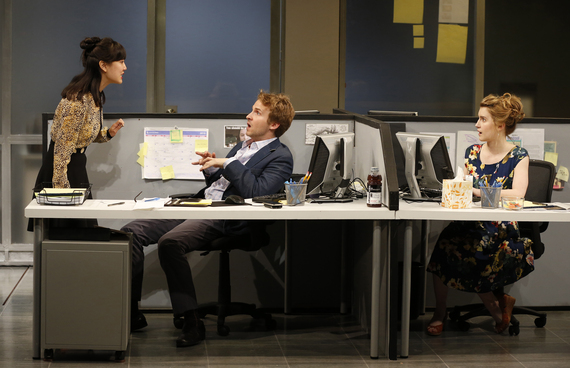 Jennifer Kim, Ryan Spahn and Catherine Combs in Gloria.
Photo: Carol Rosegg
Branden Jacobs-Jenkins -- who stirred up contemporary drama in 2014, with An Octoroon -- returned with the very different but equally fascinating Gloria. Built around a cubicle of workers at a major national magazine, the play was at once shattering and hilarious; that is, the author seemed to be giving the audience a wild and satisfying comedy until he literally shocked us at the first act curtain. After which he turned provocative. The Vineyard production featured a first-rate job of direction by Evan Cabnet and an all-round excellent cast, leaving this theatergoer wanting to go back for a second look. [reviewed here]
THE COLOR PURPLE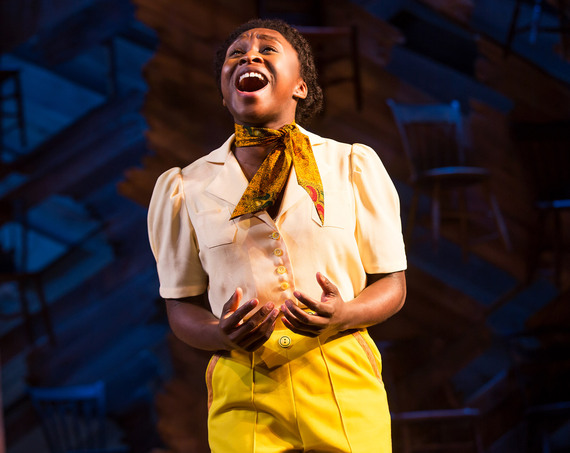 Cynthia Erivo in The Color Purple. Photo: Matthew Murphy
It is one thing to take an excellent piece and bring out new glories in revival; it's another to take what originally looked unworkable and reveal the obscured strength within. This is what director John Doyle has done with The Color Purple; what seemed overblown and starchy in 2005 has been reduced to magnify the beauty in the writing. Built around a staggeringly good performance by Cynthia Erivo, the show -- by Brenda Russell, Allee Willis, Stephen Bray and Marsha Norman -- moves up several notches in our admiration. [reviewed here]
THE CHRISTIANS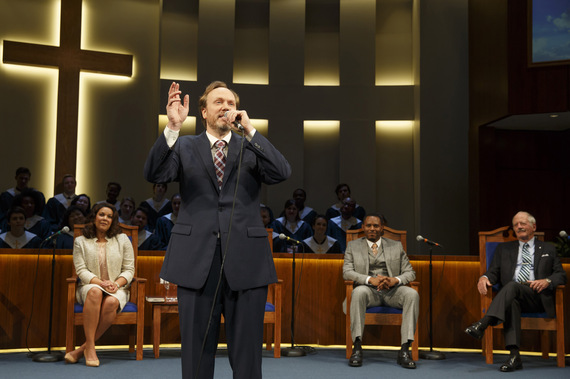 Andrew Garman in The Christians. Photo: Joan Marcus
Playwright Lucas Hnath's look at theological infighting at a fundamentalist megachurch was provocative, engrossing and surprisingly gripping. Hnath and director Les Waters filled the Playwrights Horizons stage with a large choir and chose to overamplify their play -- and every choice paid off in a memorable, unusual, thought-provoking evening. [reviewed here]
.
2015 had way too many "bests" to fit on a list of ten, so honorable mention goes to:
Stephen Karam's The Humans (Roundabout), Annie Baker's John (Signature), Bess Wohl's Small Mouth Sounds (Ars Nova), Rodgers & Hammerstein's The King and I (Lincoln Center Theater), Robert O'Hara's Barbecue (Public), Eugene O'Neill's The Iceman Cometh (from the Goodman, at BAM), Joshua Harmon's Significant Others (Roundabout) and Nick Payne's Constellations (Manhattan Theatre Club).