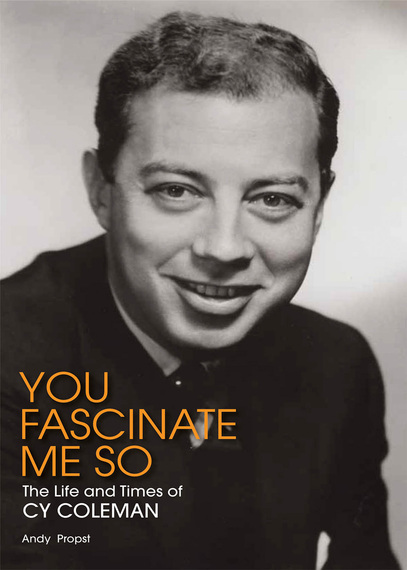 From 1927 to 1931, six major Broadway composers were born: (in order of appearance) John Kander, Charles Strouse, Jerry Bock, Cy Coleman, Stephen Sondheim and Jerry Herman. Coleman is now favored with his first full biography, "You Fascinate Me So" by Andy Propst [Applause].
Cy Coleman (1929-2004) was the first to reach Broadway, with incidental music for the 1952 play Dear Barbarians (which lasted one weekend at the Royale, and in which he performed from one of the boxes); the first to compose what can be considered an all-round perfect song, "The Best Is Yet to Come" in 1959; and, arguably, the finest pure musician of them all. This was an unusual life: Coleman was highly accomplished, and over the course of a half century achieved considerable success.
But "considerable" is a difficult word, especially for someone with a super-strong ego. Coleman was presumably ambivalent about the success of Stephen Sondheim, given that the latter first established himself as a lyricist. But he must have felt sharp pangs while he watched all-time smash hit musicals arrive from Jerry (Hello, Dolly!), the other Jerry (Fiddler in the Roof), John (Cabaret) and Charles (Annie!).
To make matters worse -- much worse -- he must have been chagrined when Irwin Michnik, one of his less accomplished classmates at the New York High School of Music and Art (now High School for the Performing Arts), wrote a landmark Broadway musical in 1965. This was before Cy had even had a Broadway hit; what's more, the show contained a song more renowned than any Coleman would ever write. By this point, both had long since changed their names; Seymour Kaufman was now Cy, while Irwin Michnik was Mitch Leigh of Man of La Mancha. Cy's Sweet Charity came along three months later, a moderate financial success that was thoroughly overshadowed by both La Mancha (which took that season's major Tonys and launched "The Impossible Dream") and Herman's Mame (which ran longer than Charity and Coleman's two prior complete musicals combined).
Coleman was active for most of his 75 years -- he won a city-wide piano contest and played Town Hall at the age of six, and finished a critically-applauded two-week stint at Feinstein's a few weeks before his death in 2004 -- and received three Tony Awards along the way. But he never had one of those hits like Dolly or La Mancha or Annie that made you set for life, and it had to have grated on him.
The child prodigy never stopped playing piano, although by his teens he had switched to jazz. He played in bands through high school, and by 1949 -- at 20 -- made a name for himself, with the Cy Coleman Trio becoming a nightclub headliner. He was soon writing pop songs with a variety of lyricists, with several placed in the 1953 revue John Murray Anderson's Almanac; and in 1956 he found the lyricist who would prove to be his perfect collaborator, Carolyn Leigh. (She had already been to Broadway with a different composer, providing half the songs -- including "I've Gotta Crow," "I'm Flyin'" and "I Won't Grow Up" -- for the Mary Martin Peter Pan in 1954.)
Two of Coleman and Leigh's early songs, "Witchcraft" and "The Best Is Yet to Come," remain among the best of their kind. Together, they wrote two Broadway musicals -- the Lucille Ball -- vehicle Wildcat (1960) and the Sid Caesar-vehicle Little Me (1962)--before personality problems drove them apart. Coleman went on to work with lyricists Dorothy Fields, Michael Stewart, and Betty Comden & Adolph Green (among many others).
Propst's "You Fascinate Me So" offers a detailed, step-by-step examination of Coleman's career, and you might say that Cy was indeed fascinating. A workaholic, he never seems to have stopped spinning wheels; but there were always too many wheels going. Broadway was apparently his goal, but he also had a significant performing career, at least until he turned forty or so; an ongoing recording career; and a not-so-notable publishing career. (He chose Notable Music as his corporate name.)
Cy's collaborators reported that he would schedule writing sessions grudgingly, and would often turn up without having done any work in the interim. He was so quick and talented, however, that he would sit down and immediately catch up with his lyricists. Several remarked that he did not always bother to physically write down what he wrote, so that sometimes -- to their astonishment -- the tunes were lost. Comden & Green quickly learned to keep a tape machine running while Cy was at the keys.
Coleman's first 25 years on Broadway were disappointing, with only one moderate success to his credit (Sweet Charity). Starting in 1977, though, he turned out a string of successes or near-successes, including I Love My Wife, On the Twentieth Century, Barnum, City of Angels, The Will Rogers Follies and The Life. An impressive showing, yes; but these musicals didn't start to arrive until he was almost fifty, and that big blockbuster always eluded him. Propst shows us, too, that Coleman's career was littered with unproduced -- and usually unfinished or partially developed -- musicals. So very many, in fact, that they suggest a man with a tendency to self-sabotage his work by scattering his attention.
Propst does a fine job of assembling this life, demonstrating an understanding of the field and the patience to interview more than one hundred co-workers. We end up with a good picture of Cy, his collaborators and his shows. What we don't get is insight into Cy's psychology. Propst suggests that Coleman was in long-term analysis from an early age, but doesn't delve into just what his demons were (and the demons, I think, would help explain the man). They clearly started, though, with a problematic mother. There is also an avoidance of Cy's personal life; he was apparently what they used to call a Don Juan -- and a dashing one -- through the '50s, '60s and '70s. He met Shelby Brown in 1992 and finally settled down at the age of 62.
Propst wrote the book with the permission of Cy's widow, and there's nothing in here that would be unseemly for Cy's fifteen-year-old daughter to read. (The author tells me that he was in fact given free reign, but despite repeated efforts was unable to persuade any one of several women in question to speak for attribution.) I expect that Cy was considerably more colorful than he is portrayed to be, though, and a little color might help us understand what drove the man. Even so, Propst gives us a full, complete and satisfying account of Cy's shows, his performing career, and his music.
* * * *
It is unusual in this day and age for theatre biographies to be released in conjunction with related CDs, but as you read you might think it would be helpful to hear some of the songs that Propst is talking about. Since Cy was an accomplished performer -- even before he became a composer -- his demo recordings are of more than incidental interest. Harbinger Records has accordingly released a separate CD -- also called "You Fascinate Me So" -- which includes 28 tracks of Cy playing Cy. Some songs are known, some went unused, and some have never been released at all. This recording is of obvious interest to fans of Coleman, and serves to enhance Probst's book.
.
You Fascinate Me So: The Life and Times of Cy Coleman by Andy Probst is available from Applause Books. The CD You Fascinate Me So, part of the Songwriters Showcase Series, is available from Harbinger Records