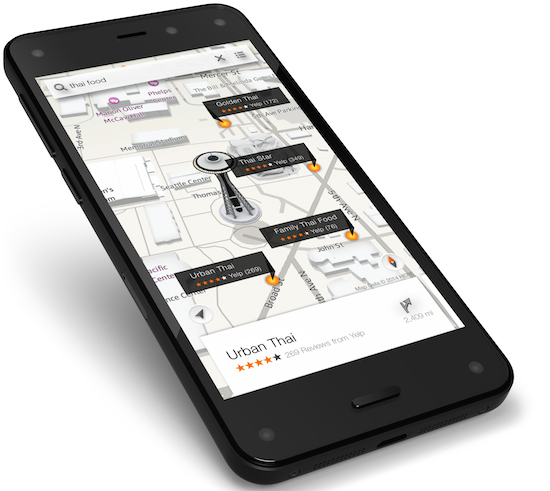 You can now pre-order Amazon's new Fire Phone at the online retailer's website.
Except I wouldn't. Not yet, anyway.
Why? Fire Phone is missing one of the most important modern smartphone capabilities: Bluetooth 4.0.
What's Bluetooth 4.0? Its other names -- Bluetooth Low Energy (LE) and Bluetooth Smart -- provide a clue.
Bluetooth was originally devised to create a link between your cell phone and an earpiece so you could converse wirelessly, or to transmit files, such as photos and video, from your phone to a PC.
Each subsequent Bluetooth generation increased data transmission speeds and lowered power drain, while also adding improvements such as stereo, enabling the creation of Bluetooth wireless stereo headphones.
But Bluetooth 4.0/LE/smart was like a brand new standard. Not only did it drastically reduce power requirements to the point where connected Bluetooth devices could be run on tiny coin batteries, but added simplified device discovery and more reliable point-to-point transmissions.
In practical terms, Bluetooth 4.0 (now 4.1), first available in the iPhone 4S in late 2011, sparked a new wireless ecosystem explosion of new smart, energy-efficient Bluetooth 4.0 gadgets, including:
now familiar wrist-worn health/fitness monitors, wearables and scales such as Fitbit and the variety of gear from Withings and Nike+ NikeFuel;
Medical/bio meters that track heart beat, blood pressure, pulse rate, blood oxygen level, et al;
Smart watches such as the Pebble, the Samsung Gear and the rumored upcoming Apple iWatch;
And a growing number of miscellaneous Bluetooth 4.0 gizmos such as the Star Trek camcorder-like Scanadu bio sensor, the even more Star Trek tricorder-like Variable Node sensor system, the vertical leap-measuring MayFonk Vert and, as of a few months ago, Google Glass.
Bluetooth 4.0 also has literally started opening doors. The Kwikset Kevo UniKey is the first in what is turning into another Bluetooth 4.0-enabled never-before-possible product category of keyless home deadbolt locks. There's the Goji smart lock, the hokey-named Okidokeys and the August smart lock, due later this year.
Away from home, several hotels have begun testing keyless Bluetooth 4.0 room entry.
These are just the metaphorical tip of what promises to be a gigantic iceberg of innovative smart Bluetooth mobile products and accessories.
And few, if any, of these Bluetooth 4.0 gadgets can be used with Amazon's new Fire Phone in its current state.
Fire's cool new features
Initial impressions of Fire"s merits and misfires have been mixed (including my own). Experts have extolled Fire's three most unique features:
Firefly, which can identify hundreds of millions of items including physical objects, QR and UPC bar codes, printed email addresses and phone numbers, works or art and even video - the identification of each which lead you to, naturally, an Amazon shopping opportunity;
the more wow-inducing but actually less real-world necessary 3D-like Dynamic Perception, which gives you layered looks at maps, a wider field of view in compatible games and lets you scroll through webpages and e-books by simply tilting the phone, a la Samsung Galaxy S's Smart Scrolling;
Mayday, Amazon's 24/7 live video-connected help service, carried over from the company's Fire HDX tablet.
At the same time, pundits have posited that the Fire Phone is actually just a cynical sell-centric Amazon mall extension. This same critique was aimed at Amazon's aforementioned Fire HDX tablets and, to a lesser extent, Amazon"s Fire TV media streamer. But neither the company nor customers, as far as we can tell, care about Amazon's constant selling.
And it's not as if Apple and many third-party music apps don't similarly guide you none-too-subtly to the iTunes store.
Fire also is packed with the usual spate of state-of-the-art smartphone specs -- 13 MP f2.0 camera, 2.2 GHz quad core processor, 4.7-inch Gorilla Glass 3-protected HD screen, NFC touch-to-pair/pay, etc.
Everything except...
Fire's shocking omission
For all its fancy features and functions, Fire Phone is extraordinarily, stunningly, shockingly missing Bluetooth 4.0.
Buried in the listing of Fire's specs (and a shout out to Suzanne Kantra, proprietor at Techlicious, for spotting it) is Bluetooth 3.0. Not Bluetooth 4.0.
I haven't seen a newly introduced state-of-the-art smartphone without Bluetooth 4.0 in more than a year. A smartphone or tablet without Bluetooth 4.0 these days is like Batman with no utility belt, a colorblind interior decorator, a letter addressed without a zip code, Paula Deen without butter, a toilet without a seat - you get the idea. These are all workable concepts, but what'd be the point?
I'm still shaking my head about this since the omission is so hard to believe. No Bluetooth 4.0 potentially cuts off Fire users from a new world of smart capabilities. But upon further checking, neither 7- or 8.9-inch Fire HDX tablets list any Bluetooth specification other than for wireless headphone connectivity.
Admittedly, an Amazon spokesperson has told me the Fire will be updated to 4.0 -- but wouldn't say when. Engineers at Bluetooth chipmakers CSR, Texas Instruments, Bluegiga and STMicroelectronics and executives at the Bluetooth Special Interest Group tell me most modern smartphones are equipped with dual Bluetooth 3.0/4.0 chips. As a result, upgrading a device to full 4.0 capabilities requires only some firmware and operating system updates.
Since none of Amazon's tablets don't list Bluetooth 4.0 either, it's likely Amazon's special Android-based operating system may be the hang-up. Perhaps if/when Fire gets upgraded to 4.0, so will Amazon's tablets.
But if Amazon planned on upgrading Fire to Bluetooth 4.0, why didn't the company just fess up and say so, instead of leaving us with the impression that Fire was a crippled product?
So, if you're thinking of jumping into the Fire, I'd wait until the phone is actually available on July 25, or until Amazon upgrades Fire to full Bluetooth 4.0 functionality.