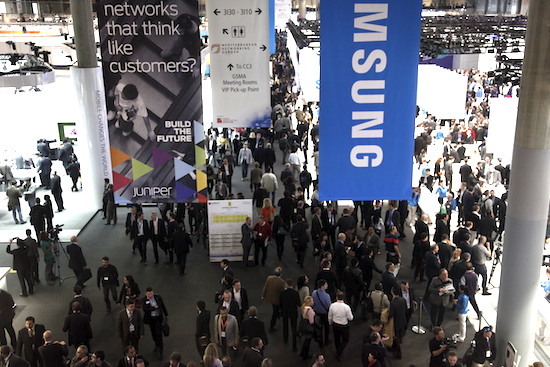 As a result of series of unfortunate events and poor timing, I'm home instead of engorging myself in the sites and sounds of Mobile World Congress, the world's largest mobile technology exhibition, currently crowding Barcelona.
But based on news reports from the show, other than not spending some time in such an exotic locale with my wife who is working the show for IBM, it doesn't appear I missed much.
The usual superphone suspects did introduce some new geegaws:
But collectively, to me, these new devices feel incremental rather than breakthrough. We've seen fingerprint scanners, waterproofing and 20-plus MP cameras before. And we now have smartphones at nearly every incremental screen size between 3.5 and 7 inches.
MWC isn't alone in its dearth of mobile hardware excitement. There weren't many smartphone breakthroughs at CES, either. In fact, even with its fingerprint-scanning home button, last fall's Apple iPhone 5S was only slight more cool than the 5.
So, has the smartphone reached the end of its wonder years?
It's the infrastructure, stupid
Don't get me wrong. I don't mean to imply that smartphone technology has stagnated. Batteries will continue to supply more juice, there'll be more waterproofing/resistance, cameras will continue to improve (and not just more megapixels but better focusing, optical zooming and better low-light results), etc.
But in just seven short years, since the original iPhone went on sale in June 2007, the mobile phone has achieved shocking technological and mainstream maturity. In 2013, revenues from smartphone and tablet sales totaled more than all other consumer electronics combined, and according to Cisco, there are now more mobile devices then there are people in the world.
But instead of mobile devices, future mobile wonders will come instead from largely unfamiliar supporting technologies and applications.
For instance, for me, the biggest news out of MWC was made by Boingo, which announced the availability of Passpoint Wi-Fi in 21 U.S. airports.
What's Passpoint? Passpoint is automatic and secure Wi-Fi connectivity. Passpoint will make connecting to speedy Wi-Fi as brainlessly easy -- you'll need to do nothing -- as connecting to cellular. Your phone will simply connect to Wi-Fi all by itself. You can read my more expansive Passpoint explanation here.
With these 21 airports as a starting point, I can only hope Boingo spreads Passpoint (and hopefully so-called gigabit 802.11ac Wi-Fi, with its 1.3 gigabit per second speeds) to its other 700,000 global hotspots more rapidly than the rest of the industry plans.
Then there's the IBM's Watson Mobile Developers Challenge, just announced by IBM CEO Ginni Rommety in her MWC keynote. Full disclosure: my wife is the lead PR contact for the challenge. But Watson, which trounced two human Jeopardy! champions a couple of years ago, is arguably the world's most intuitive computer (although Amazon"s system gives Watson a run for its petaflops).
Drawing on Watson's cloud-based cognitive computing capabilties, future mobile apps could prove as wondrous as any piece of hardware, and I'm not the only one who thinks so.
Other wireless wonders
Three other wireless technologies will radically change how we interact with the world through our mobile device:
Here's my more expansive examination of the impact and implications of these and other wireless and infrastructure technologies that promise to change our mobile lives far more radically than any shiny MWC hardware.
Now how much would you pay?
Perhaps the source for the most mobile future wonder will come not from technology at all, but how much we pay for mobile technology and service.
Over the last year or so, T-Mobile, led by peripatetic CEO John Legere, has unleashed a staggered, multi-step "un-carrier" campaign. This un-carrier campaign includes the end of contracts, more simplified plans, no data capping, fewer limitations for hardware upgrades, drastically reduced international roaming fees and re-imbursement of early termination fees (ETF).
T-Mobile's in-your-face efforts to re-make the cellphone business have forced its competitors to try and keep up, sometimes comically reversing course or resorting to out-right bribery.
As T-Mobile builds out its speedy LTE network and attracts more switchers, I suspect Verizon, AT&T and Sprint to defensively counter (it's kind of fun to watch these behemoths awkwardly react to T-Mobile's shenanigans), resulting in ever-lower cellular service pricing -- which may be the most wondrous mobile development yet.