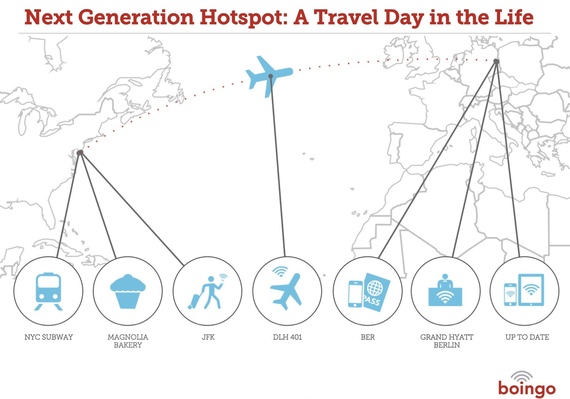 No matter where you go -- there you are. More importantly, so is your cellular service. Ramble across the country, and your phone automatically connects you to whatever cellular network is available. You probably don't even think about cell connectivity as you travel. You whip out your phone, and, assuming you have battery power and you're somewhere near civilization, you know you'll be connected.
Wi-Fi? Not so much.
Leave your home and you're suddenly plunged into a Wi-Fi scavenger hunt, searching for a hotspot you can connect to in whatever coffee shop, hotel, airport, park, et al, you find yourself. Considering identity theft concerns, you don't want to connect to an any open unsecured hotspot, but you can only connect to a secured one if you know the password. And getting the password often means paying -- assuming this "secure" hotspot is actually secure.
And this is also assuming you can tap all the required sign-in info into the tiny text window on your tiny smartphone or tablet screen or if your mobile Web browser can handle the stupid Wi-Fi interstitial connectivity pop-up pages.
Brainless Wi-Fi connections
End this Wi-Fi scavenger hint with Passpoint. Passpoint is designed to make Wi-Fi as ubiquitous and connectivity-brainless as cellular.
Essentially, your Wi-Fi device will automatically detect and securely connect you to the most powerful available Wi-Fi network without you having to do anything.
This video from the Wi-Fi Alliance, the Passppint standards group, illustrate how Passpoint is supposed to work.
More specifically and technically, Passpoint is a simultaneous multi-front effort -- hardware, software and wireless bureaucracy, the last aided and abetted by the Wireless Broadband Alliance (WBA), which coordinates international cellular roaming and billing partnerships. "Passpoint" encompasses the Next Generation Hotspot (NGH) and Hotspot 2.0 standards, and is powered by two new protocols, 802.11u and 802.11i.
802.11u is a supplement to the familiar 802.11b, g, n and ac Wi-Fi standards, and enables a Wi-Fi device to discover Passpoint networks. 802.11u acts like a social director to ensure you get connected to only the most robust, fastest and most secure Passpoint Wi-Fi networks.
802.11i authenticates a network's SSID (Service Set IDentifier), a network's internal 32-character password. The current lack of automatic authentication is why you get a list of dozens of potential Wi-Fi networks you can't connect to or why your email often doesn't work when you do finally connect to a hotspot.
Wi-Fi devices and hotspots have to be certified to work under certified Passpoint specifications, which include additional security, encryption, authentication and handshake protocols (802.1x and 802.11u), and deals have to be struck and testing done among Wi-Fi hotspot providers, cable carriers, cell carriers -- anyone who sells Wi-Fi connectivity.
The end result is, you won't have to do anything to get connected -- your Passpoint device knows what to do to create a secure Wi-Fi connection, just like cellular.
Where can I get Passpoint?
You can get Passpoint connectivity right now in selected places and cities.
In February, Boingo, a key Passpoint developer and operator of the world's largest hotspot network -- more than a million hotspots worldwide (which comes in ridiculously handy while traveling) -- launched Passpoint Wi-Fi at 21 U.S. airports for its subscribers; the company has since added five additional airports, including Phoenix and John Wayne Airport in Irvine, CA.
Then, in June, Time Warner Cable launched its own Passpoint network in New York City, LA, San Diego, Austin, Charlotte, Myrtle Beach, Kansas City and Hawaii. TWC's more than 56,000 Passpoint hotspots (and growing) are available free to Time Warner Cable; Boingo subscribers will get to roam on this Passpoint network "soon," according to the hotspot company.
If you're a Time Warner Cable subscriber, here's a video explaining how to get Passpoint connectivity for your smartphone or tablet:
Comcast is reportedly readying a similar Passpoint network for the cities it covers, but it has not said when it would be turned on. Both Time Warner Cable and Comcast are part of a larger nationwide Wi-Fi network of 250,000 hotspots run by the Cable WiFi Alliance, a partnership of Time Warner Cable, Comcast, Cox, Brighthouse and Cablevision. Presumably, at some point, all these cable companies will supply Passpoint compatibility as well.
Passpoint isn't just a U.S. thing. Nearly 80 percent of all global cellular carriers are expecting to launch Passpoint by the end of next year.
At some point in the not-too-distant-future, you could leave your home, take a cab to the airport, fly to an international destination and take a cab to your hotel -- and never lose your Wi-Fi connection, thanks to Passpoint.
Which phones, and how much?
Nearly all smartphones from Samsung, LG and HTC are Passpoint compatible to varying degrees. Unfortunately, Android phone makers haven't coalesced around an agreed on method to deliver and store the Passpoint configuration profile, so getting Boingo Passpoint to work on an Android phone right now can be a bit tricky. Check this list for compatible Passpoint products.
If you're a Boingo subscriber and you own an iPhone, however, you can download the Passpoint profile to your phone right now; just type this URL -- https://passpoint.boingo.com -- into the Safari browser on your iPhone (don't use Chrome or another browser -- it won't work).
Best of all, Passpoint costs nothing. Both Boingo and Time Warner Cable provide Passpoint as an additional service at no extra charge, offering the automatic connection as a competitive differentiator. And there's no indication that any of the global carriers will charge for Passpoint, either, since it's to their benefit to offload their heavy data traffic from their increasingly crowded cellular networks.
And that's what's frustrating. It's been three years since Passpoint was announced. But this foundational change to how we connect to the Internet is taking forever for the wireless powers-that-be to rollout it out, which may explain why so few people have heard of it or know what it is.
But I have a feeling in about a year, all that will change. At least I hope so.
(An earlier version of this story originally appeared on DVICE.com)