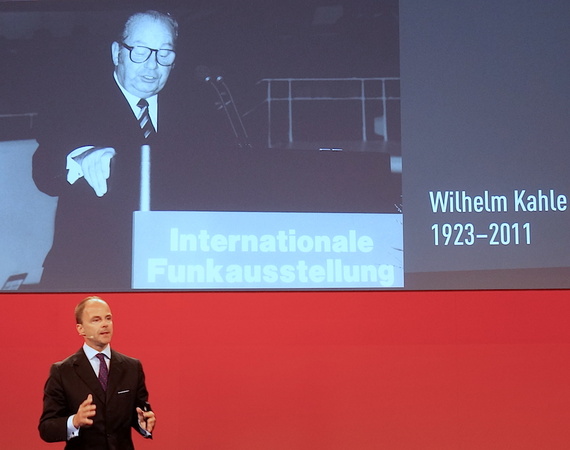 Dr. Christian Göke, chief executive officer of the Messe Berlin, honors long-time IFA leader Wilhelm Kahle at this year's IFA
Wilhelm Kahle was excited. It was August 13, 1961, and in less than two weeks the 38-year-old leader of ZVEI (the German Electrical and Electronic Manufacturers Association) would open the organization's first IFA exhibition in Berlin after the end of the second world war.
Excitement would soon turn to panic, then defiance and then pride because the 1961 IFA might have been the most important trade show ever held.
IFA (Internationale Funkausstellung, or International radio exhibition) is Europe's version of CES, and this week's show marks its 90th anniversary. The first IFA -- then called the Grosse Deutsche Funk-Ausstellung (the German Radio Show) -- was held in Berlin during the first week of December 1924, and attracted 242 exhibitors and 180,000 attendees.
Like its host country and city, however, IFA had its political ups-and-downs in the ensuing war-torn decades.
On the positive side, Albert Einstein helped inaugurate the 1930 show, for instance. But in 1933, Adolph Hitler used the show to promote the Nazi's Volksempfänger ("people's receiver"), a limited-function radio receiver that could receive only local German or Austrian stations, and promoted by Joseph Goebbels to disseminate Nazi propaganda. More than 100,000 Volksempfängers were sold during that year's IFA.
After the war, Berlin was, of course, was a bombed-out wreck, and divided into four quarters, each administered by one of the victorious Allied powers.
So the first post-war IFA, then held every other year or so, was located instead in Düsseldorf in 1950, then again in 1953 and 1955, before moving to Frankfurt/Main for the 1957 and 1959 shows.
Finally, by 1961, Berlin had been sufficiently reconstituted for IFA to triumphantly return.
But on August 13, 12 days before show was due to open, the Soviet East Germans started building the infamous Berlin Wall.
The show must go on
Kahle was frantic. Should they hold the show or cancel? Kahle, who would lead the organization of IFA until 1991, called West Berlin mayor (and later West German chancellor) Willy Brandt that evening to discuss IFA's prospects. The pair decided it was important to defy the Soviets with this singularly capitalist event. Kahle contacted industry leaders to let them know the show would go on.
But West Berlin wasn't exactly accessible for anyone, let alone for manufacturers trying to set up display booths and for consumers to buy displayed wares. The city was located right smack dab in the middle of Soviet-controlled East Germany, so West Berlin was essentially a fortress inside a fortress. Only non-German airlines had permission to fly in, primarily PanAm, and virtually the only road in was from the south through Potsdam; drivers arriving at the Dreilinden border crossing (aka Checkpoint Bravo) could expect to have their cars, trucks -- and themselves -- completely searched for contraband by the East German police before being allowed, maybe, to go through.
Not exactly optimum conditions for a trade show.
Despite these travel deprivations, and thanks to Kahle's organizational leadership, 177 exhibitors showed up in West Berlin to display their wares at the 1961 IFA starting on August 25th. So did 417,500 determined capitalist manufacturers and gadget-buying consumers, led by Brandt, who opened the show, and the federal president of Germany, Prof. Dr. Roman Herzog, who received as tour of IFA from Kahle, who died three years ago.
"It was the first chance to fight for the freedom of Berlin," recalled Dr. Christian Göke, chief executive officer of the Messe Berlin, the fairgrounds where IFA has been and is held. "The organizers felt it was a special moment in time, a completely different type of show."
In 1991, 30 years after Kahle and the German electronics industry defied the Soviets, IFA could completely celebrate the freedom of Berlin -- it was the first show held after the wall had fallen two years earlier, the first IFA former East Berliners and East Germans could attend, and the last Kahle would lead before retiring.
With Germany united, IFA became an annual event starting in 2006, and has been growing steadily ever since in this historic city, continuing to serve as a symbol for German's post-wall resurgence.
IFA's current organizers, gfu (Gesellschaft für Unterhaltungs und Kommunikationselektronik, or Society for Entertainment and Communication Electronics) hope the history the show makes going forward emanate solely from new technology and new product announcements.
(Portions of this story originally appeared in TWICE magazine, the leading consumer electronics trade publication and Web site in the U.S.)