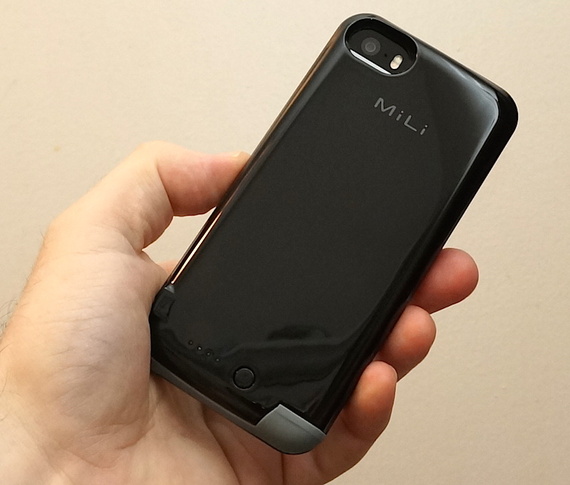 As someone considered a tech authority, I am often asked by family and friends what kind of gear to buy. Short of listing my email address or phone number here and having you contact me for shopping advice, here's the gear I own and use on a daily basis, and some buying advice.
My Cell Phone: iPhone 5S
Yes, like thousands of other tech reporters, I own an iPhone (although I can't stop fondling the gorgeous HTC One M8). What carrier? Well, as of this week, T-Mobile -- I just switched from AT&T. Why? Find out next week. But it's what's around my phone that's perhaps more interesting for you other iPhone 5/5S owners -- the Mili Power Spring 5 battery case, which I consider to be the best iPhone battery case extant. Why? Find my more copious rationale here. If you'd rather just carry extra power separately rather than clip it onto your phone, I heartily recommend either the myCharge Hub 9000 (read why here) or the smaller and cheaper Macally MBP30L (read why here).
Buying Advice: Anyone who carries any mobile device should also carry an emergency power supply of some type.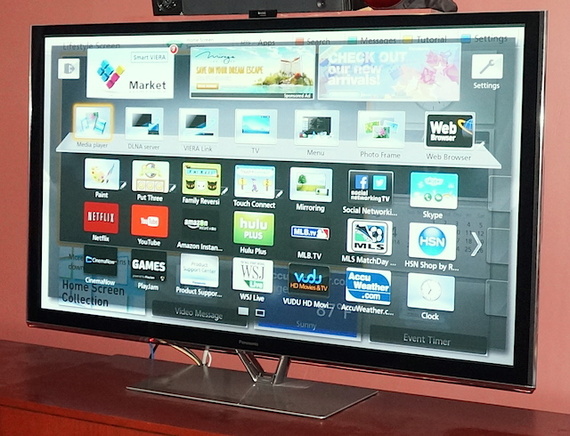 My HDTV: Panasonic TC-P55VT60
When I heard Pioneer was getting out of the plasma TV business (as of last month), I figured it was the best time to replace my beloved 50-inch Pioneer Kuro PDP-5020FD plasma, formerly the best TV ever made, with this 55-inch second-from-the-top-of-the-line Pioneer (my Pioneer is now our bedroom TV) plasma since Panasonic made the best plasma sets and plasma TVs are superior to LCD LED. Why not the top-of-the-line ZT60? The ZT 60 didn't come in a 55-inch model (I didn't have the room for a 60-incher), and the VT comes with a pop-up camera for Skype calling.
Buying Advice: Buy a 3D plasma -- they're the best 2D sets available (4K UHD TVs are just a rip-off right now, if you could even tell the difference from a regular HDTV, which you can't). You can still find some Panasonic plasmas for sale online (my own model can be found from varying Amazon sellers), or get a plasma from the last two plasma TV vendors, Samsung or LG.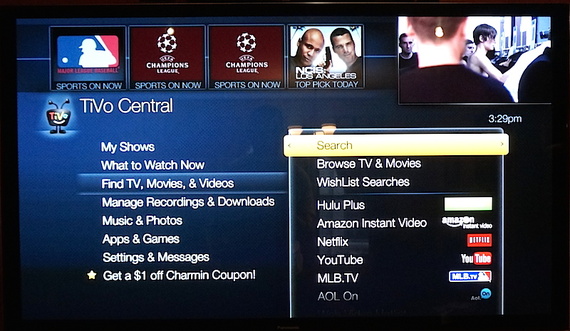 My Media Streamer: TiVo Roamio
Since I am a tech reviewer I have an Apple TV and a Roku and just got an Amazon Fire TV that I'll be reviewing for Techlicious next week. But to me, having a cable TV box and a separate media streamer seems stupid when you can have better versions of both in one box, TiVo"s Roamio DVR/media streamer. I can record up to four shows at once (as opposed to two, the limit of most cable boxes), record up to 450 hours of HD stuff (depending on what version of Roamio you buy), you get access to popular streaming services such as Netflix and Hulu, and when you search, TiVo searches everything it has access to -- cable TV and streaming services. An elegant, all-access (if pricy) TV watching solution.
Buying Advice: TiVo requires a cable card, which many cable companies balk to support, and you may need something called a "tuner adapter" box.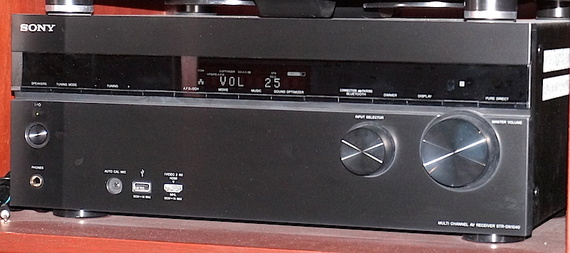 My Audio/Video Receiver: Sony STR-DN1040
After much research and consultation with fellow tech wizards, I determined this Sony surround sound receiver ($599.99) offered the highest/best build, power, audio, features and reputation quality as well as most HDMI inputs for the lowest price, an A/V receiver perfect storm.
Buying Advice: Consider Denon, Onkyo, Yamaha and Pioneer AVRs, all of which I've owned at one time or another, and make sure your choice includes enough HDMI inputs to accommodate all your devices. If you plan on buying a new 4K UHD TV (and I still recommend you don't), get an AV receiver with HDMI 2.0 inputs. And match your prospective receiver's power to the minimum power requirement of your speakers (and vice versa).

My Speakers: B&W Matrix 802 Series 2
These mammoth B&W Matrix 802 Series 2 speakers are at least 20 years old, the oldest still-working gadgets I own; I have since added matching surround sound speakers. B&W has updated them many times -- here are the current versions -- but I love the smooth, warm sound these classics produce. How much are the new 802s? If you have to ask... In my bedroom, my Pioneer Kuro sits atop a ZVOX SoundBase V-420 "sound plate" ($249.99). ZVOX makes the best add-on IMHO and, as far as I can tell, originated the "sound plate" speaker that many companies are now copying.
Buying advice: Always take familiar music with you to a store to audition speakers, and listen at low -- not high -- volume levels, since that's how you'll likely listen at home.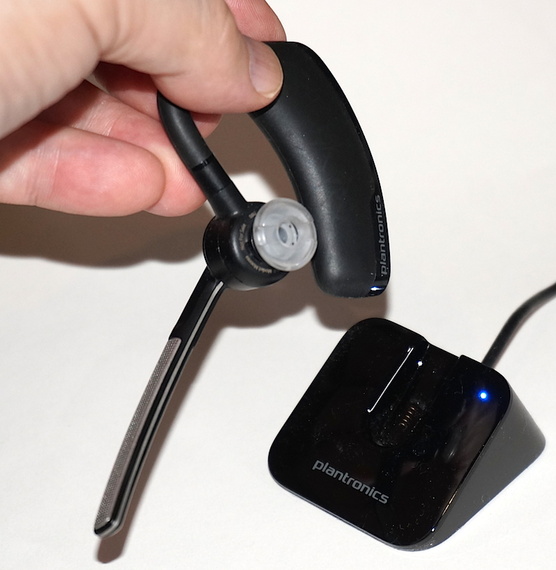 My Bluetooth Headset: Plantronics Voyager Legend
Like the pizza box says, I've tried the rest, now try the best. No one makes a better Bluetooth headset -- best sounding, longest range -- than Plantronics (good enough for NASA, good enough for me), and my own Plantronics is the Voyager Legend ($99.99). You can read a more extensive comparison with many of the leading Bluetooth earpieces here.
Buying advice: Simple: Plantronics. Period.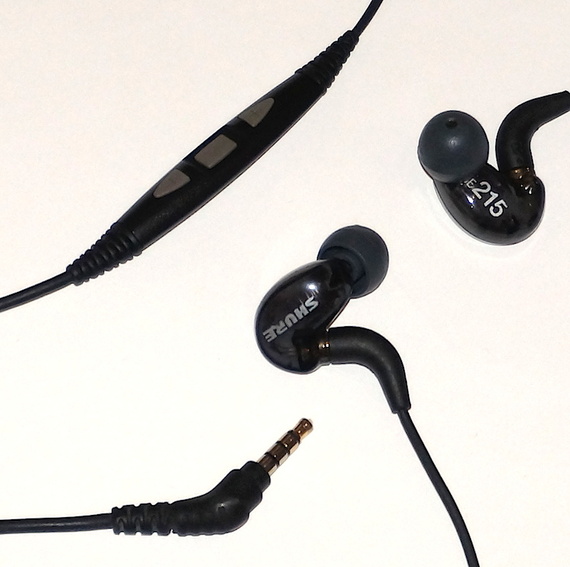 My Music Listening Earphones: Wired -- Shure SE215/Bluetooth -- LG HBS730
When I leave the house (which isn't often -- it's scary out there!), I opt for either the Shure SE215 ($99.99) or the LG Tone+ HBS730 stereo Bluetooth in-ear phones ($69.99) (read why here), although I'm awaiting on the update, the LG Tone Ultra HBS800 ($129.99). As to the Shure SE215, it offers far and away the best sound for the money; in fact, an astounding high audio quality for less than $100, and swivel earpieces so they sit flat in your ear in case you put ear to pillow. Sound isolating earphones such as the SE215s are aptly named; the buds completely block the ear canal and eliminate the need for more expensive noise canceling earphones. Even more astounding are the sound and the price of Shure"s new SE112 ($49.99), which my audiophile friend Seiji guessed cost $250 and now won't return. Well, he can't hear me ask because he won't take them out of his ears.
Buying Advice: You do not need noise canceling earphones or headphones. Any noise isolating earphones or full-cup headphones will do the job sans worrying about batteries.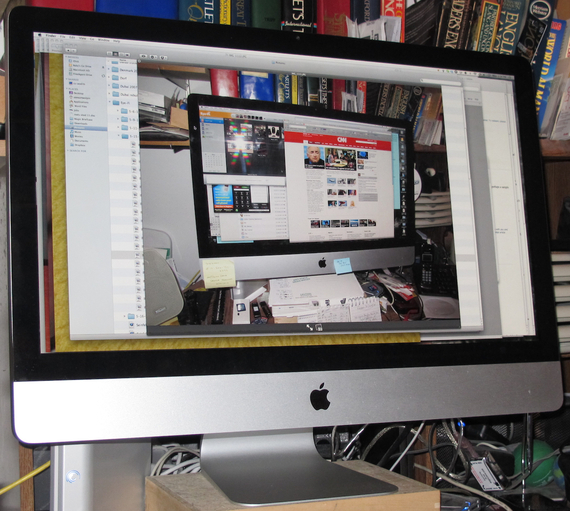 My PC: Apple iMac
Actually a 2009 model-year 27-inch iMac and, after nearly five years -- the longest I've ever owned a PC -- so far, so good. I've been a Mac user ever since the first one 1984 (how old am I?) On the road, I tote an original MacBook Air.
Buying Advice: I'm not going to say "Apple" because if you own a Mac you'll definitely stick with Mac, and if you own a Windows PC, you probably maybe will stick with Windows -- I won't convince you to switch in these 125 words or less. But if you are looking to buy a new PC, don't justify paying less by rationalizing "that's all I need." Opt for top-of-the-line in memory and power. Why? "Just enough" always ends up being nearly instantly obsolete. By over-buying you'll prolong both the need to add-on and your jonesing for a new, more powerful model, saving money in the long run, like I have.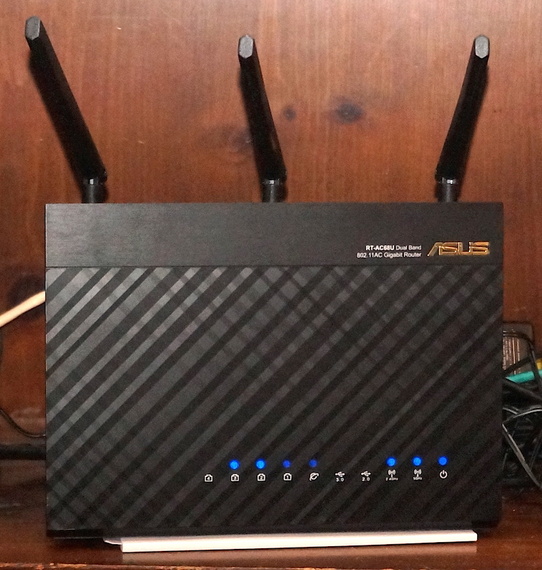 My Wi-Fi Router: Asus AC68U
Even though my two-bedroom Manhattan apartment is relatively compact (an understatement, but it's home) I live in a wireless wonderland where routers go to die. My router is in my home office, but the signal dies just one room away -- until I found this Asus AC68U Wi-Fi router. Not only was this Asus easy to set up, but it delivered all four Wi-Fi bars of service all over my apartment, even on devices with poor AV reception. Easily the most useful and satisfying purchase I have made all year, and I"m not alone in my opinion.
Buying Advice: Regardless of which brand and model router you choose, get one with AC (802.11ac) "gigabit" Wi-Fi. 802.11ac is the latest and fastest Wi-Fi protocol, and even if your gear isn't AC-compatible, all new gear -- smartphones, tablets, laptops, et al -- will be.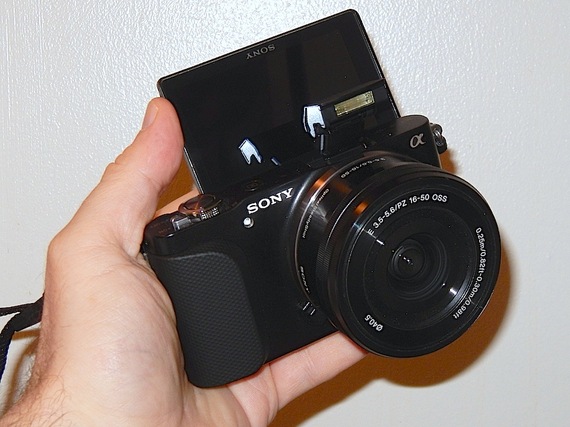 My Digital Camera: Sony Alpha NEX-3N
All the photos in this roundup were taken by my now discontinued Alpha NEX-3N ($389.99, marked down from $499.99). Why this year-old camera, which has just been replaced by the Alpha a5000 (hence the discounted price)? Like many of my other gadget choices, it came down to value for the money. For less than $500, I got a compact interchangeable lens camera (although I have yet to buy a second lens) with an articulating pop-up flash, power zoom and tilt-angle LCD screen, a trio of features unavailable at such a low price. Oh, and it takes great photos.
Buying Advice: Check the specs to see how many photos you can take on one battery charge. The new Sony a5000 snaps 420 shots on a single charge, for instance.
If you know a gadget geek, don't look for affirmation when it's too late. Ask their advice before you buy. Or, leave me a comment below if you have a purchase decision you're wrestling with and I'll try to help.