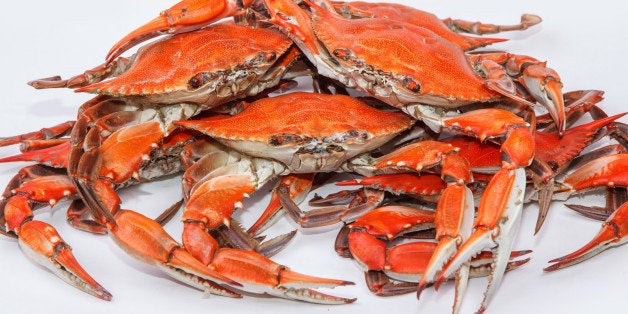 I once read an article on job interviews and the kinds of questions you need to be prepared to answer. The new trend in questions leans to a more informal line of questioning -- my favorite first question being, "So, what's your story?" I thought this would make a great lead-off interview question, so I started thinking, who can I interview? I love food and I love books, movies, and music. I think they go hand-in-hand. So I've contacted some of my favorite chefs and cooks to ask them about music, books, and cooking etc. and I've contacted some of my favorite musicians to ask them about food, cooking, and music. All in good fun. I hope you enjoy it.
So, Michael, what's your story?

Good question. Where do you want to start? I have lots of stories. 39-year-old male, married with two kids.
Ho's is a cult-ish pizzeria that resides off the beaten track outside of Charlottesville, Va. We have a lot of local and regular customers that have been eating with us for years. We serve honest food that hopefully will warm your soul. Real food for real people -- not too much fru-fru stuff going on here... big, bold, in-your-face flavors served with a touch of graciousness.
You live in an old store -- do you do a lot of cooking at home? Will you mention two or three favorite go-to cookbooks? I love the cookbook from The Grit, in Athens, GA. and The Joy of Cooking.
I cook at home all the time. It's usually simple stuff. Lots of egg and sausage breakfasts. We do a lot of themed meals too... like burger night or taco night or ramen night, etc., etc. I rarely use cookbooks, but my favorite cookbooks at the moment are from Pok Pok, in Portland, Oregon and The Inn at Little Washington Cookbook in Little Washington, Va. I also like to flip through old Jean-Louis Pallidan and Charlie Trotter cookbooks too. Kitchen Confidential was entertaining as well.
What do you like to cook? Do you like to cook? That strikes me as a weird question for a chef, but I'm going with it: Is there ever a time when you think, "I don't want to cook -- I'm uninspired. Put me in an office." Hopefully that happens rarely or never, but if that thought ever rears its ugly head, how do you cope with it?
The cuisines in Asia are really interesting to me at the moment. I find it interesting to work with all the different ingredients and learn other techniques. After all these years I still find enjoyment in cooking. Yes, it's easy to get burned out. That just means it's time to push harder and learn something new and different. Sometimes it's okay to be uninspired and run on auto-pilot. But not for too long, and don't let it go noticed by people around you.
Since Dr. Ho's expanded into a new, larger space, you're about to open a new take-out joint in the old space formerly occupied by Dr. Ho's. What do you look forward to about Giddy's Good Fortune Take-Away?
I have always had a love affair for Asian-inspired food. My wife Nancy has stopped asking me where I would like to go for dinner because my response is always Thai, Vietnamese, Chinese, or something along those lines. I have been talking about opening an Asian-inspired shop for years. Now we have the place to showcase the creations.
I had the privilege of attending your oyster dinner in March. It was fantastic -- three courses of oysters and a dessert. Do you have more plans to do more pop-ups like this? I sent pictures to a friend in New York who said he wants to move down here -- he said you can't get anything like that in New York City for $42.
You would be lucky to get a piece of fish in New York City for $42. We are doing the occasional pop-up right now. It's usually a themed dinner of some variety. This summer we will be doing Maryland steamed crab pop-ups. It will be reminiscent of my upbringing, with steamed crabs, local corn on the cob, Maryland crab soup, fried chicken, and such things. I want people to get down and dirty while hammering at crabs, drinking cheap ice cold beer, telling random stories. Like when I was a kid.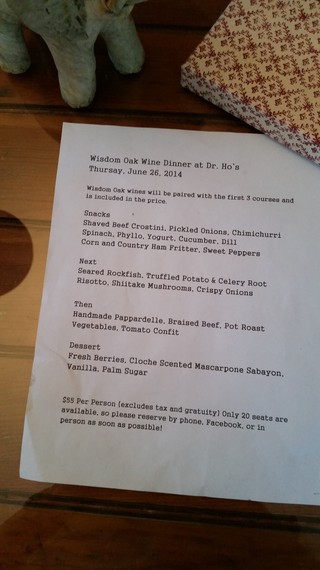 Tonight: Wisdom Oak Winery Dinner Menu
What are some things you don't like to do in the kitchen? What are some of your favorite things to do?
There is nothing I won't do in the kitchen. Period! I have learned if you are going to ask or tell someone to do something, it should not be below something you would do yourself. I don't particularly like to clean deep fryers after a solid 12 hours shift. But, I do love a good towel snapping fight between two kitchen employees.

I remember talking with you about the broken stereo in your truck -- that it's just not that big of a deal for you. I do some of my best listening in the car, so I could not imagine having no music as I drive around, although I do understand the value of silence... You claim not to listen to much music, yet the restaurant has a continuous soundtrack of awesome music playing... what does this mean?
I went 6 years with a broken radio in my truck. I got that stereo fixed in my car 6 months ago and have listened to it twice. I don't know what it means. I enjoy the peace and quiet of a 20-minute car ride home. I do my best thinking driving by myself in a car with total silence. I hear things all day at work. There is never silence in the restaurant. People banging shit. Radios blasting, ticket printers buzzing.
Now, that said, what are some of your favorite bands? In order.
If they must be in order... I'll go this route:
Rolling Stones
Van Halen (David Lee Roth era)
DJ Greyboy
The Kinks
Notorious B.I.G
Who do you cite as big inspirations -- in or out of the kitchen? Why and how?
The underdog has always inspired me. I always root for the underdog. I like when people who aren't supposed to win... win! It's inspiring in its own little way. I like the guy who can shut down the naysayers.
Who are some of your favorite boundary pushers -- in and out of the kitchen?
Outside the kitchen my Dad was one of the bigger boundary pushers I have known. He didn't believe the world could defeat him. If someone said he couldn't do something he would prove them wrong. He didn't believe in the word "no." He always had a "think positive-yes, yes, yes" attitude. He also loved the slogan "go for it." He believed anything was possible with the right attitude. It's important to keep a positive attitude and go after what you want.
What does a typical day in the life of a modern chef? Is there such a thing?
No such thing. My day always starts with strong black coffee. That's about the only constant.
Do you get much time to read a book or watch a movie? I think I know the answer to that, but would you please humor me and name some of your favorites?
Movies! Me? Never. I don't have the attention span to make it through a full-length movie. I don't read much either, because I'm not particularly good at it, nor do I find much enjoyment in it. The last couple of books I remember reading are Kitchen Confidential, by Anthony Bourdain and A Walk in the Woods, by Bill Bryson. For me to pick up and read a book, it has to really interest me. I prefer working with my hands, experimenting, assembling, and disassembling.
I sometimes compare cooking with playing music. Do you have any "pre-show rituals" before you cook? What keeps you excited about coming back to the kitchen?
I don't really have rituals. I'll start by washing my hands, grabbing a cutting board, apron, kitchen towels, and a knife. Things just transpire from there. I like fire, knives, stainless steel, and misfits -- that's probably why I return.
Dr. Ho's provides such a great community gathering place, but I know that you and Nancy are busy and cannot necessarily enjoy the benefits of the place -- there are pizzas to bake and drinks to fill and tables to wipe and on and on... what do you want people to take away from their experience eating your food and experiencing you as a person?
Truth be told, all we is to want people to leave feeling that they had good honest food at a fair price.
Finally -- tell me about desserts.
Desserts have always been one of my weaknesses, and still are to this day. I really don't have any immediate plans on improving my dessert game anytime soon, either. When it comes down to it... I'm a line cook at heart. It comes really natural to me. Setting up the mis-en-place, station ergonomics, and execution has always come very easily to me. Desserts have a tendency to be a little too precise for me. I am more like "a little of this, a splash of that" kind of cook.