By Amily Mengyuan He, SRA Alumnus, Students Rising Above
Having been in the country for only a year, and the only one in the family who could speak English, my 16-year-old self was very lost. I felt lonely and hopeless; I didn't know where life would take me next. That was 2006, the year that I had the unbelievable fortune of becoming part of the Students Rising Above family. SRA's incredible community welcomed me and encouraged me to pursue my dreams. It has been my guiding compass ever since.
Last May, I graduated from college and started my first fulltime job. The further I get from college, the more I realize that getting in was only a small leap forward. What matters most to where you end up in life, is what you make of it. But figuring this out is very hard, especially for someone like me who couldn't rely on my mother for advice. She knew nothing about this country and was working the toughest jobs just to get by.
A Network and a Home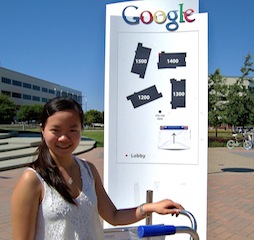 How did I go from being a clueless 16-year-old to knowing that I wanted to be in a creative field in the tech industry? And how did I succeed in realizing this goal? It was not an overnight realization; it was baby steps, taken one step at a time. And it was Students Rising Above that took me through these steps. I wouldn't be where I am today without SRA.
What I love most about SRA is that it's a unique, well-rounded program. It is not simply a scholarship. SRA is a network and a home for a lot of students like me. My SRA volunteer mentors, Tom and Cathy, were instrumental in helping me through the soul-searching process. They helped me to discover what I like and what I am good at, and they taught me different ways of problem solving.
Shaping Career Goals and Job Training
My career advisors at SRA, Lauren and Anna, were incredible at helping me shape my career goals. They also helped me get two of my most important internships--one at Apple and one at Google, which ultimately led to my current job at Google. Lauren and Ann, informed me about job opportunities, helped me refine my cover letter and resume, and helped me practice interview techniques. They also helped me connect to SRA volunteers who work at Apple, Helena and Karyn, who were wonderful mentors. They met me for meals, shared career advice, taught me about the tech industry, and always made sure I was doing well at my internship.
If my internship at Apple is what made me fall in love with the technology industry, my internship at Google was what made me want to stay. At Google, I helped run one of their biggest business-to-business campaigns. I made product launch videos and redesigned websites. It was a perfect combination of creative and analytical skills. I loved my internship, worked hard, and took a fulltime job offer at Google after I graduated.
I am very thankful for SRA's many mentors, counselors and advisors. They supported me not just financially, but also emotionally. The courage and confidence that Students Rising Above bestowed upon me has helped me to become a solid member in the workforce. It's a gift that lasts a lifetime.
Help SRA Help Others
SRA has helped hundreds of extraordinary young adults, like Amily He, break the cycle of poverty through mentoring, college education, and job training. The more funding and awareness we raise, the more students we can help. Please visit our fundraising page on CrowdRise, and support our efforts to change the lives of hard-working young men and women in our country. Thank you.