Rochelle Gores Fredston knows her Napa. The 28-year-old founder, creative director and CEO of Arcade Boutique in West Hollywood has been frequenting wine country for the past three years with her now husband, hedge fund manager David Fredston. "We're very big wine people," she says. And as such, trips up north are a frequent affair.
Their area of choice is Yountville for its charm and walkability (they like the Yountville Inn, or for something a bit more extravagant, the Villagio Inn & Spa). Not to mention the stellar vino. "I'm constantly taking notes and pictures of bottles on my Blackberry," Gores Fredston says. "We like to give wine as gifts, so it's a good way to remember the ones that we like."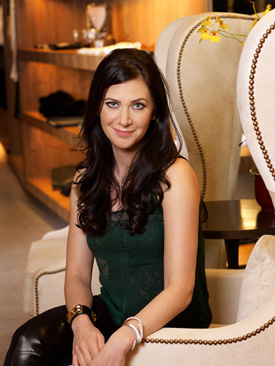 And when it comes to luggage, the savvy businesswoman (she learned tricks of the trade from her financier father Alec and from stints working behind the scenes at Scoop and Rampage in New York) packs her Louis Vuitton carry-on full of practical products to keep her looking and feeling good throughout the weekend. Think pita chips, multi-use lotion and mini nail polishes in case of an emergency chip.
Of course there's high style to be found in Gores Fredston's bag, too. "I like to pack pieces that can go from day to night," she says of the Yigal Azrouel jacket and sparkly T. Cyia necklace that slips over a casual day dress and makes a before-dinner outfit change obsolete. Just add heels, and voila, a Napa Valley nighttime ensemble without any muss or fuss. "Heels make you feel a little sexy," she says. And no, that isn't just the wine talking.
Gores Fredston took time away from her busy boutique, which she opened in 2008 to feel like a European shopping arcade, to show us what to pack for a Napa Valley getaway. Perhaps next time she'll pack us inside, too.
Click here to find out the full contents of Rochelle Gores Fredston's carry on, complete with pictures.
Photo: Wine connoisseur and local style maker Rochelle Gores Fredston in her West Hollywood boutique. (Courtesy Arcade Boutique)