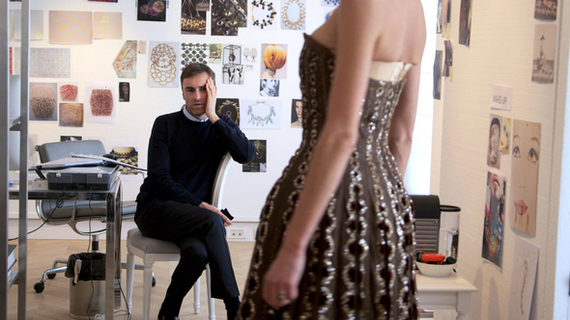 (photo: Courtesy of CIM Productions)
The moment Raf Simons cries isn't even the best part of Frᅢᄅdᅢᄅric Tcheng's documentary Dior and I. Neither is Simons' triumphant bow at the Fall 2012 Haute Couture show or the suspenseful moment when it seems no couture dresses will arrive at a fitting. The best part is more unexpected, even than tears. It's that somehow two creative souls so alike, faced with such a similar dilemma, could meet and work together to make such a well-crafted project. It's not that Frᅢᄅdᅢᄅric Tcheng "gets" what Raf Simons is going through when Simons takes over the house of Dior eight weeks before the couture show, it's that Tcheng's filmmaking style is so empathetic that he lived the process himself.
"I see a parallel between the relationship that [Raf] can have with the founder of the house and the legacy, and the relationship that I can have with my subject. And it's a struggle to establish the right distance and to honor your subjects, but also to honor your own voice," Tcheng told Style.com in his soft-spoken manner, adding, "When I filmed the first scene of Raf meeting the seamstresses, I was actually meeting Raf for the first time through the lens of the camera...They had eight weeks [to make the collection], but I had eight weeks, too."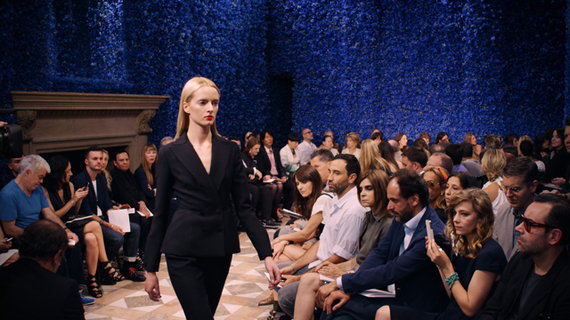 (photo: Courtesy of CIM Productions)
And in those eight weeks Tcheng spent chronicling the every move of the Dior atelier and of Simons himself--nearly 270 hours of footage--he captured the less-publicized side of fashion: the story of the people who make it. "I feel like fashion is everywhere and it's very image-driven. Making this film reminded me that there are hundreds of people who actually care deeply about how they make it," he began. "It's not just an image, it's not just about a dress on the red carpet. There's a whole story behind it, and it's a human story."
That story can be joyous, but it can also shake a designer to his core--both sides depicted in the film's final scene: The Fall 2012 Haute Couture show. "When I was shooting it, I was like, 'This is an emotional roller coaster,'" Tcheng laughed of the process on the whole, explaining "the film is a recording of my experience and also my own creative process." So was he scared to show that to Simons? "I wanted to be there when Raf saw it, and fortunately he didn't see it that way. He insisted on seeing it alone in his living room, and so I sent him a DVD," the director explained.
"You know, I was waiting by the phone. And he sent me a very beautiful text message saying that he was deeply moved by the story that he saw--even though it was very confronting and very personal, he recognized himself in it."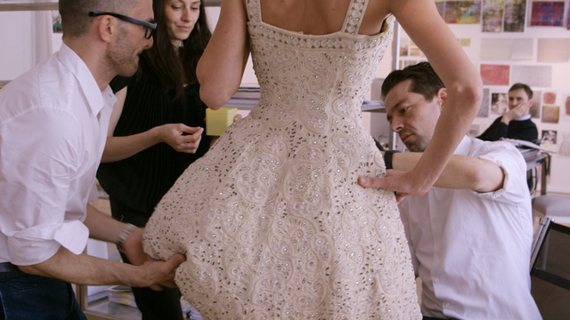 (photo: Courtesy of CIM Productions)
Since filming the documentary nearly three years ago, Tcheng has kept abreast of developments at the house of Dior--"It always surprises me how he's transforming his influences, whether he's doing a '70s-inspired collection or whether he's doing something that has to do with the historical past of the house," he said of recent Simons collections--while trying to avoid becoming a fashion world celebrity. "I don't want to rush into anything, and my goal is not to capitalize on a fashion career," Tcheng explained. "As a filmmaker, I really need to fall in love and be passionate about the subject, otherwise it's not happening to me."
Perhaps in that regard he and Simons have more in common than the weeks spent together during the making of the documentary. "Maybe we met in a previous life, I don't know," Tcheng laughed. "I learned a lot from just watching him create, and I think ultimately that's what keeps me going, that's what makes me want to make films...for me, it's about finding oneself. I've learned a lot about collaboration, about how to transform the legacy into something personal."