Italy is the most visited country in the world. Like other tourists, I have visited Rome's Colosseum, Vatican City's chapels, Florence's Duomo, Venice's canals and Milan's shopping centers. While all of these sights are notable must-sees, they are also overwhelmingly crowded with visitors from around the world. On my most recent trip to Italy, I decided to do something different: get away from the known destinations, explore the small towns and learn a bit more about the local culture.
Follow me on my path below as I travel to Italy's less-visited small towns.
Montestigliano
I fly into Firenze and take a short road trip to the interior of Tuscany. A two-hour journey through the scenic hills of Siena leads me into Montestigliano, a privately-owned farm estate spread over 2,475 acres. The farmers who once lived and worked here formerly occupied each of the 11 homes with their families. Since then, these homes have been converted into villas that are rented out on a weekly basis. I stay at Villa Pipistrelli, a magnificent 17th-century Tuscan farmhouse restored with modern day amenities. Cypress avenues, olive groves, fig trees and rolling hills spread out before me as far as my eyes can see. Here, there are no tourist attractions, long lines or chaotic restaurants. Each morning, a home chef comes to the villa with a basket of supplies picked fresh from the neighboring farms and prepares authentic Italian meals, which I often eat with some of the family members residing at the estate.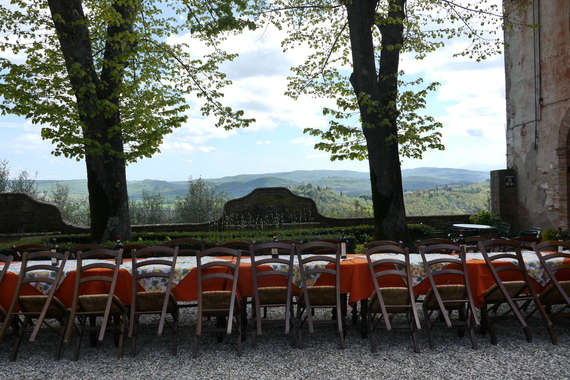 During my stay, the family farmer, Massimo, gives the guests a tour of the agricultural operations, including a demonstration in olive harvesting and a blindfold olive oil tasting. Montestigliano has 3,000 olive trees and makes its own olive oil, which is consumed by locals in the area.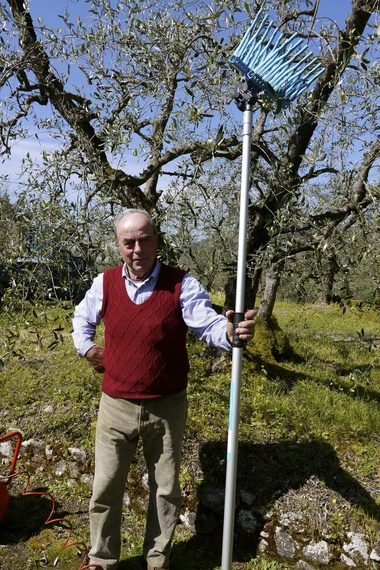 Stigliano
After a short hike to the neighboring village of Stigliano, I have the opportunity to talk with some farmers struggling to make ends meet. La Bottega di Stigliano is an innovative space dedicated to food and agriculture with a farm-to-table store, restaurant and cultural center. Here, they organize cooking lessons, food demonstrations and educational programs, including a Cinta Senese tasting in which I participate. A rural project set up jointly by various organizations, La Bottega's mission is to deepen the connection between what we consume and the environment in which we live.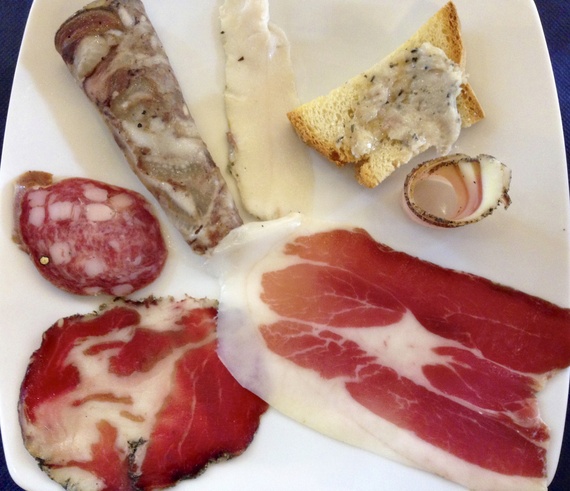 This is a good place to shop for organic local products such as pasta, salami, cheeses, jam, olive oil, wine and honey. It is beneficial to know that you are supporting the local community and that the money is going back directly to the farmers.
Siena
Although not exactly a quiet town if you walk around Piazza del Campo, this pretty little city has a famous town square and is a UNESCO world heritage site. I take a behind-the-scenes tour of Bruco Contrada, or the Caterpillar District, which is one of the 17 Siena wards that takes part in the Palio (race). One of the members, Dario, gives me a tour of the community center which houses the Bruco's Palio trophies and costumes. He gives me a brief history of how the Palio came about and why the Italians are still so passionate about it. We touch upon every detail about the horse racing culture: horses are assigned by lottery; jockeys are hired based on their desire to win; each new costume designed is worth 5,000 euros; money is raised by the residents of the contrada; transactions are made offline; and parties are thrown all week. It is incredible to realize that there are millions of euros and years of planning that go into a 90-second race.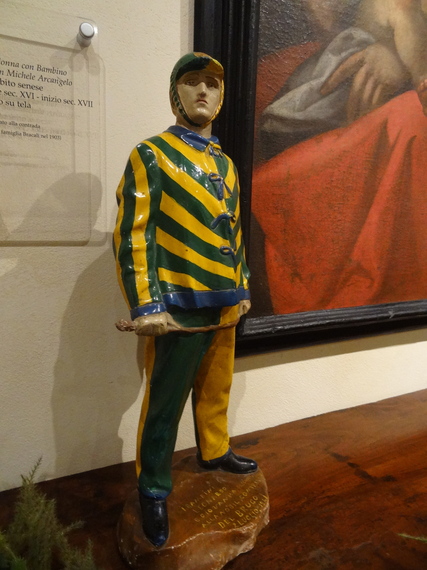 Monterchi
I stop for a few minutes at the tiny village of Monterchi in the Province of Arezzo. Aside from the beautiful views and the lone coffee shop, my primary reason is to visit a famous fresco, and the only one of its kind depicting a pregnant Virgin Mary. La Madonna del Parto was created by Piero della Francesca in the 14th century and pregnant women devote her for blessings of safe delivery.
Mercatello sul Metauro
Nestled between Tuscany, Emilia-Romagna and Umbria, my next destination is the village of Mercatello sul Metauro. Located at the foot of the Tuscan-Umbrian-Apennine Mountains, this little city is cold and quaint. Officially founded in 1235 with the construction of walls surrounding the hamlet, the town originally included residents living in seven castles spread throughout the region.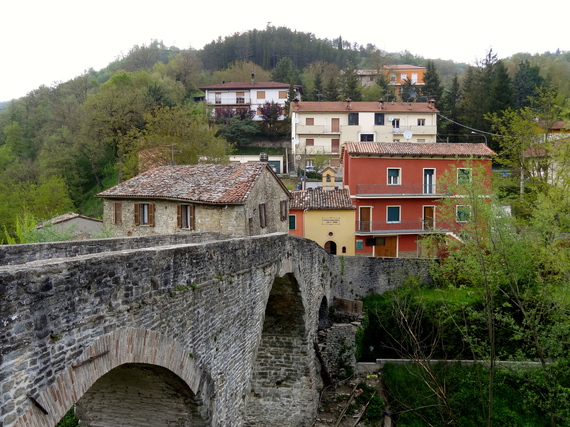 Mercatello is in the heart of Italy's tartufo (truffle) region where magnificent black truffles as well as highly desired tartufi bianchi (white truffles) are gathered during hunting season from October 1st through the year's end. In November, visitors can join truffle hunting tours.
I stay at a 17th century castle called Palazzo Donati which sits directly on the main square of Mercatello sul Metauro. High ceilings, Renaissance-style furniture, large canvas paintings and a family crest hint that Palazzo Donati is an important private home of the Donati family, which is now open to visitors. Here, I learn to make homemade tagliatelle from pasta-making marvel Nona Lina. After vanquishing all local pasta-making challengers, she has now moved on to wider arenas, even besting British chef Jamie Oliver. I also watch some ladies engage in the traditional Tombolo Italian craft of crochet.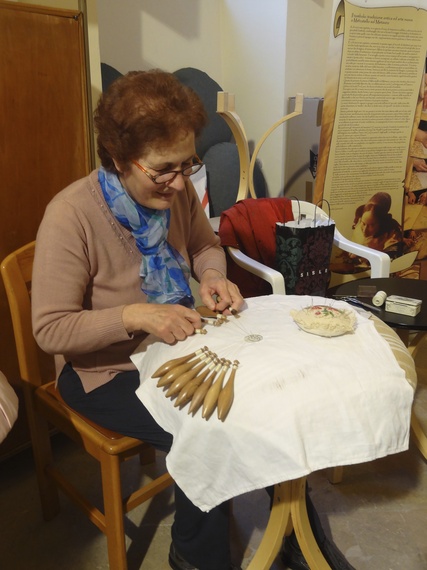 In the evening, a special group of nine local men who call themselves the Accademia del Padlot and are dedicated to food and wine, throw me a dinner party. The group consists of men of different ages, political views and professions, but who are united by their love for gastronomy. They come to the Donati kitchen with an ambitious menu and work hard to create regional dishes such as Charcuterie, Bruschetta, Crostini con Paté, Fave e Formaggio Fresco, Torta pascuela (a traditional Easter cheese bread), Coradella, Goletta con salvia e aceto o vino bianco, Spezzatino di Cinghiale, Tagliatelle and much more! We talk, eat, drink and have fun singing Italian songs that I don't quite know the lyrics to.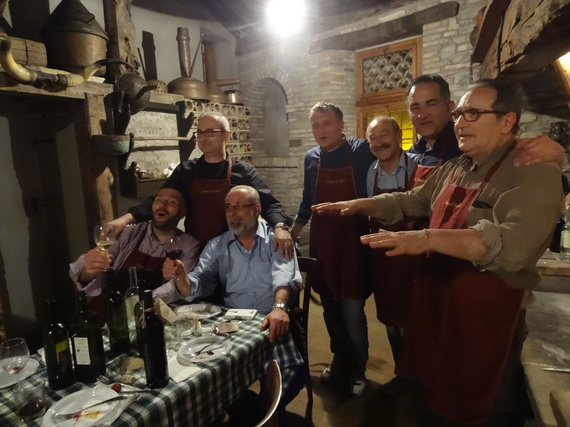 Carpegna
Carpegna is a small town in the Marche province of Pesaro and Urbino and lies in a historically significant mountain area called Montefeltro. In the town is Antica Stamperia Carpegna di Emanuele Francioni, an ancient fabric stencil laboratory. Here, Emanuele and his grandfather tells me about their family history and shows me the very ancient art of decorating fabric. I print my own personalized fabrics and postcards to take home. At their store in the center of town, you can purchase a variety of stamped-cloth products such as napkins, table runners, aprons, bed sheets and bread warmers. Emanuele accepts custom-ordered fabrics and has an online store.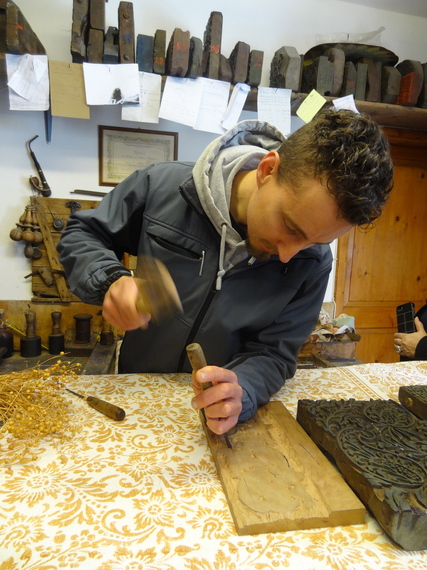 Urbania
Urbania looks like a small town with restaurants, bars and playgrounds. I make a short stop to visit a ceramics studio, Ceramica d'Arte Antica Casteldurante, where the two owners, Gilberto Galavotti and Giuliano Smacchia, keep the Renaissance ceramics traditions alive. They allow me to peek into their studio where they use modern technology to create intricate designs and then paint them by hand onto the ceramics. You can buy hallmark renaissance designed decorative plates, flasks and vessels from them.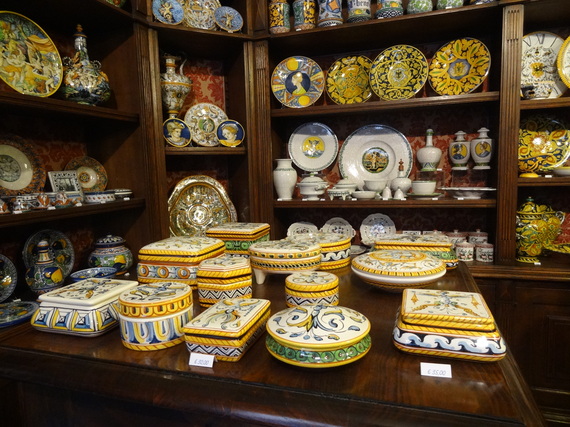 Urbino
I walk through Palazzo Ducale, a 15th century palace and museum built by Federico II da Montefeltro. It houses the Galleria Nazionale delle Marche, one of the most important collections of Renaissance paintings in the world. It is also the birthplace of the world renowned painter, Raffaello Sanzio da Urbino or simply known as Raphael.
With lots of shops, restaurants, a university and churches, this is the closest I come to a "big city experience" during my visit. However, it is a place where you can spend a few nights and soak in the history and experience everyday life. Here, I enjoy a dark chocolate gelato and pear sorbet combination recommended by a local.
By spending time in these small towns of Italy, I feel that I have entered into the peace and authenticity of another time. In these villages that are largely undiscovered by tourists, I discover a way of life that preserves the grace and culture of the Renaissance. Even if you don't follow my trail, try to explore Italy's small towns during your next trip to experience a taste of Italy's rich local culture.
~ Words and photography by Sucheta Rawal. To read more about my travels in Italy, visit my blog Go Eat Give.