Turquoise blue water, picture perfect sunsets, Dutch Caribbean architecture, landscapes that vary from lush green hills to barren desserts, and not to forget some of the best dive sites in the world - Bonaire is a dream destination for nature lovers.
Located south of Aruba and 50 miles East of Venezuela, Bonaire is part of the ABC islands in the Dutch Caribbean. Whether you are docking for the day, or staying a week, here are some sights and activities you don't want to miss on the island.
1. Shop and Dine in KRALENDIJK
With colorful buildings, downtown Kralendijk is a charming area with a cruise port (operating 6 months of the year), gift shops, restaurants and central amenities like tourist office, post office, police station, city hall. Surrounding residential neighborhoods and streets have theme names after musical instruments, names of countries, etc. making the city easy to navigate without many signs or even traffic lights.
Taste artfully created fresh catch of the day at At Sea French restaurant (Rated #1 on the island) or try the famous pasta flambéed table side in a huge block of cheese at Ingredients Mediterranean restaurant located at Buddy Dive Resort. Browse around the boutiques and souvenir shops. Pick up locally made dichroic glass jewelry at Elements, and Bonaire's famous salt mills, grinders and bath salts at Sea Salt Bonaire.
2. Relax at HARBOUR VILLAGE RESORT AND MARINA
Many cruises choose to get a day pass to enjoy the nicest private beach on the island, where they can get access to hammocks, beach lounges, refreshing drinks, dive shop and turquoise warm waters of the Caribbean. Harbour Village Resort and Marina offers guests a charming Caribbean Bohemian style retreat with a private villa feel, surrounded by a burst of colorful flowers, yellow stucco facade, red terra cotta roofs, and golden tiled floors. There is also a spa, restaurant, swimming pool, gym and yacht club on premise. Overnight guests can choose from luxurious ocean front rooms and suite to family villas equipped with kitchens, dining areas and patios.

Harbour Village Resort and Marina
3. Tour the island in an ELECTRIC VEHICLE
The coolest way to explore the tiny island of Bonaire is aboard a self-driven electric vehicle. Road Runner Bonaire offers tours of the North and South, which begin in the capital Kralendijk. South tour proceeds along the coast passing by famous diver spots, Cargill salt hills, abandoned slave houses, Atlantic Beach and Jibe City. On the way, you can stop to take photos, swim, dive, windsurf or kite board.
4. Take photos at WASHINGTON SLAGBAAI NATIONAL PARK
A fifth of the island of Bonaire is a nationally protected nature sanctuary where visitors can spend an entire day hiking, walking, snorkeling, diving, swimming and bird watching. Expect to see more secluded beaches, caves, tall cactuses, giant windmills, goats, iguanas and hundreds of elegant pink flamingo parties. The geology of the coral island is also visible inside the park, forming interesting patterns and colors, making it a photographer's paradise.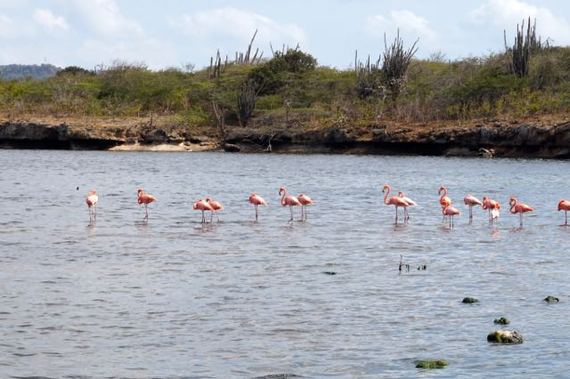 Flamingos at Washington Slagbaai National Park
5. Enter the dessert and lagoons HORSEBACK RIDING
Horseback ride through a private ranch passing through cactus trees, dessert landscapes, open fields, and along the coast. Take a break at a secluded lagoon where you can go swimming along with your horse. Rancho Washikemba offers horseback riding lessons, tours and parties and since horses are not native to the island, this is the only official, fully licensed and certified horseback riding ranch on Bonaire.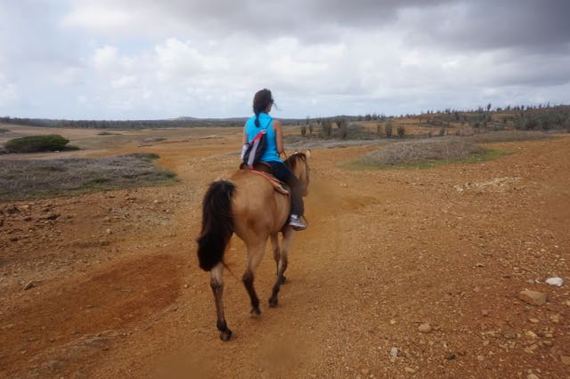 Sucheta horseback riding at Rancho Washikemba
6. Learn to WINDSURF
Take a windsurfing lesson with one of the oldest companies on the island, The Windsurf Place. Here you can rent gear and lockers, eat lunch, and practice on your own or with an instructor. The waters are warm, shallow and picturesque, resembling a vast swimming pool.
7. DIVE and volunteer to restore coral
Beginner and expert snorkelers and divers will enjoy watching the underwater Coral Restoration Project at Buddy Dive. Help plant, cut, and clean the coral farm, while enjoying a swim in the Caribbean waters. The dive shop offers classroom training, certifications and personal instructors. It's a great way to give back your time and skills while on vacation.
8. Get lost in KLEIN BONAIRE
An undeveloped little island makes for a perfect day out. Pack your picnic and beach gear for trip to Bonaire's west coast. Water taxis and dive boats transport passengers who want to swim, snorkel, or explore the beautiful beaches and clear blue waters. Some natives claim this is their favorite spot to getaway.
9. Step back in time in RINCON
Rincon is the only other city on the island. Once a town inhabited by the salt slaves who worked on the island, now Rincon is mostly a quiet residential area. Visit Mangazina di Reicultural center in Rincon to get a feel for Bonaire's history. Aside from the nice views of the valley, you will also find a museum, gift shop, live music and interactive tours. Taste the local cactus liquor at the Cadushy Distillery.
10. Pet the DONKEYS
Donkey Sanctuary Bonaire provides a sheltered, protected life to over 400 stray donkeys in Bonaire. It is open to tourists, schools and community members who want to know more about donkeys, have a fun day sightseeing, or want to volunteer. Visitors can drive through the sanctuary in their vehicle (very slowly to avoid accidents) or walk around and be greeted by hundreds of donkeys.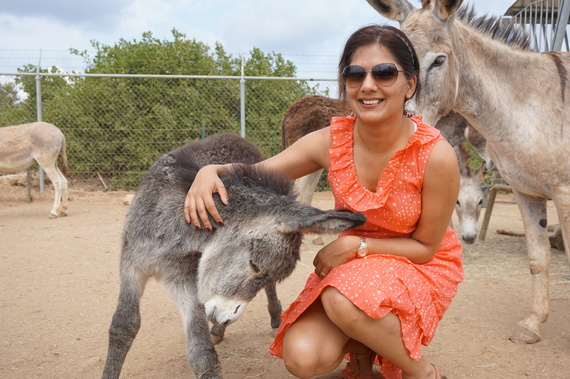 Sucheta with friendly donkeys
* All photos and words belong to Sucheta Rawal.
~ Follow award winning food and travel writer, Sucheta Rawal on her journey across 50+ countries on her blog, Go Eat Give.