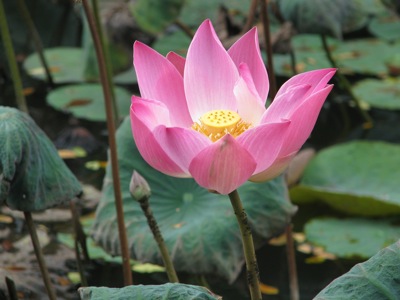 Lotus blossom in Ubud, Bali. Photo by Sue Frause.
The Eat Pray Love phenomenon continues to roll along. Even with the ho-hum reviews of the Julia Roberts' film that opened this week, the EPL packages are not going away. USA TODAY reports that they're -- Everywhere! as people duplicate author Elizabeth Gilbert's search for everything across Italy, India and Indonesia. And no place is more popular than Bali right now (Eat Pray Love comes alive in Bali).
My husband and I spent ten days in Bali several years ago. It was my first trip to Asia, and after time in Beijing and Hong Kong, it was a most welcome respite. Although Gilbert's book had been published two years before, I saw no signs of women searching for their inner whatevers while in Bali. I cringe to think that my favorite town of Ubud is now being overrun by hordes of females, clutching wine and tear-stained copies of a book that has more than seven million copies in print. But hey, it's good for the economy, and the Balinese people are warm, gentle and kind spirited.
The Italian town of Cortona is all too familiar with what a book and a movie can do to a place; namely, Under the Tuscan Sun. The last time I was in Italy was 1999, three years after Frances Mayes' book put the Etruscan town on the map. I recall walking into a shop mentioned in the book, and although a copy of it was tucked away in my backpack, I was determined not to mention it. But I couldn't contain myself and said, "I'm not going to talk about the book, I'm a visitor, not a tourist!" The shopkeeper laughed, albeit somewhat wearily. In 2003, the Diane Lane movie came out, again putting Tuscany on travelers' bucket lists.
I'm off to Italy in September, but not because of Eat Pray Love. My hubby and I, along with three friends, are going on a week-long walking wine tour of Piedmont and the Cinque Terre with La Dolce Vita Wine Tours. Call it Eat Drink Walk.