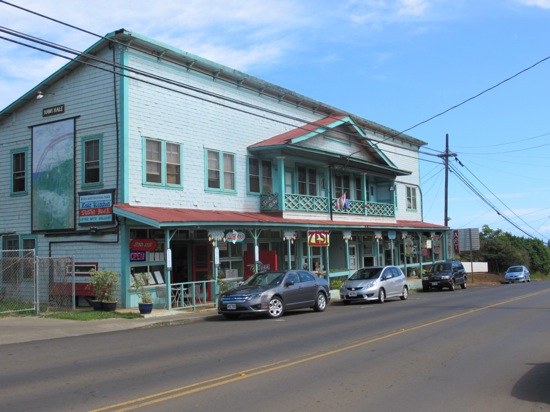 Hawi is the most northern city on Hawaii and the largest in North Kohala. Photo by Sue Frause.
It was still raining the morning we made the drive east to west on the Big Island of Hawaii. Having spent three nights in Volcano Village, we were ready to see what the other side had to offer. Our first stop en route to Holualoa was Ponaluu Black Sand Beach, home of the Hawaiian Green Sea turtles. Although we didn't spot any, it was strange to see a beach of black sand, one of the most famous in Hawaii. Nearby in Na'alehua was my "we have to stop here" spot at the Punalu'u Bake Shop. Touted as "The Southernmost Bakery in the USA," it's at a latitude of 19 degrees, or just four minutes north of the equator. With all the sweetbread and other baked goodies inside, it's no surprise that their annual visitors' count numbers 200,000 a year. We purchased malasadas, a Portuguese confection made of yeast dough deep-fried in oil and coated with granulated sugar, enjoying it outdoors on the patio.
The rain was relentless as we wended our way west on Highway 11. We eventually arrived at Holualoa Inn, a most welcome sight. Built as a private residence, the six-room inn is located on a 30-acre Kona Coffee estate (ask to go on a private tour). It's on the slopes of Mt. Hualalai, and features coastline and Pacific Ocean views, along with a swimming pool. We were in the Coffee Cherry Room, which featured a king bed, garden views and a private outdoor hot tub. When I made the online reservations, they had a special: book three, get the fourth night free. A full breakfast is included with the room rate. The town of Holualoa is just up the hill from the inn, and has some fun shops and galleries and a small grocery store that sells wine. Our nightly dinner destination was Holuakoa Gardens & Cafe, where we dined outdoors, even when it rained (it's covered).
Since we're not avid beach people, and with the weather not swimmer or hiker friendly, we opted to go exploring in our Jeep Rubicon. One of my favorite drives was north from Holualoa to Hawi, passing through Waimea. As the northernmost town on the Big Island, Hawi is also the turnaround point for the Ironman World Championship held in October. It's a bustling, artsy-craftsy sort of place, with plenty of gift shops and restaurants. I preferred the quieter town of Kapa'au, just two miles east and home to the original King Kamehameha statue. We had a to-die-for lunch at Pico Bistro, recommended to us by an artist working at a nearby gallery. We both ordered fish 'n chips, made with locally caught ono. It was one of the freshest, tastiest fish 'n chip experiences I've ever had -- enjoyed outside under the blue sky, puffy cloud day.
The highlight for my hubby during our Big Island week was the Mauna Kea Summit & Stars Adventure. It's one of Hawaii Forest & Trail's many tours. The eight-hour trip took us from sea level at Kona to the high alpine country of Mauna Kea ("the white mountain"), where we watched the sunset among the world's largest collection of telescopes. Driver and guide Greg Brown provided colorful narrative as our van made its journey over lava flows, pasture lands and ranch lands. We stopped at Humuula about two hours before sunset, in an area where 20 cowboys used to live. Greg called our outdoor family style meal of stew and corn muffins a rustic dinner ("emphasis on the rust"), and afterward passed out hooded parkas and gloves for the cool temperatures at the top, where the average mean temperature is 32 degrees. It would be 45-minute drive to the summit at 13,796 ft.
At 11,000 feet, we saw remnants of a glacier and a sign that said, Off Road Driving Prohibited. Wise idea, as the barren landscape looked more like Mars than Hawaii. Greg said that a commercial was shot here, along with a number of documentaries. The summit was dotted with 13 telescopes, and the views were spectacular, as we lined up to use the sani-cans and soak up the sunset. Greg mentioned that we may feel dizzy from the high altitude and low oxygen, and I definitely was woozy. My hubby showed me how to do compression breathing to relieve the symptoms.
As the sun made its final descent and the skies grew dark, we headed back down the mountain, and along the way Greg set up a telescope for star-gazing. For more than an hour he pointed out the stars, constellations and galaxies of the night sky -- along with the moon. We arrived at the Mauna Kea Visitor Information Station at 9,000 feet for a brief stop. The station includes a gift shop and indoor plumbing, both welcome stops on the tour. But the night sky was the highlight on this Big Island winter's night.