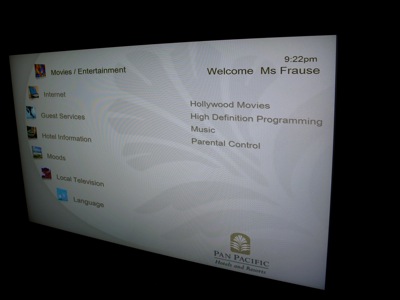 Menu of options at Pan Pacific Hotel Seattle. Sue Frause photos.
One of my pet peeves when traveling is being charged to use the Internet at an upscale hotel. Should I really have to pay $14.95 for 24 hours of checking my email and posting to my blogs and social networking sites?
Back in 2007, I made a list titled Travel 101 that included all the basic amenities that a hotel should provide.
No surprise that at the top of my octet of needs was Free Internet -- preferably Wi-Fi. Hear that, hotels?
Well, I think they're listening. USA TODAY included free Wi-Fi in its Top 10 travel trends for 2010 and both McDonald's and Starbucks have jumped on the no charge wagon.
A Canadian hotel that's really making points with travelers is Vancouver's St. Regis Hotel. Complimentary amenities include full breakfast, high-speed Internet, bottled water and free local and long distance calling in North America. Plus the use of an iPad during your stay.
The Pan Pacific Seattle Hotel, located in South Lake Union and the home of Amazon.com, is now offering complimentary access to the fastest Internet provider in the US, CondoInternet.net. Only one other Seattle hotel features the same high-speed service, the Four Seasons Hotel Seattle, but they charge $11 for 24 hours.
According to Speedtest.net, a global broadband speed test site, CondoInternet.net clocks in at 100 megabits per second. Sounds plenty fast to me!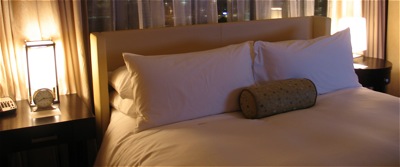 The Pan Pacific Seattle Hotel also has comfy beds.