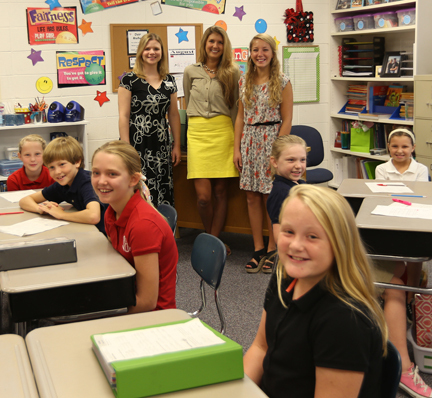 University of Mobile School of Education requires student teachers to dress professionally as they prepare to enter the workforce.
Are you student teaching this semester? A quick look in the mirror might be the most important thing you do all day.
As director of student teaching, it is my role to discuss professional dress with our college students as they prepare to go into the schools. We have a strict dress code that requires men to wear ties and women to wear dresses or skirts when they teach. Yes, that sounds old-fashioned, but it seems to be working. From the comfort or practical standpoint, I think there are special days for long pants but, overall, a dress makes a professional statement. Long skirts (which happen to be in vogue now ... WHEW!!!) actually work very well and are cooler than pants.
One of our local superintendents told me recently that there is constant dialog to change the dress code so that the district's teachers dress more professionally each day, just as my students are required to do.
I think it was quite awhile back when I realized that all of our students who go out to the schools might need some straight talk and direction for professional dress. So I created something similar to the following guidelines:
When you wake up in the morning and want to dress professionally to go into a school, you should look in the mirror and take this quiz:
1. Did I remember to wear a dress or skirt (or tie if I'm a guy)?
2. Is the neckline so low that cleavage is showing?
3. Did I remember that dress shoes have closed toes? Yes, for men and women!
4. Should I wear a longer skirt, hose or tights?
5. Is the skirt or blouse too fitted? Are my extra rolls showing? (Yes, I said extra rolls!)
6. Did I wear any denim today? For men, just remember that jeans cannot be dressed up with a tie.
7. Did I remember conservative jewelry and hair?
8. Did I remember that a tunic with leggings/jeggings is not the same thing as a dress and would not be considered professional attire?
9. Is the fabric so clingy and thin that my insides are showing on my outsides?
10. Would I hire me based on my appearance today?
Why is professional dress important to a student teacher? Truly, it's all about YOU. YOU are being judged each day you are in the schools. YOU are trying to make a great impression. Professional appearance is a huge part of YOU being hired. The classroom teacher who may be wearing more casual clothes has a job, a contract and tenure. YOU don't....
So do YOUrself a favor and take the survey above each morning before you leave home and go into a classroom. Michael Jackson taught us a great lesson when he said if you want to make the world a better place, start with the Man in the Mirror. Changing other people is out of our control, but we ARE in control of changing ourselves.
Look in your mirror. Make a change to a more professional appearance and you will be treated as a professional in the workplace. Our university president asks us to go out each day and change the world. That change starts with YOU.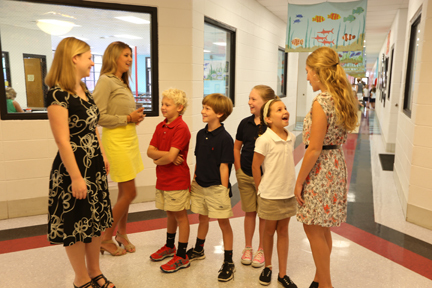 University of Mobile School of Education Professor Sue Gober urges student teachers to dress professionally so they will be treated professionally.