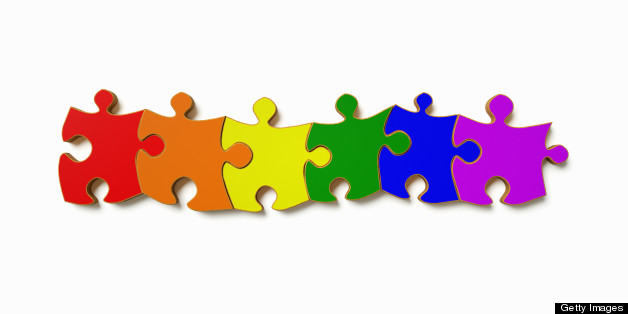 Saturday evening, a group of friends joined my partner Laura and me to celebrate her 50th birthday. We had dinner at Cambod-Ican Kitchen, a Cambodian fusion restaurant on the South Side of Pittsburgh. It is one of our favorites and we consider the owners good friends. We had champagne, we had birthday cake, we had singing and we had great food.
Around 9 p.m., things wrapped up and after getting things sorted out; Ledcat and I talked about how best to get everything to the car which was parked about a block away on the main drag, Carson Street. After 8:30ish, South Side doesn't feel so safe and welcoming for us -- too many inebriated people, too much rude behavior and the occasional hassle. We hustled to the car, packed everything away and were safely on our way home.
In London, Christopher Bryant, editor of Polari, an online LGBTQ magazine, also celebrated his birthday last night. His evening ended differently. From GayStarNews:
"Christopher Bryant, editor of Polari magazine, and his partner Damon were walking home from Bryant's birthday dinner through South London's Betts Park when the couple was intercepted by a group of six men, who started speeding up and following the couple down the path.

Bryant told GSN that as soon as they started running, the men started running as well, and first caught his partner Damon.

He told GSN: 'It all went down so fast.'

When Bryant doubled-back to get the attackers off his partner, they beat him to the ground, kicking his face and saying 'stay down faggot'.

Bryant said that every time he tried to look up, his attackers would kick him in the face and said 'don't try anything'."
So at the end of our respective parties celebrating birthdays, we set out with our partners. We ended up safely at home, while they ended up in the emergency room.
This was the end of our party: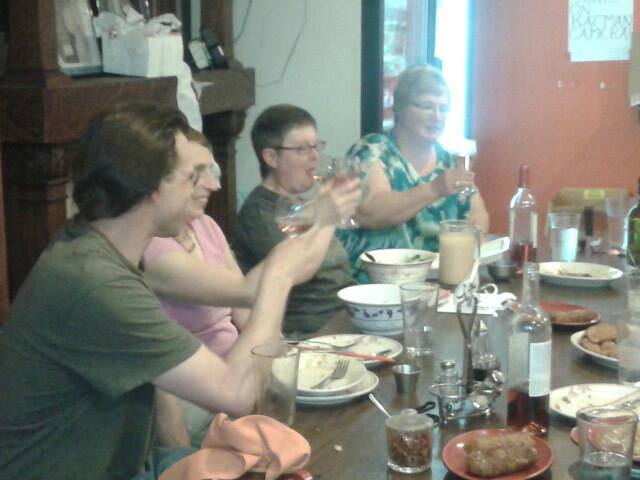 This was the end of their party: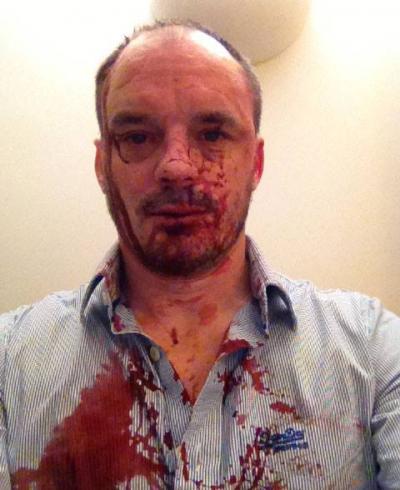 Really, it could have been different. There's a tension in the air on the South Side at night; we rarely stay past 9 when we dine. In January 2013, two queer women were assaulted at a South Side bar and verbally queer-bashed -- the investigation is still pending. It is perfectly fair to assume there are homophobic assholes on the South Side who won't hesitate to hit queer folks -- men, women, any age, etc. It was just a few years ago when a very large man slid out of his car in broad daylight in Downtown Pittsburgh to confront us for being "fucking dykes." It was just last year, someone thought it was funny to create a fake FourSquare venue at our home address with the word "dyke."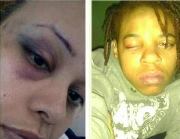 EmPrez and JourDyn were assaulted in a bar after being harassed as queer women
I don't have some massive philosophical point to make. I'm just struck by the fact that it was the same night as Laura's birthday. And I'm acutely aware of our "vulnerable" moments. And I'm sad. And angry. I can't help thinking, "My God what would I have done if someone attacked us on Carson Street while we were juggling cake and bottles of wine and presents and stuff?" Would the presence of people nearby have mattered? Would our friends at Cambod-Ican have heard (I know they would have come to our aid?) Would I have fought back? Would I have had a chance to deescalate?
Could it have happened? Yes.
We have to stand up to the hate. In the past few months, our blogging team at Pittsburgh Lesbian Correspondents has described a myriad of ways that homophobia and transphobia has hurt us -- from Jen learning she still can't be a den mother to the brutal murder of Cemia Acoff in Cleveland to a trans student being denied the right to graduate with their chosen name. We've covered blogs being banned, sexual assault, the struggle to keep our jobs, the unfair taxes we pay, the strange situation of being unable to divorce, and so forth.
Yesterday evening, the LGBTQ community in New York City marched against anti-LGBTQ hate violence.
I'm not helpless. I'm working with the Pittsburgh-South Side Hospitality Committee to recruit an LGBTQ person for their advisory group to talk about safety, respect, service, etc. I'm working hard to elect one of the strongest allies in history to the office of Mayor in Pittsburgh. I have a support thread with FourSquare that's remained active for two years as I continue to report the abusers.
But I'm also aware that the violence which burst into Christopher and Damon's party, the violence that landed both EmPrez and JourDyn in local emergency rooms and the violence that claimed the lives of Cemia Acoff and Mark Carson and infiltrated our lives recently -- that violence is tied to anti-gay hate.
What will you do to push back? Will you sign a petition about the Boy Scouts or challenging the use of the word "tranny" at 7-Eleven? Will you march? Will you join an email list? Volunteer? Support LGBTQ friendly small businesses fighting to maintain a presence in neighborhood's like Pittsburgh's South Side?
I spent most of the time planning Laura's party and at the party itself worried about things like ordering enough appetizers and making sure our vegetarian/vegan friends had options and those sorts of things. It never dawned on me to worry about our safety walking back to our car after the party ended. I don't think I'll ever be that innocent again.