A few weeks ago, I posted a little challenge on my blog to ask people to send me a Christmas card and promising to donate $1 to Pittsburgh's LGBTQ Community Center in exchange -- to bolster their membership campaign.
It was a very off-the-cuff thing so I didn't expect a huge response. We got about 20 cards at home and I'm waiting to see if any were sent to the Center.
To be honest, it has been a rough year and even a rough holiday season. Not horrible and not the worst we've experienced (we being my partner and me), but my health has been a challenge as has the impact of my health on our financial situation. Working with the Community Center has been a bright spot for me, especially helping them launch their first membership drive and a very successful coat and blanket drive for homeless youth. So the card idea -- while fun -- was a little last-minute and scattered. I didn't expect much of a response.
But I also didn't expect this from my friend Amy. Laura opened the cards (my hand tremors tend to turn envelopes into pulp with this task). She brought me this note and had a huge grin on her face.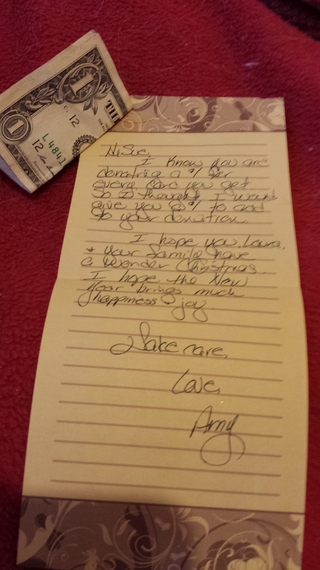 Hi Sue,

I know you are donated a $1 for every card you get so I thought I would give you a $1 to add to your donation.

I hope you, Laura and your family have a wonderful Christmas. I hope the New Year brings much happiness & joy.

Take care. Love, Amy
Amy was my first friend, back to when we were at least 4, if not younger. This is very much in keeping with her good heart, her wonderful approach to life and her kindness. Her kids hit the jackpot when it comes to parents! She's most awesome and this truly lit up my whole holiday. Thank you, Amy.
Sometimes, the most modest gift can have the most profound impact. This dollar bill reminded me that I have friends who love me, who pay attention and who support causes like the Community Center because of their regard for me. Those are all reasons to be grateful and feel humble this holiday season.
Merry Christmas, Amy. And Happy Holidays to everyone.